Former Rep. Lee Zeldin, who lost to New York Gov. Kathy Hochul in the state's 2022 gubernatorial election, has endorsed former President Donald Trump in his bid to be the GOP's 2024 presidential candidate.
"The GOP is filled with amazing talent to save our country from the failed policies of the Biden Admin. Our nominee in 2024 will be the 45th & 47th POTUS, Donald Trump," Zeldin wrote on Twitter on April 24.
"Our economy will be stronger, our streets will be safer, & our lives will be freer. He has my full support!"
In response, Trump wrote on his Truth Social account that Zeldin's endorsement was "very important" to him.
"He was a great Congressman, and ran an incredible Campaign for Governor of New York," Trump wrote. "I very much appreciate Lee's support, and look forward to working with him long into the future. Thank you Lee!"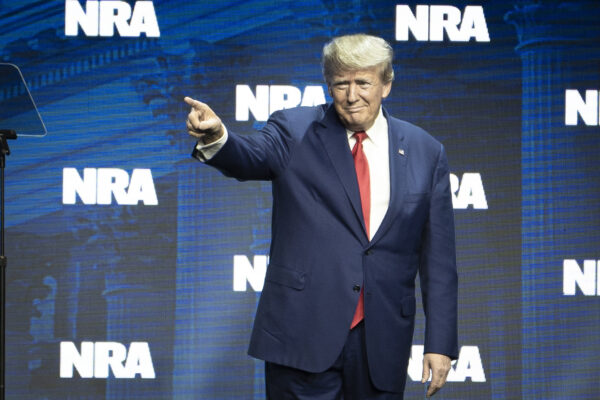 Zeldin was a House lawmaker representing eastern Long Island since 2015, before he ran as a Republican candidate in New York's gubernatorial race last year. He picked up more than 2.7 million votes, or 46.7 percent, but lost to incumbent Hochul by a margin of nearly 380,000 votes.
The former lawmaker had the support of both Trump and Florida Gov. Ron DeSantis in his gubernatorial campaign. Last October, Trump formally endorsed Zeldin, while DeSantis stumped for Zeldin at a rally in Long Island.
Zeldin had made a campaign promise to fire Manhattan District Attorney Alvin Bragg as part of his "law and order" plans to reduce crime in New York.
Like many Republicans, Zeldin has criticized Bragg for bringing criminal charges against Trump.
"Alvin Bragg is most eager and willing to bring down our justice system and rip our country further apart to take down Donald Trump at any cost," Zeldin wrote on Twitter on April 3. "At the end of the day though, Bragg will only have succeeded in bringing down the justice system and ripping our country further apart."
On April 4, Trump was charged with 34 accounts of falsifying business records related to non-disclosure payments made during the 2016 presidential campaign. Trump has pleaded not guilty to all charges and stated that Bragg has "no case" against him.
Also on Monday, National Republican Senatorial Committee Chairman Sen. Steve Daines (R-Mont.) announced his endorsement of Trump's 2024 bid, while speaking on his son Donald Trump Jr.'s podcast.
"The best four years I've had in the U.S. Senate is when President Trump was serving the Oval Office," Daines said. "I'm proud to endorse Donald J. Trump for president of the United States."
With the inclusion of Daines, Trump has picked up the endorsement of 10 senators, according to Ballotpedia's endorsement tracker. Meanwhile, 47 House lawmakers have chosen to endorse Trump.
Polls
Apart from Trump, four other major Republican candidates have announced their 2024 bids—former South Carolina Gov. Nikki Haley, biotechnology entrepreneur Vivek Ramaswamy, former Arkansas Gov. Asa Hutchinson, and conservative radio host Larry Elder.
Trump is currently the Republican front-runner in the 2024 race, according to several polls.
According to a new Harvard CAPS/Harris Poll (pdf), Trump led DeSantis 55 percent to 20 percent in a potential 2024 GOP presidential primary. Former Vice President Mike Pence finished in third place with seven percent, followed by Haley with four percent and Ramaswamy with two percent.
The poll was conducted between April 18 and April 19, and surveyed 1,845 registered voters.
In a head-to-head matchup between Trump and DeSantis, the former president received 61 percent of support, while the Florida governor picked up 39 percent.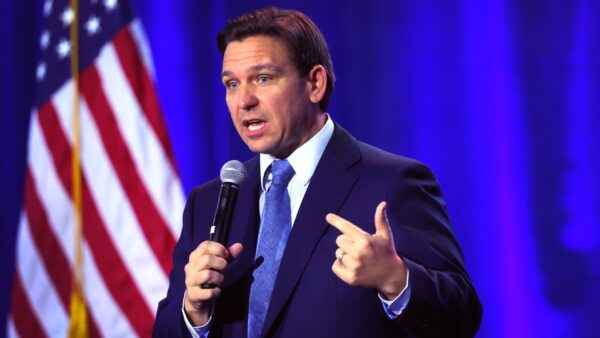 Trump was also deemed to have a bigger chance of defeating President Joe Biden in the 2024 race. According to the poll, Trump got 45 percent of support, while Biden received 40 percent in a hypothetical two-way race.
DeSantis, on the other hand, obtained 43 percent of support, with Biden again on 40 percent.
Trump also led other GOP presidential candidates in South Carolina. According to a National Public Affairs poll, Trump edged out DeSantis 43 percent to 21 percent. Haley finished third with 19 percent, followed by Sen. Tim Scott (R-S.C.) with seven percent. Mike Pence was on two percent, while both Ramaswamy and Hutchinson picked up one percent of support.
The poll surveyed 538 likely South Carolina GOP primary voters from April 11 to April 14.
Trump's indictment also came up in one of the questions in the poll. Thirty-seven percent said they were "more likely to support" Trump because of the indictment, while 42 percent said the indictment "doesn't impact my support."
However, 18 percent said they were "less likely to support" Trump because of the indictment, while two percent said they were unsure.