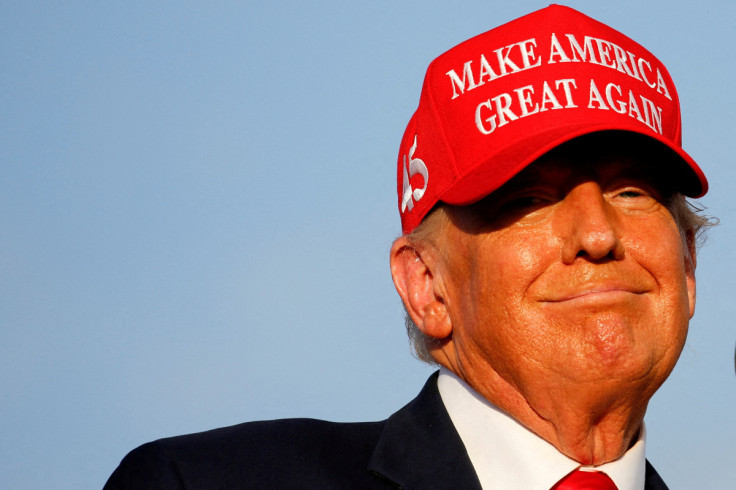 KEY POINTS
NRA convention attendees expressed confidence that Donald Trump would win the 2024 elections
GOP voters claimed that New York prosecutors' charges against Trump are part of "witch hunt"
About 59% of Republicans do not believe Trump committed business fraud, according to a new poll
Republican voters are still hellbent on supporting former President Donald Trump despite the business fraud allegations he faces.
Fox News Digital asked some GOP voters attending the National Rifle Association's annual convention over the weekend who they wanted to see clinch the Republican nomination for president next year.
"Probably Trump," one voter named Tim told the outlet, adding that he believes the former president could beat President Joe Biden should he be the Democratic nominee for the 2024 presidential election.
Other GOP voters also voiced their support for Trump, while another voter named Mary said she was for "Trump 100%" but would like to hear what other Republican candidates had to say.
GOP voters were also asked about their thoughts on Trump's legal predicament in New York.
A man named Robert told Fox News he believes the charges slapped against the former president are just a "smokescreen" to distract Americans' attention from Biden.
"I think it's a drummed-up hoax against President Trump. They've been after him for years. They [were] after him for his whole presidency, and they're still after him. They don't want him to run again because they know he'll win," Robert said.
Mary also claimed that Trump's business fraud charges were "all bogus," adding that the Manhattan District Attorney's Office, which brought the charges against the real estate mogul, should be "ashamed of themselves."
GOP voter Tim accused Manhattan prosecutors of engaging in a "witch hunt" against Trump.
The sentiments of some NRA convention attendees echoed the views of most Republican voters in the latest Reuters-Ipsos poll.
The survey, conducted between April 5 and 6, showed that 59% of Republican respondents believe that Trump did not commit business fraud, while 32% said they believe the former president falsified business records.
According to the poll, 65% of Republicans believe that New York prosecutors were wrong to file criminal charges against Trump, while 16% said it was the right thing to do.
However, around 55% of GOP respondents believe that Trump paid adult film Stormy Daniels in exchange for not speaking up about their extramarital affair during the 2016 presidential election.
Last month, Trump was indicted by Manhattan District Attorney Alvin Bragg on 34 felony counts of falsifying business records in relation to his alleged hush-money payments to Daniels.
On April 4, Trump surrendered to the authorities and attended his arraignment at a Manhattan courthouse, becoming the first president to face criminal charges.
The former president also faces other investigations, including his botched handling of classified documents, election interference allegations in Georgia, and a civil lawsuit against his real estate empire.
But Trump remained defiant and declared his third presidential bid in November 2022.
According to the latest Reuters-Ipsos poll, Trump is still leading the race for the Republican nomination, with 58% of support against 21% for Florida Gov. Ron DeSantis, who is still not declaring his presidential bid.
Other Republicans who have declared their campaigns to challenge Trump, such as Nikki Haley and Asa Hutchinson, only registered 1% of support among GOP voters.