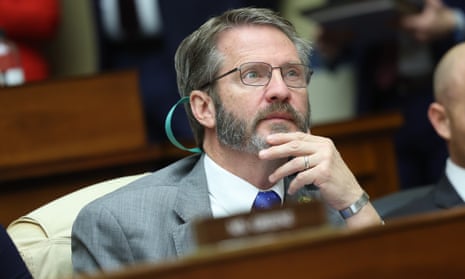 Republican congressman says 'we're not going to fix' school shootings
Tim Burchett says he doesn't see a role for Congress in preventing tragedies 'other than mess things up' after Nashville shooting
After the latest massacre of schoolchildren in the United States, the Republican congressman Tim Burchett answered the question Americans have all but given up asking of their elected officials by telling reporters: "We're not going to fix it."
The three-term congressman from Tennessee, the state where an intruder fatally shot three nine-year-old students and three adults at a small Christian school on Monday, appeared to compare the expectation of safety for American schoolchildren with that of soldiers fighting Japanese suicide attackers during the second world war.
"It's a horrible, horrible situation, and we're not going to fix it," Burchett said. "Criminals are gonna be criminals. And my daddy fought in the second world war, fought in the Pacific, fought the Japanese, and he told me, he said, 'Buddy,' he said, 'if somebody wants to take you out, and doesn't mind losing their life, there's not a whole heck of a lot you can do about it.'"
Asked whether there was a role for Congress to play in preventing tragedies that are exceedingly common in the US while being exceedingly rare in the rest of the world, Burchett responded: "I don't see any real role that we could do other than mess things up, honestly … I don't think you're going to stop the gun violence. I think you got to change people's hearts. You know, as a Christian, as we talk about in the church, and I've said this many times, I think we really need a revival in this country."
Burchett, 58, has a reputation as "perhaps one of the least filtered members" of Congress, according to a recent profile in Politico that focused on his penchant for somewhat offbeat jokes.
His substantive track record is less distinct from his rightwing peers. Burchett was first elected to Congress in 2018, after two decades in the Tennessee state legislature and as mayor of Knox county. He describes himself as an "avid gun owner" and received an A rating from the National Rifle Association's political action committee, which noted his opposition to bans on semi-automatic weapons. The far-right Heritage Foundation rates his voting record at 95%, thanks in part to his opposition of a bipartisan gun control bill and universal background checks for gun purchases. He was also among 125 House Republicans to sign an amicus brief backing one of the efforts to overturn Joe Biden's 2020 presidential election.
But Burchett has not always had such a laissez-faire attitude toward crime nor such a cynical attitude toward legislators' role.
In 2006, while serving in the Tennessee state legislature, he sponsored legislation to ban salvia divinorum, an herb with psychoactive properties. "It's not that popular," Burchett said of the drug at the time. "But I'm one of those who believes in closing the barn door before the cows get out.
"In certain hands, it could be very dangerous, even lethal."
In 2022, after voting against Democratic legislation to fund police departments, Burchett attributed a "violent crime spike" to "liberal soft-on-crime policies and the radical Defund the Police movement".
Burchett has introduced one piece of legislation related to public safety during his tenure in Congress: the 2019 "Unmasking Antifa Act". The bill sought to create "a new criminal civil rights violation for wearing a disguise while interfering with another person's exercise of a protected right or privilege". Had it passed, the bill would have punished people committing crimes while wearing masks with prison sentences of up to 15 years.