I'll be honest GND keeps me pretty busy, so it has been a while since I have sat down and done any work on one of my AR-15s.  Recently Cory Martin at Tyrant Designs offered to send me 3 of their latest AR upgrades to review.  No doubt these AR upgrades might be a little too "modern" for some tastes. However, if you want to stand out and get tons of "where ddid you. get that?" questions next time you are at the range you will want to read this article.
3 Latest Tyrant Designs AR Upgrades
Tyrant Designs sent me 3 different AR upgrades to review.  A charging handle, handrail and buttstock. I will review each one here, the walk you through my experience putting them on my Palmetto State AR 15.
The attention to detail on the Tyrant CNC NexGen Charging Handle is second to none.  My favorite feature is the ambidextrous aspect of the handle. Tyrant doesn't skimp when it comes to the materials they use.  The charging handle is machined from aircraft-grade aluminum.  I have not taken mine to the range at the time or writing this article, but the handle has an integrated gas key and snag-resistant technology. Like all the 3 upgrades we will review, the charging handle comes in 5 different colors. I chose red.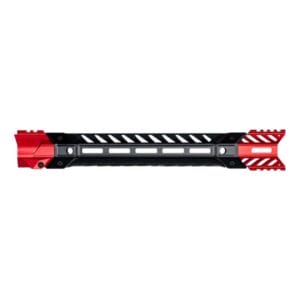 The Tyrant CNC NexGen handrail is one of the coolest looking handrail on the market.
However, this AR handrail function is just as impressive as it's form. My favorite feature on this handrail besides the look is the customization options. The lower half is full of removable MLOK slot scales that allow you to add whatever you need to the barrel of your AR 15.  I added a the VIRIDIAN 4LUX CLOSE QUARTERS GRIP LIGHT with ease to my AR.  I also love the shape of the handrail. The u-shaped bottom make it feel really nice in regular sized hands. Tyrant puts their handrails through rigorous testing. Including, full and semi auto firing, drop testing and torsion testing to name a few.
The Tyrant Designs Next Gen collapsable buttsstock is as smooth as butter.  Feels so natural tucked into the shoulder. Works on any standard mil spec buttstock assembly / buffer tubes.  As I mentioned before, Tyrant doesn't skimp on product materials. The nexgen buttstock is built with a combination of polymer, carbon fiber and aluminum.   You can count on this buttstock to last.  No cracking, peeling or fading. The carbon fiber in the check weld is built to maintain consistent surface temp. No burning your check when hunting hogs in the hot Texas summer. The built in sling attachment hole allows you to attach any number of slings.
Even though all the Tyrant products are built with solid materials, no need to take my word for it as they all come with a lifetime warranty.  Did I mention they are also designed in America?
My Tyrant NexGen AR Upgrade Modification Journey
Sure, the Tyrant AR Upgrades look great, but if they are a nightmare to install then it defeats the purpose.  I hadn't made any modifications to an AR in a while, so I was a little apprehensive to get started.  Spoiler, it took me about an hour to fully upgrade and install the 3 Tryant Design AR Upgrades.
Tyrant NexGen AR Upgrade First Impressions
I'd seen the parts that were being sent online, but it doesn't do them justice when you first see the products upclose.
The packaging is something that you will notice right off the bat.  I am an apple guy, so I was impressed with Tyrant designs and would hold it up against any premium brand packaging.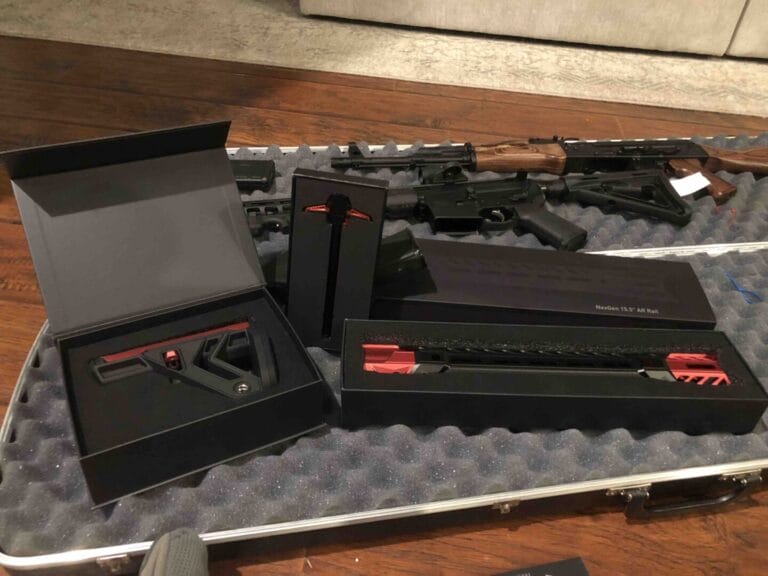 Each package is designed to fit each part snugly in place.  I suspect this also helps protect parts during shipping.  But it exudes quality and attention to detail.  Feeling good this will translate into the products themselves. The only drawback, is you find it hard to just throwaway the packaging after installation.
Starting the Modifications
As I mentioned, I decided to modify my Palmetto State Armory AR. Don't get me wrong, there is nothing wrong with PSA AR 15.  Right out of the box, I loved the look and feel of the gun.  The free float handguard is top of the line, easy to add whatever options you want.  Also it comes with a MOE Carbine Stock. So when I say "upgrade" I am talking more about aesthetics then any issues I had.
Starting with the ButtStock
The biggest challenge with this step was removing the MOE buttstock. When I say biggest, it took about a minute to figure it out.  Then once it was removed, adding the new Tyrant Design NexGen ButtStock was a breeze.  I am one of those guys that generally dives right in and figures it out, but every Tyrant part has a corresponding install video.  Honestly you won't need it. It tooks literally seconds to install even without the video.  You will slide it on, when you meet resistance, pull down on both tabs and push it on.
Here is what mine looked like. I was already getting excited about what the complete mod was going to look like.
Next Installing the Tyrant Designs NexGen Handrail
This without a doubt was the trickiest step in the modification.  Mainly just making sure you keep up with hex screws and small parts that do their best to get lost.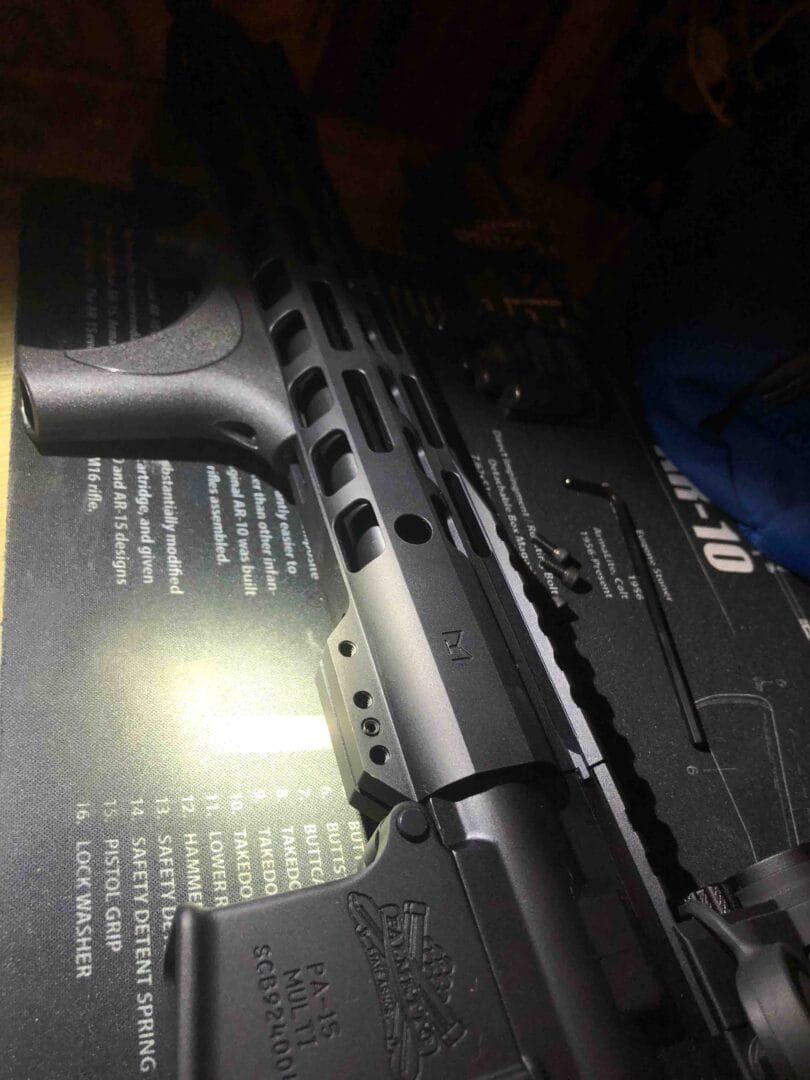 There are a lot of things to keep with when removing an existing handrail.  You may also need a barrel wrench and AR vice to remove the barrel nut, but I didn't have mine handy, so just used adjustable pliers with cloth between the barrel nut and pliers to prevent any scratching.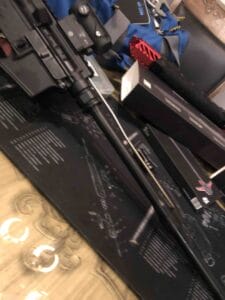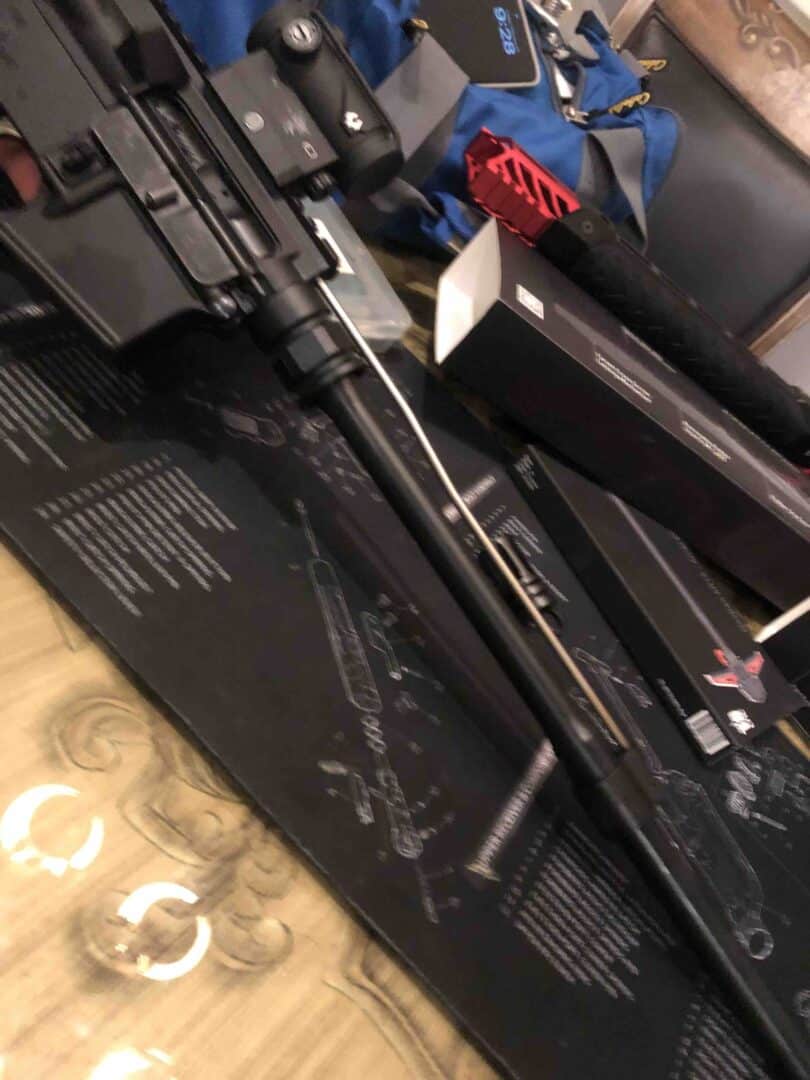 Once I got past this step, adding the Tyrant Designs NexGen Handguard was pretty easy.   Again, every Tyrant part has an install video that you can follow. I again did this without watching the video.  I first installed the barrel nut that comes with the handrail. Tightened to specs.  Then I put the gas tube and gas block back on. Tightened hex screws. All square.
Then added the new handrail.  Started by removing the hex screws that will ultimately tighten the handrail in place. Adding the rail, to where it slide on easily and aligned perfectly to existing picatinny rail.   Tightened back the hex screws. Here is the video showing the steps:
Last Step Installing the NexGen Charging Handle
I saved what I thought to be the easiest step for last, and i wasn't wrong.  You have to remove a couple of parts to get the new one installed.  Remove the BCG, which allows the old charging handle to slide out. After removing the old handle, it was just a matter of sliding in the new handle. I had to shimy mine a little to get it to fit. Last step replacing the BCG. It is that simple.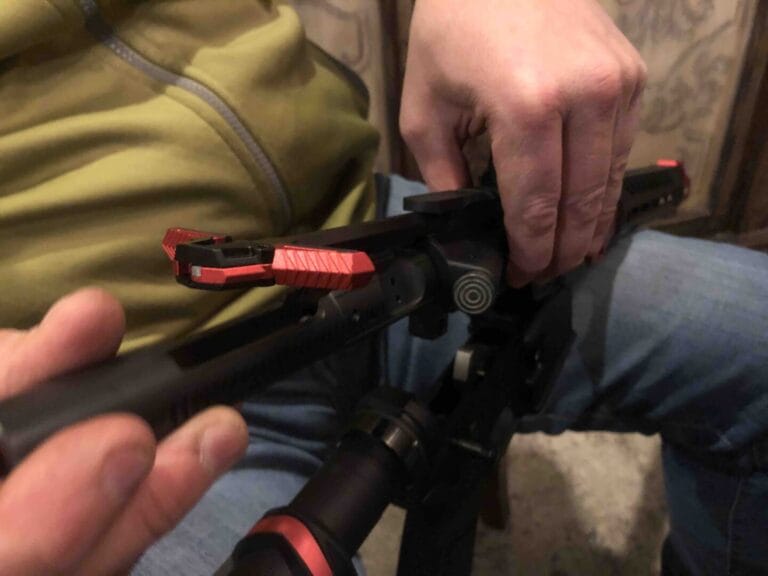 Again, here is a video if you need help.
Tyrant Designs NexGen AR Upgrade Conclusion
As I mentioned, the whole modification took less than an hour.  I also changed out my muzzle compensator to the UltraDyne Apollo Max to match the futuristic look on the new mods.

So here is what my modified AR looks like.  I know it may be a bit much for some, but i love the way it looks.  Like mods you might find in a video game,  but these are real life.
If you are looking for some quality, futuristic AR 15 Modifications you won't find better products than Tyrant Designs NexGen AR upgrades.  If you do decide to modify your AR, please come back and share your experience and pictures.