A closer look at Geissele's complete (almost) Super Duty system.
People often toss around some terms without really knowing what they mean, like "complete weapons system." Complete means just that—everything that's needed to run, feed, maintain and inspect a weapon. It comes from one source. That's not easy, but Bill Geissele comes really close on that.
Bill is a nice guy and a great engineer. His start in the firearms field was making triggers. Instead of simply making the same triggers as everyone else, he made better triggers. Soon, the top shooters and the guys who go places to deal with nasty people were beating a path to his door, wanting triggers.
Then, he made scope mounts—beautifully machined, structurally rigid, essentially unbreakable scope mounts. From there, it was a straight path to complete rifles because, well, if you're going to make the world's best triggers and scope mounts, you might as well make everything else in between, right?
Oh, and then he went into scopes.
The Complete Rifle
The intended audience of the Super Duty is the bearded gents who go to dusty laces. As a result, the upper and lower receivers are machined from forgings. Could Bill make a better upper and lower? Almost certainly. But the powers-that-be have some firm rules, and forged receivers are one of them. So, he builds on that and installs an improved bolt-carrier group.
The carrier is made from the current best steel for that, 8620, while the bolt is made from an improved Carpenter 158, called 158+. Yes, Virginia, it is possible to make a better steel but still call it Carpenter 158 … if you go directly to Carpenter and ask them. And that's what Bill did. He opted for a better steel for the cam pin; he decided that cold hammer-forging barrels was the only way to go, so he acquired the equipment and makes his own.
The barrel isn't lightweight, but instead a medium-weight profile designed to handle hard use and heat, and has a 1/7 twist. The gas block is Bill's own Super Compact Block, and the installation is, in the words of Geissele, "bomb-proof." As in, the gas block is pressed onto the barrel with both the barrel exterior and gas block interior closely matching in size. It's then locked in place by means of two setscrews, each nestling into recesses dimpled into the barrel. Then, it gets a cross-pin through the block and the bottom edge of the barrel itself.
I pity anyone who thinks they'll simply snatch the gas block off of a shot-out Geissele barrel (who knows how long that would take) to install it on another barrel. Good luck with that. It then gets a gas tube and is ready for its handguard.
Before they're all assembled, all the internals and the barrel, as well as the SureFire flash hider/muzzle/brake/suppressor mount, are all given the Geissele Nanoweapon coating. This is a solid lubricant coating that's available only from Geissele. It's a matte finish black coating that you cannot rub off short of going to power equipment—and aggressive equipment at that. It has a surface hardness in the same league as synthetic diamonds. You aren't going to wear it off cleaning, shooting or tossing it into your ultrasonic cleaner. It makes parts rust-resistant, easy to clean and slick in use.
The barrel gets a Super Modular Mk16 handguard, with M-lok slots. M-lok has won the accessory wars so far, and this is what the future portends. Until something better comes along, buy M-lok unless you have a legacy KeyMod to feed.
The Mk16, like all SuperMod handguards, use a proprietary barrel nut. This doesn't have the flanges of a regular barrel nut, and thus there's no problem with the gas tube touching the barrel nut. To hold the handguard on, and to keep the barrel nut in place, Geissele uses a pair of heft bolts crossway through the bottom rear of the Mk16. These pass-through grooves on the barrel nut and keep the whole package tight and properly aligned.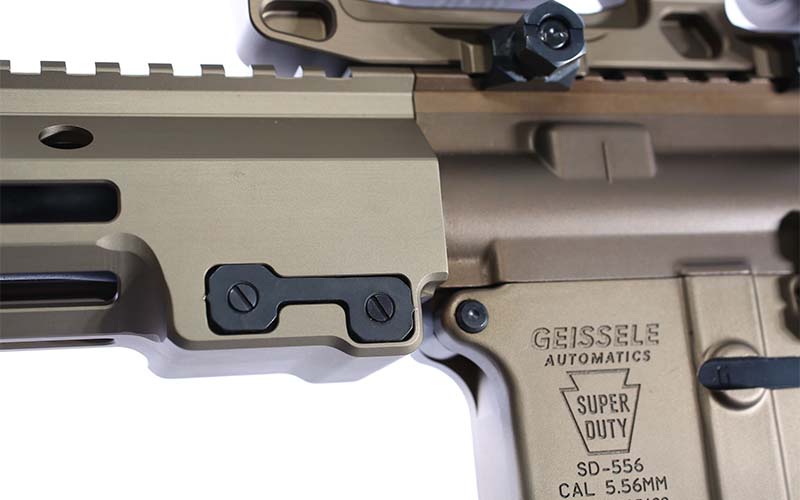 And the attention to detail that is Geissele is right here to be seen. Notice that the Mk16 clamping bolts pass through the aluminum handguard, but they're threaded to a steel plate inset on the far side. The tensile strength of aluminum is half that (at best) of steel. It's entirely possible to strip the threads of an aluminum handguard, by over-tightening the steel bolt. Geissele won't let that happen.
Another Geissele detail is the bolt stop. Instead of the small mil-spec lever, we get a two-headed extended lever that's plenty big without being in the way.
Building Up The Lower
The lower gets a Geissele SSA-E X with Lightning Bow, which is a first-class two-stage trigger that has a straight bow for consistency in trigger pull. There's a Geissele pistol grip behind that, and again, Geissele gets it right. Perhaps the one detail that I find not to my liking on modern ARs is that I'm not a fan of pistol grips that fill the upper back end of the lower receiver, but Geissele installs an A2 here (kudos, Bill). In-between is an ambidextrous selector/safety.
On the back of the lower receiver, there's a VLTOR B5 Systems buffer tube and SopMod stock. The B5 System assembly has a longer buffer stroke than a carbine system; this makes for a softer and less-bouncy felt recoil.
To charge the rifle, you grab a hold of the Airborne Charging handle, an ambidextrous version of the super Charging handle, but with a bit lower profile, so it's less likely to get hung up on your gear.
Remember I mentioned optics? Well, there's now a Geissele scope, the Super Precision, a 1-6x riflescope with a DMRR-1 reticle, allowing for quick range estimation and hold-over. The Super Precision isn't made by Geissele. However, they told an experienced Japanese (not China, that'd be egregious, and Geissele doesn't do egregious) optics company what they wanted, and the standards they'd test the optics to—and, knowing Bill, the penalties for failure on the part of the optics maker would be epic.
Now, to be a complete systems provider, Bill would have to offer ammunition and magazines with his rifles. When I suggested that, with a big grin, he just laughed. We agreed that maybe two decades ago it might have made sense. But now, with so many good magazines and plentiful ammo choices to be had, there's no point.
Well, Does She Shoot?
First-class manufacturing is one thing, but the real test is in the shooting. So, I volunteered for the boring task of seeing if I could make a Geissele rifle choke.
I failed.
I had an opportunity to test the rifle not just at my gun club and its 100-yard range, but on another range with elbow room out past 500 yards … and I was able to ring steel with boring regularity as long as the wind cooperated. I can shoot, but calling the wind every time is a voodoo level of skill I haven't yet perfectly mastered. I did manage to shoot a 500-yard group that spanned just a smidge over 2 inches, which is something I'll be bragging about for a long time.
You can have the Super Duty as a rifle with a 16-inch barrel, or as a pistol with a 10.3-inch barrel. Again, Bill is making them for the bearded gents as well as us. Sixteen is easy for us, and 10.3 inches is what the guys who want really short blasters are accustomed to using.
And, so you know, you don't just "buy" a Super Duty—you order it built to your specs. You pick rifle or pistol, barrel length, scope or no scope, and color. Color? Yes. Mine came in DDC (Desert Dirt Color), which I find to be a far better descriptor than FDE. You can also opt for Luna Black, Gray, 40mm Green, OD Green and Iridium. Place your order and wait. Your rifle is built to your specs, not just snatched off an inventory rack, wrapped and shipped.
I love this country.
Editor's Note: This article originally appeared in the August 2022 issue of Gun Digest the Magazine.
---
More AR-15s:
---
NEXT STEP: Download Your Free Storm Tactical Printable Target Pack
62 Printable MOA Targets with DOT Drills – Rifle Range in YARDS This impressive target pack from our friends at Storm Tactical contains 62 printable targets for rifle and handgun range use. Target grids and bullseye sizes are in MOA. Ideal for long-range shooting!
Subscribe to the Gun Digest email newsletter and we'll send your print-at-home target pack right away. Just enter your email address below.
---