If you're in the market for a leather inside the waistband (IWB) holster, you might be wondering what the best holster is. There are many companies who make leather IWB holsters, so how can you choose? Don't worry, we'll go over different brands and discuss the pros and cons of each one.
Leather IWB Holsters – Best Quick Pick
Our pick for the best IWB leather holster is The Defender by Relentless Tactical. It offers smooth and comfortable concealment for over 80 gun models and is made of durable bullhide leather.  Fits 80 models of pistols. One of the best Glock Leather IWB Holsters. 
The Defender is not ambidextrous, but is available in both right- and left-hand models. Relentless Tactical offers a 100% lifetime satisfaction guarantee on all their leather holsters.
Get Great Guns and Ammo Deals!
---
Tips for Choosing the Best IWB Leather Holster
There are a number of things to keep in mind before you decide to purchase a leather inside the waistband (IWB) holster. Each of these factors will help you determine if an IWB holster is right for you.
Local Gun Carry Regulations
As a gun owner, it's your responsibility to educate yourself in regulations that apply to where you live and travel. Concealed carry laws can vary by state, county, and city, and these regulations do occasionally change. Make certain carrying concealed is legal in areas you regularly go, and stay up-to-date with those regulations. Never assume it's okay to carry concealed just because "so-and-so said it was".
Your Wardrobe
If you decide to carry IWB, you might need to adjust your wardrobe, depending on your firearm and the holster you choose. Often, reviewers of IWB holsters will recommend wearing pants a size or two larger than you normally wear, which will give you room for your IWB holster.
Other clothing might not be appropriate for IWB carry. Leggings or skirts (for women), or sweatpants and shorts (both men's and women's) with drawstrings are just a few that may present difficulty when using IWB holsters.
Handgun Size
Leather IWB holsters are available for many firearms, both small- and large-frame pistols. But you'll want to make sure you get one that fits the gun you plan to carry. Most of these holsters don't have retention features. Instead, they rely on shape of the holster and pressure from the waistband to keep the firearm secure.
Your Dominant Side
Most IWB holsters aren't ambidextrous, so you'll want to make sure to get the correct right- or left-handed holster to suit your dominant hand. Even if you decide to carry cross draw, you'll still order the correct side for your shooting hand.
---
Best IWB Leather Holsters by Brand
Now, we're ready to get down to it, and discuss the pros and cons of several different brands of leather IWB holsters. Each offers its own benefits and disadvantages.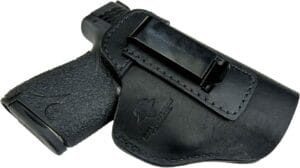 Relentless Tactical offers several leather holsters, both IWB and belt slot holsters. For IWB, their most popular holsters are the Ultimate Suede Leather Holster and The Defender. The Defender is a smooth leather holster made of bullhide, somewhat molded to specific handguns.
The reinforced top of The Defender maintains its shape when the pistol is drawn, aiding in re-holstering. There are no retention features such as a strap to slow down your draw. Firearm security relies on pressure from the waistband.
The Defender is available for over 80 different makes and models of semi-automatic handguns.
The Ultimate Suede Leather Holster is a soft leather IWB holster suitable for both semi-autos and revolvers. Just make sure you order the correct one for your handgun. This holster features a strong metal clip, and its soft leather ensures comfort for the wearer.
Relentless Tactical offers a lifetime guarantee on all their leather products.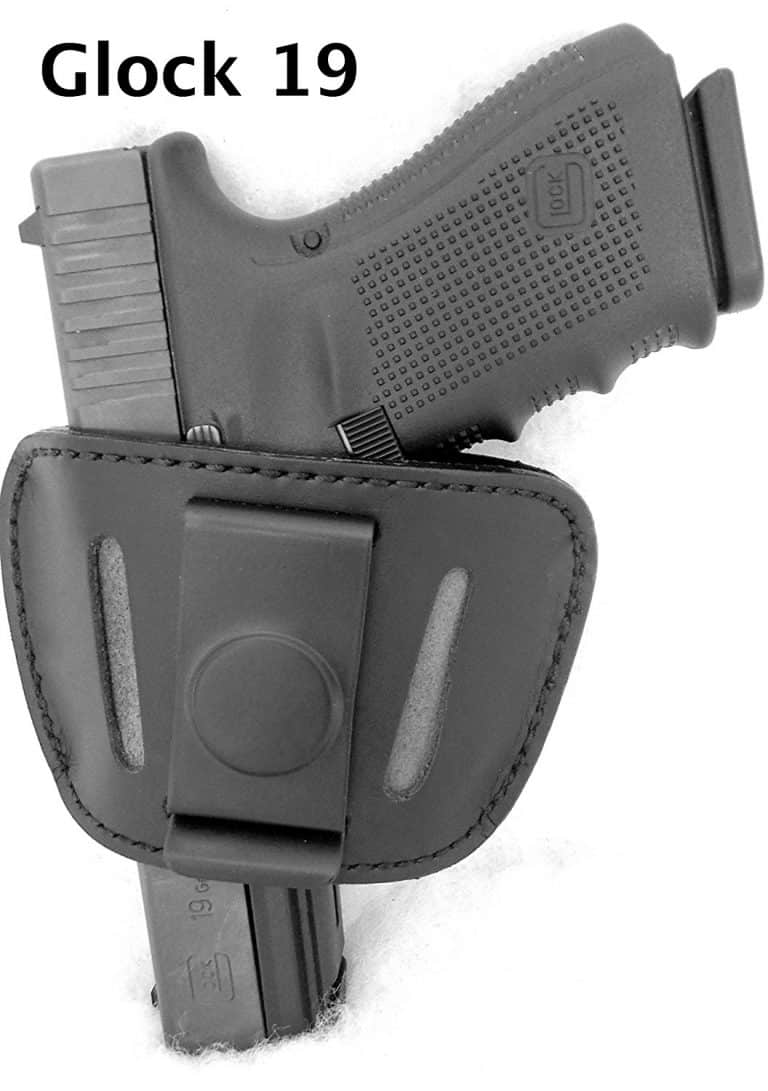 Best 1911 IWB Leather Holster
DTOM offers 5 leather IWB holsters for certain firearms. One holster, for Glock 19, 23, and 32 and the Ruger SR9, has a retention strap with a thumb break. Another, made of suede leather, also has a spare magazine pouch.
The Universal IWB/OWB holster is both an inside the waistband (IWB) holster and an outside the waistband (OWB) holster, using either a metal clip or belt slide slots. It's their only holster that is ambidextrous and can be used by both right- and left-handed shooters.
Don't Tread on Me leather IWB holsters come with a one-year warranty, though the company's website says they'll work with customers no matter how long they've had the holster.
Great IWB Leather Holster for Smith & Wesson MP Shield, 40 Cal S&W
Outbags produces eight leather IWB holsters for specific firearms. These leather holsters are somewhat molded to the handgun's shape. There are no additional retention features to slow down your draw.
These holsters are not ambidextrous, so make sure you order the right side to match your dominant hand. Also, use caution when ordering to get the proper fit for your handgun.
The holsters are available in both black and brown leather. They come with a metal clip and have a clear protective coating.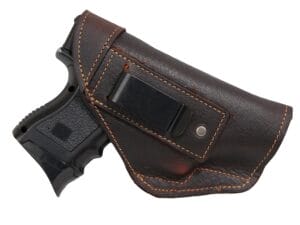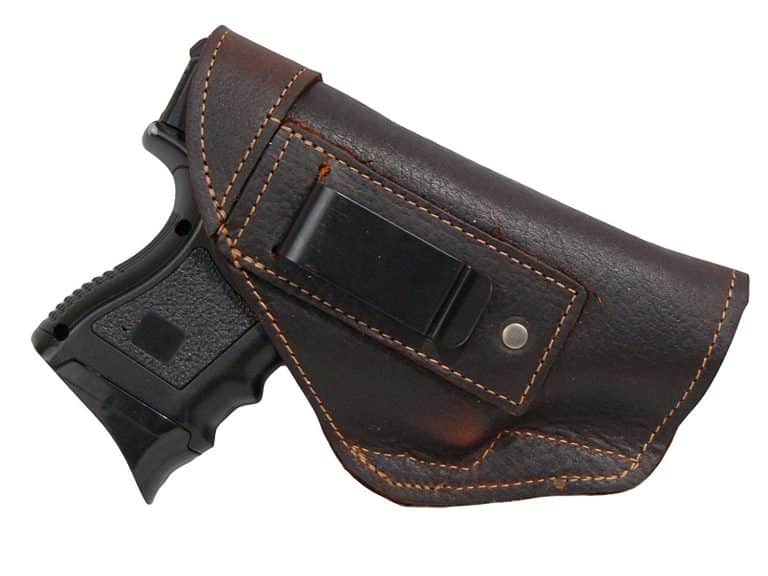 Best Revolver IWB Leather Holster
There are several styles of leather IWB holsters made by Barsony. They have holsters for both semi-automatics and revolvers. Several of these holsters are tuckable, meaning the clip is designed so you can tuck a shirt around it, aiding in concealment.
These holsters are not ambidextrous, so be careful when you order one.
Barsony also offers a couple holsters suitable for handguns with additional accessories such as laser sights. They also have holsters in black, brown, tan, and burgundy colors.
One unique holster by Safariland is the Model 100T Professional Tuckable. The patent pending C-clip design allows for adjustment of cant (carry angle) to customize the fit to your draw preference. The back of the holster (skin side) is designed with a high rise to protect your firearm from oils and sweat on the skin.
Other leather IWB holsters include the Model 155 Subversion, Model 6D ATB (this holster is suede leather and has a retaining strap), Model 3S, Model 135 Suppression, Model 6 (suede leather), and Model 100T.
---
How to Break In a IWB Leather Holster
The best way to break in a leather IWB (inside the waistband) holster is to use it regularly. Over time, the leather will conform to the shape of your firearm, becoming more comfortable to wear and making it easier to draw your weapon.
You can speed up the process by applying a leather conditioner or oil to the holster to soften the leather. Here is our favorite leather conditioner.
The best leather conditioner for a IWB Holster is by far Leather Honey Leather Conditioner.  It is made from all-natural ingredients and is said to be able to penetrate deeply into the leather to moisturize and protect it from cracking and drying out.
IWB Leather Holster – Final Thoughts
Finding the perfect leather IWB holster for your style of carry may seem a daunting task. There are so many available on the market, and everyone has their own opinion of them.
Leather holsters are durable and long-lasting and require just a little effort in the area of maintenance. Many manufacturers offer at least a one-year warranty, if not more.
Always make sure you research gun carry regulations in your area. It is your responsibility as a gun owner to follow all laws regarding concealed carry in your state, county, and city. This includes locations you may pass through, whether daily for work or while traveling.
Our pick for the best leather IWB holster is The Defender by Relentless Tactical. It comes for most available pistols and is available in both right- and left-hand models. You'll get a mid-priced leather holster backed by Relentless Tactical's lifetime warranty. For the price, you're not likely to find a better, all-around leather IWB holster.
Recommended Reading
IWB Holsters – Which Ones Are The Most Comfortable?
Top 3 Leather IWB Holsters for Concealed Carry