Kristi Noem has urged other GOP governors to follow South Dakota and implement near-complete abortion bans in the wake of Roe v. Wade being overturned.
In an interview on CBS, the South Dakota governor said that she hopes that other Republican states "take the action" in making the procedure illegal in all circumstances, unless the woman's life is in danger.
South Dakota was one of a number of states that had trigger laws implemented after Roe. v Wade was thrown out by the Supreme Court in June last year.
Noem said she believes South Dakota's ultra-restrictive abortion laws are "leading the way" in protecting lives and called on other GOP governors, such as Florida Governor Ron DeSantis, to follow suit.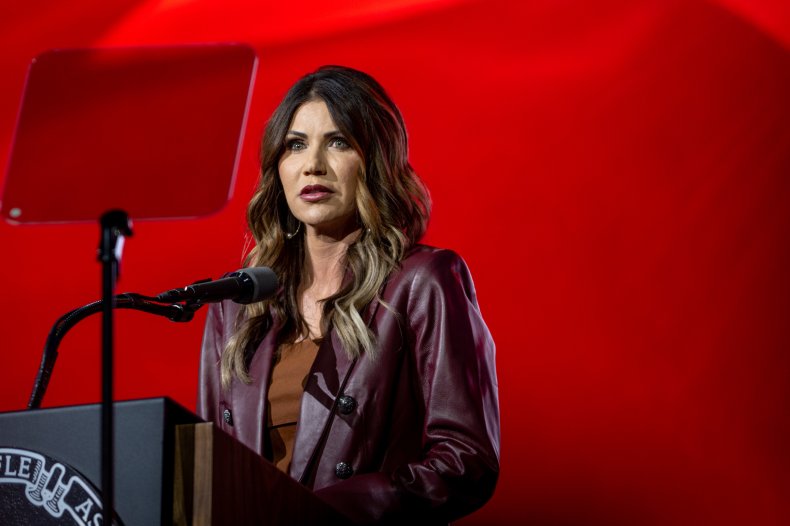 Noem was asked about abortion laws in other states post-Roe v. Wade after her spokesperson Ian Fury recently accused DeSantis of "hiding behind a 15-week ban," rather than pushing for greater restrictions.
"You know, a lot of people talk and say a lot of things to grab headlines and make broad statements, I prefer to take action and to do things that actually protect life," Noem said.
"I'm proud of South Dakota and how aggressive we've been to make sure that we are protecting each and every single life that is precious, and that we continue to lead by example."
Noem added that she would "nudge" DeSantis and other GOP governors to "do what they can to back up their pro-life record."
She added: "I think that talking about situations and making statements is incredibly important but also taking action and governing and bringing policies to protect life are even more important because that's what truly will save lives."
Noem's and DeSantis' views on abortions could soon become nationally significant.
Both governors have long been named as potential Republican candidates for the 2024 Election, with Noem frequently included in a shortlist of who Donald Trump may pick as his next running mate.
The topic of abortion looks certain to be one of the key topics for voters in the GOP presidential primary, as well as the next general election.
Abortion was considered one of deciding issues for voters in November's midterm elections, where the GOP massively underperformed, resulting in the party only just managing to achieve a majority in the House and failing to win back control of the Senate from the Democrats.
However, Noem has downplayed her presidential ambitions, telling CBS that she is "not convinced" that she needs to run for the White House and is currently focused on helping South Dakota.
"But I also believe that this country needs somebody to lead us that has a vision, that appreciates the freedoms that this country provides to the people that live here, and really does want to protect them and our constitutional rights going forward," Noem said,
"I think that as we go through the coming months and even the next year, year and a half, that leader will emerge."
DeSantis has been contacted for comment.