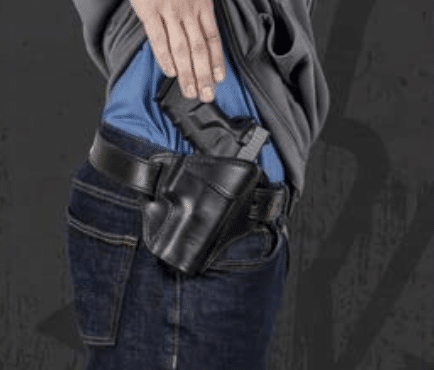 Pancake holsters are ideal concealed carry holsters because they sit close to the body. You can usually conceal with lighter clothing because a pancake holster sits so close to the body and ride high on the hip. They usually come in nylon or leather varieties, with leather being the most popular choice.
Since they are so comfortable, pancake holsters are popular with both law enforcement and civilians who carry concealed. Most people report that pancake holsters are more comfortable than inside the waistband holsters.
Best Pancake Holster – Quick Pick
We have done the research for you and came up with a list of our top picks. My favorite pancake holster is the Relentless Tactical Holster.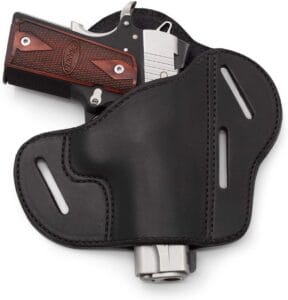 This holster is versatile and allows you to have great concealment with maximum comfort. It's made from premium leather, right here in the USA. You have the choice to wear this holster a few different ways. It think you might find this holster to be the best deal out there for a great experience carrying your handgun.
Get Great Guns and Ammo Deals!
---
Choosing A Pancake Holster
If you want carry a concealed handgun you need a secure and reliable way to carry it. That is why so many manufacturers make different holster types. There isn't a perfect holster. What may be a perfect holster for one, may be junk for another. Different people have different needs and wants.
This is probably the reason why most gun enthusiasts can sometimes have boxes full of holsters. Not only are they looking for the holster that fits them the best, they may also have different holsters for different guns.
Don't Leave Home Without One
Just because I say there is no perfect holster, don't give up one them! Like the firearm you choose, choosing your holster will be a personal decision. Just make sure you choose a quality holster that meets your personal needs.
There a multiple holster manufacturers that make great holsters to fit just about any budget and need. As a matter of fact, there are so many good holster manufacturers, that make great holsters, that choosing a good one can be difficult. I hope this article will help you narrow down your decision.
Even though the decision is hard, don't just throw your gun in a pocket or tuck it in your pants without a holster. Carrying holsterless is dangerous. Nothing protects the trigger so you could end up having a negligent discharge. If you tuck a holsterless firearm into your pants, it could slip down to the floor, and out your pant leg.
Thrown into your pocket, without a pocket holster, the handgun could flip around and as you draw it out of the pocket you would be holding the wrong end. These are all recipes for disaster. Having a good, secure holster brings safety and peace of mind.
Basic Concealment Holster Functions
What types of functions should you be looking for as you choose your holster? We all want a good deal, to be comfortable, and have quality things. Beyond these extra qualities, there are some basic functions that any holster should provide the user.
Fit
The holster you choose to wear should fit your body type. Some people have better luck with each type of holster. People who are on the skinnier side may not do as good with an OWB holster because they can tend to ride too far away from the body if you are skinny.
Not only should your holster fit you, it should also fit the handgun you use. Not too loose and not too tight. That's what you're going for. Most pancake holsters will be molded to fit certain guns. As you are shopping, check that your handgun is on the list of guns to be used with the chosen holster.
Retention
The holster you choose should hold your handgun no matter what type of activity you are involved in. Your firearm should stay put if you are sitting, walking, running, or doing somersaults.
Holsters that are molded to your handgun have what is called passive retention. This means that the friction of the holster keeps the gun in place. Some holsters have added mechanisms to keep the handgun in place, like a strap. Each added mechanism is an added level of retention.
Access
The holster you choose should give you easy and quick access to your handgun. Every different barrier that you have to go through to get to your firearm means it will take you longer to draw it. For example, do you need to move clothing out of the way? Do you need to unsnap a strap or other retention mechanisms?
Comfort
You really should be fairly comfortable wearing your holster. I know some gun gurus have said that having a firearm should be comforting not comfortable. I understand what they are saying but I also understand that you will probably not end up wearing your holster if it's uncomfortable.
Stability
The holster you choose should keep your gun at your side without moving around. If it shifts around on your belt it may not be in the place you think it is when and if the time comes to draw your handgun.
Low Profile
The holster you choose should conceal well. In order to be concealed well your gun needs to be out of sight. You don't want it bulky and showing the outline through your clothes.
What is a Pancake Holster?
A pancake holster is a type of holster that is worn on the hip, and is designed to be worn with a belt. It is called a "pancake" holster because of its shape, which is relatively flat and wide, resembling a pancake.
This type of holster is typically made of leather or synthetic materials, and is designed to hold a handgun in a horizontal position, with the barrel of the gun facing forward.
---
The Best Pancake Holsters
Most top manufacturers, like Galco, DeSantis, Safariland, and others make great pancake holsters. That's why the decision on which pancake holster is the best, can be a hard one to make.  Here are our favorite pancake holsters.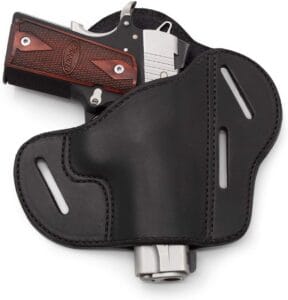 This is a traditional pancake holster with three slots for just about every carrying situation. You can wear it strong side with a straight drop, butt forward for cross draw, or even behind the hip. It has an open muzzle to allow for different slide lengths.
The Relentless Tactical Pancake Holster – Features
Made in USA

Genuine cowhide leather

Three slot pancake design

Maximum comfort

Effective concealment
| Pros | Cons |
| --- | --- |
| Well made | A little stiff |
| Double stitched | Squeaky |
| Fits 1911 like a glove | Break in period needed |
| Directions for how to break in worked perfectly | |
| Comfortable | |
| Good retention | |
| Smooth draw | |
2.

Barsony Pancake Holster

–

Best Pancake Holster for Revolers,  Sub-Compacts 

This is a great pancake holster if you are looking for a nylon one that holds a compact 9mm. You can wear this holster in six positions since it's ambidextrous. You can wear it strongside, crossdraw or small of back.
The Barsony 6 Position Ambidextrous Concealment Pancake Holster – Features
Ambidextrous

Made from premium nylon

Made in USA

Adjustment retention strap

Great concealment

Convenient
| Pros | Cons |
| --- | --- |
| Affordable | Thumb break was hard to open |
| Lightweight | Collapses when you draw your weapon so hard to re-holster |
| Comfortable | Crossdraw is awkward because of the slant |
| Conceals well | |
| Good quality | |
This Blackhawk holster contours to your body for added comfort and exceptional concealment. It features a reinforced thumb break for durability and ease of draw.
BLACKHAWK! 3-Slot Pancake Leather Holster – Features
Covers trigger guard

Right or left handed options

Strong side, crossdraw, behind the hip, or appendix carry

Three slot pancake holster

Contours to your body
| Pros | Cons |
| --- | --- |
| Quality leather | A little stiff |
| Fits really well | Break in period needed |
| Affordable | Snap is difficult |
| Rides close to body | |
| Does not move | |
Outbags tries to manufacture their holsters to balance quality and price. They set their prices high enough to maintain their standards of premium quality, yet make adjustments in their manufacturing to keep their prices affordable. They do not disappoint with this holster. It's made from premium leather, in the USA and is durable and dependable.
Outbags Pancake Holster – Features
Right and left hand options

Genuine leather

Handcrafted in the USA

OWB side carry

Fits belts up to 1.75 inches

Hard molded with protective clear coat
| Pros | Cons |
| --- | --- |
| Excellent quality | May mar the surface of the gun |
| Good fit | Gun can irritate skin |
| Comfortable | Break in time needed |
| Good forward cant | |
| Rides high | |
The firearm in the DeSantis Gunhide Pancake Holster rides high and is presented at an optimum draw angle. Its thumb break and exact molding, together with a tension device, allows for a secure and highly concealable carry.
Belt slots are 1 3/4″ wide. Available in black or tan leather, with or without suede lining, plain or basket-weave finish. Some models with two belt slots and without tension device.
DeSantis Gunhide Pancake Holster Features
Fits the following firearms: GLOCK 19, 19X, 19 GEN 5, 45, 23, 32, 19 WITH REFLEX SIGHTS, 19X WITH REFLEX SIGHTS, 19 GEN 5

Thumb Break Safety
| Pros | Cons |
| --- | --- |
| Highly Adjustable | Some say. leather could be thicker |
| Good fit | |
| Comfortable | |
---
Pancake Holster – Conclusion
As you can see, there are plenty of pancake holster to choose from. Answering the question, what is the best pancake holster, can be a difficult question to answer. There is quite a few good ones to choose from. I chose the Relentless Tactical as the top pick because it outshines the others.
I can say this holster is the most comfortable pancake holster for carrying a 1911. It protects your skin from the handgun rubbing up against it. It rides nice and close to your body and the grip is easy to reach. I have no doubts you will love this holster.
For more holster reviews visit our Holsters Resource Page.
Recommended Reading 
Pocket Holsters For Ruger LC9S
Pocket Concealed Carry Holster For The Ruger LCP 380
Pocket Holsters For Beretta Pico Pistol
Best Desantis Nemesis Pocket Holster