Everyone has a few favorite items in their closet: an old comfy pair of jeans, a classic white shirt, and a great pair of sneakers. But do you own a pair of tactical pants? If you're an outdoor enthusiast, a law enforcement official or even an EMS, tactical pants might be just what you need.   
No matter what your activity, a pair of tactical pants is a great addition to anyone's wardrobe. They're durable, flexible and can handle a surplus of storage, so much that you'll never regret investing in a pair.
Get Great Guns and Ammo Deals!
---
What exactly are Tactical Pants?
Although they look aesthetically similar, these pants are not your ordinary cargo pants. Tactical pants are tougher and usually made of canvas or ripstop material. Complete with hidden pockets for extra gear, some are coated with Teflon for super silent movement and added protection from the elements.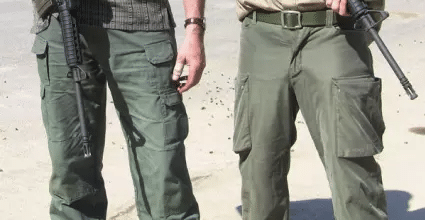 Originally created as mountain climbing pants, these unique trousers have a considerable history of military service, while also acting as hiking pants. Before you suit up for combat or any type of get-your-hands dirty work, take a look at some considerations.
What to Consider When Wearing Tactical Pants
Environment

: original weight tactical pants work well in cool to cold conditions. Should the temperatures get warm or hot, a pair of lightweight tactical pants or shorts is your best bet.

Activity

: synthetic fabric blend will be a great choice if you engage in a higher level of activity. This type of material fares much better than a cotton-canvas blend.

Price

: As the saying goes, "you get what you pay for." But don't feel like you have to break the bank for quality. There are several brands that offer great value at a reasonable price.
---
Best Tactical Pants
Now that you've got some information for when you consider your needs, take a look below at our top picks in tactical pants.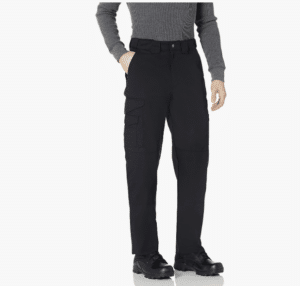 These tactical pants are a fine example of a great value at a decent price. Constructed of 100% cotton, they're a necessity in extreme heat locations. The breathability and durability combination cannot be beaten by man made materials.
Besides the cotton canvas material, the Tru-Spec 24-7 tactical pants cotton are constructed of a basket weave style — fully capable of withstanding anything you can throw at them.
Tru-Spec 24-7 tactical pants are super durable and have a total of 14 pockets, including two for folding knives, two for cell phones and bonus dual rear internal pockets for extra magazines.
* Noteworthy bonus — the knee pad compartments allow you to insert sturdy knee pad material if you choose.
Pros
Casual Look – low profile pants, so at first glance it's hard to tell if they are tactical pants — perfect for everyday wear

Additional small cargo pocket sewn over the main one — exact sizing to store an extra handgun magazine
Cons
Tru-Spec 24-7 Tactical Pants – Features 
Cotton/polyester

Self adjusting slider

Teflon coating for stain resistance and durability

Side gusset expands to provide secure storage for gear

Cargo pockets feature two internal magazine compartments, plus external cell phone pocket and two accessory pockets

Reinforced knees with openings for knee pads

Affordable price

Best used for hiking, law enforcement or EMT and every day

Check latest price on Amazon
---
The 5.11 tactical pants are much more smooth and modern looking, rather than looking as if you're locked and loaded and ready for action. On the other hand, they may not be the best choice for your workplace, unless you work in an industry which requires you to carry various tools.
Even though these tactical pants look comfortable and non-conspicuous, they sacrifice little in function. Constructed of Flex-Tac fabric, a blend of stretching polyester and cotton, these tactical pants feature not only the built-in stretch, but a stain and soil resistant finish as well.
The knees are pronounced and the crotch is pleated so that your joints won't bind up while walking on duty or hiking a trail. The 5.11 Stryke tactical pants are Teflon treated for moisture resistance, have hip, cargo, rear and knee pockets, and badge clips on either side — they're perfect for a law enforcement official or anyone that needs to be ready and in charge.
Pros
Very comfortable to wear, complete with handy elastic waistband

Reinforced/multiple hand pockets
Cons
5.11 Stryke Tactical Pants – Features 
Polyester/cotton material

Constructed from 5.11's patented two-way stretch of 65% polyester/35% cotton ripstop fabric

Excellent performance in professional and recreational situations or in harsh conditions

Extremely lightweight and durable.

Teflon fabric treatment protects against stains, spills and soil

Comfortable self-adjusting waistband, gusseted crotch and articulated knees

Ideal for running, kneeling or crawling during your specific work demands

12 pockets — includes double-deep cargo pockets, YKK zippers and Prym snaps

Durable triple-stitch reinforcement at major seams and stress points

Flex-Tac fabric with 4-way stretch
---
These tactical pants are designed with input from female operators and made from our patented two-way mechanical stretch fabric. Featuring a fully gusseted crotch, fitted, stretch waistband, and a Teflon finish for extra comfort and mobility, these pants are very similar to the 5.11 Stryke men's pants and offer pretty much the same features and specifications.
The Best Women's Tactical Pants
In addition, two pockets, including double-deep reinforced cargo pockets and front pockets are perfectly sized for a knife, cell phone or other small necessities. The 5.11 Stryke Women's Tactical Pants have sufficient storage and then some. These tactical pants are not only flattering, they are simply a comfortable pair of pants. You will truly love them.
Features
Durable, comfortable women's covert cargo pants

Comfortable for everyday, all-day wear

Extra pockets sized for tactical use

6.76 ounce Flex-Tac ripstop fabric

63% polyester/ 37% cotton

Stretch waistband

Fully gusseted crotch

Kneepad ready

Bartacking at major seams and stress points

Teflon finish

12 pockets sized for tactical use

Rinse washed

YKK

zippers

Prym

snaps

Imported

Check latest price on Amazon
---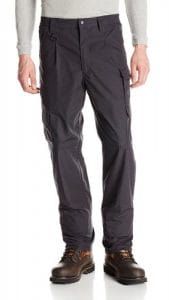 These pants may very well qualify as the lead in the active tactical pants category. With an action stretch waistband that fits tightly and will bend during extreme activity, these pants are also terrific for outdoor sporting use.
Nine fully functioning pockets offer you all the standards you would expect, along with a few bonus perks for storing your extra necessities. The Propper Tactical Pants are constructed of 65% polyester with a 35% cotton breathable blend and fares exceptionally well during hot months or vigorous activity.
The seamlessly created double stitching prevents tears and fraying at the most used points. The crisp pleats add a slim and professional fit. These MIL-T-44047E military specific tactical pants are durable, flexible, comfortable and an all-around great addition to your wardrobe.
Pros
Top-notch quality finishes

Rear wallet pocket with a smaller additional pocket — great feature as it's more practical than a large tactical bag or backpack
Cons
Colors are darker than they appear online
Propper Tactical Pants – Features 
60% cotton/40% polyester twill

Sewn to military specification MIL-T-44047E

Fused pocket flaps for clean, professional look

Six-pocket design (four with button flaps)

Drain holes in bellowed pockets

Reinforced seat and knee

Imported

Check latest price on Amazon
---
The Blackhawk Lightweight Tactical Pants allow you to carry the most, more so than other pants in this review. More than your typical pair of cargo pants, these handy tactical gear pants feature angle-cut hand pockets with flat edges for proper placement and orientation of knives, pens, and other necessities.
All major stress points are reinforced with bar tacks to enhance durability, while magazine storage is handled smoothly, thus allowing ammo to be reached quickly and easily from a shooting position without interfering with standard pocket usage.
Constructed with flex-like material that works in sync with the gusseted groin for more mobility,
these tactical pants are constructed of a durable ripstop fabric containing 65% polyester and 35% cotton. The durable fabric is treated with a Teflon treatment which makes it stain resistant and enables it to dry faster after washing.
Double Layering in the Knees
With double layering in the knees and seat for increased wear and tear protection, the reinforced belt loops will accommodate any belts of up to 1.75 inches in width. In addition, the waistband can slide and expand to provide increased mobility.
A hidden large pocket behind the right-hand pocket can be secured with a zipper and can be used to keep your valuable items secured. In addition, all of the storage pockets are zippered for increased security. A smart choice at a reasonable price.
Pros
True to size

Belt loops spaced perfectly
Cons
Silicon strip in waistband created to keep your shirt tucked in, but unfortunately it may chafe your skin
Blackhawk Lightweight Tactical Pants – Features  
Large hidden zippered pocket behind right-hand pocket keeps valuable items safe

DWR (durable water repellent) treatment resists stains and dries quickly

Easy-access, top-opening magazine pouch on each leg

Double layering in seat and knees for added wear and protection

Vertical zippered storage pocket outside each cargo pocket for easy access

65% polyester/35% cotton

Large, top-opening cargo pockets have segmented two inch elastic webbing inside to secure and properly orient up to three weapon magazines, flashlights, knives or other items for quick access

Extra-wide, reinforced belt loops

Imported

Check latest price on Amazon
---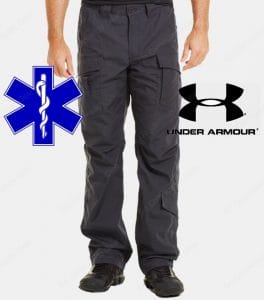 Ripstop cotton and polyester combine to make an ultra durable pair of pants that are treated with the UA Storm DWR finish. They repel water easily to keep you drier in wet weather conditions.
Built with medics in mind, the pockets include separations for shears, a penlight, suture tools, and pens. A nice feature of these pants is the concealed document pocket — perfect for travelers who need to stow their passport and and other small items.
No need to worry about the sun's damaging rays with these tactical pants — 30+ UPF protects your skin from the sun for those long, hot days on the trail and an ankle pocket gives you access to other necessities such as a tool, flashlight or small weapon.
The Tactical Medic Pants are another great product from Under Armour. Give them a try.
Under Armour Tactical Medic Pants – Features  
Storm DWR water resistant coating

60% cotton, 40% polyester

Durable ripstop material

Secure cargo pockets for lots of gear

Elastic waistband for concealed weapons

Dual knife/ light pocket

Hidden document pockets

Reinforced crotch to prevent splitting

Secured ankle pocket

Check latest price on Amazon
---
The 5.11 Men's Tactical Taclite Pro Tactical pants are a rugged and smart addition to anyone's closet. Featuring removable knee pads that come standard with each pair, they're perfect for a hard-core paintballer, play archery attack or even a hunter who spends a great deal of time crouched down waiting for that perfect shot.
Like most tactical pants, the 5.11 tactical pants are constructed of a 65% polyester and 35% cotton blend which makes them absolutely durable and lightweight at the same time.
Ideal for anyone who enjoys spending time outside, in work, play or both. The Teflon treated fabric will protect your tactical armor from spills and stains as well as keep the dirt from clinging to your pants. The result? They look brand new every time you wear them.
With a double-reinforced seat and knees, you'll be able to bend, kneel, or crawl comfortably. Lastly, these pants have multiple pockets made specifically for tactical use featuring YKK zippers, or the strap-and-slash locks. An excellent pair of tactical gear.     
Pros
Triple stitches — can be used for a long time without fear of rips and tears

Teflon treatment specially designed to repel oils, dirt, and liquids
Cons
Not the best material to wear in warm temperatures
5.11 Men's Tactical Taclite Pro Tactical Pants – Features  
Lightweight 65% polyester and 35% poly cotton ripstop — treated with HT Teflon wear-resistant finish

Two cargo pockets — magazine/cell phone pocket

External knife pocket

Signature rear strap and slash pocket design; rear web strap

YKK zippers and Prym snaps plus hip-mounted d-ring

Gusseted construction for the utmost in flexibility and strength

Exceptionally durable with triple-stitch reinforcement and extensive bartacking at major seams and stress points

Check latest price on Amazon
---
Best Tactical Pants – Final Thoughts
Whenever you find yourself engaged in a tactical scenario or anywhere in between, you need the best tactical pants to get through it. Wearing tactical pants will not only allow you to blend in with the environment around you, but they will also protect you from the elements and anything you may encounter.
The great thing about tactical pants is that they won't restrict your mobility and flexibility. Today's tactical pants are uniquely designed to give you the freedom to move when and where you want to, without curbing or reducing your movement.  
Recent technologies have made most tactical pants to be redesigned with reinforced knees so you can change shooting or crouching positions and keep them for longer — which is a huge benefit for today's recreational shooters.
Whether you're wearing tactical pants for light duty, paintballing, leisure wear or on duty, there's plenty out there to choose from. We certainly hope this review has helped you find the right pair of tactical pants to experience the utmost in comfort, and enjoy them for years to come.
Recommended Reading 
Essential Items For Survival Kits