While we will often spend a lot of our time (and our money) looking for the right holster for our handguns, most people will spend far less time and money on looking for a good gun belt.
In fact, several people will skip looking for a gun belt entirely. They just go with the belt that they already have on them. Regardless of whether it's suitable or not.
This is the wrong way to go for a large number of reasons that we'll discuss in a bit. Even for IWB carry, a strong belt designed specifically for the purpose of supporting the weight of your firearm. Not to mention any spare ammunition is absolutely essential.
A good belt will be able to support your pistol and spare ammunition very easily and keep it stable. In this article, we'll cover the reasons why you need a good gun belt, mistakes to avoid when choosing a gun belt, and then the four best gun belts on the market.
Get Great Guns and Ammo Deals!
---
Why Do You Need A Gun Belt?
The short and simple answer as to why you need a gun belt is because it's an integral part of your EDC (everyday carry).
In other words, without a good gun belt, you are almost relying entirely on your pants or shorts to support the weight of your handgun and other EDC equipment. This is a bad position to be in. Not only will your pants sag, you'll be in a state of discomfort. Worse, you may not even be able to draw your gun quickly enough should the need arise.
The good news is that gun belts are not expensive. You can find quality ones for as low as thirty dollars or so, to as high as a hundred or more.
What's more important than price is that your belt is durable, rigid, long lasting, and made out of quality materials.  The most import part, it supports the weight of your EDC equipment.
---
Mistakes To Avoid When Buying A Gun Belt
If you purchase a poor gun belt there are two things that are guaranteed to happen:
You will waste money because you'll just end up buying another one
The fact that a poor gun belt will be so uncomfortable means you may stop carrying
In other words, a quality gun belt is essential to successfully carrying your EDC.
Here are the top mistakes that you must remember to avoid when carrying an EDC:
Mistake #1 – You Buy A Gun Belt Made Out Of Poor Quality Materials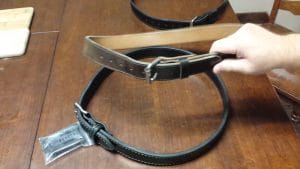 The most common materials used for gun belts is leather. Others are made out of polyester, nylon, etc.
The most surefire way to make sure you purchase a belt that is made out of high quality materials is simply to purchase from a reputable manufacturer.
In the case of leather, make sure that you buy quality by paying attention to the grades. The highest two grades for leather are full grain and top grain.
What is the Difference Between Full Grain and Top Grain Leather Gun Belt?
All leather has two layers of skin: the top and the bottom. The difference between full grain is that it has a 3-1 ratio of top layer vs bottom layer, while top grain is closer to an equal split.
Full grain and top grain are the only two grades of leather that you should consider for your gun belt.
Mistake #2 – You Buy A Gun Belt With Poor Quality Hardware
In addition to buying a gun belt made with poor quality materials, lots of people also buy a belt with poor quality hardware, such as the buckle.
Avoid soft metals at all cost. If the buckle is weak enough to be bent by your hand, it simply isn't going to last you a long time.
Mistake #3 – You Buy A Belt With Limited Stitching
First of all, belts can have limited stitching and still work well as a gun belt. Web belts in particular will often have limited stitching, and they can work just fine as gun belts.
In most cases, however, more stitching is always preferable. And not only should the belt have plenty of stitching, that stitching also needs to be strong without any loose frays of any kind. Also check to make sure the stitches are uniform together.
---
The Top 3 Best Gun Belts
Just as there are a nearly unlimited array of holsters on the market, the same is true with gun belts.
Nonetheless, these three belts in particular stand out. Here they are, presented in alphabetical order:
When it comes to the tactical world, 5.11 is a big name. They manufacture everything from clothing to holsters to tactical vests to boots to mag carriers, and yes, to belts.
The 5.11 Tactical Trainer belt is a nylon mesh belt with a stainless steel buckle with a black finish to prevent glare and attracting unwanted attention. The belt has a six thousand pound rating with a width of one and a half inches. You can also further secure the belt itself with the Velcro that comes installed.
As a result of these features, this belt would be capable of supporting a full size, metal framed duty pistol such as SIG Sauer P226, 1911, or a Beretta 92/96, as well as any spare ammo or items in your pockets that you have.
The mesh material will not fray or stretch, and will even not mold or become disfigured from the clips or belt snaps of your holster.
An example of a 100% American made gun belt is the Hanks Kydex Belt. This belt is also made out of 100% full grain leather, with Kydex stiffener and a very strong nylon for maximum durability. The kydex is included not only to make the belt more stiff and durable, but also so it won't age terribly under extended use.
The belt is designed to not stretch, sag, or fray in any way, and it is strong enough to support any firearm. The roller heavy duty belt is held in place with Chicago screws, which will not loosen in comparison to an alternate such as snaps.
One draw back to this belt is it is not low priced, and you can expect to pay around a hundred bucks once sales tax and shipping costs are included.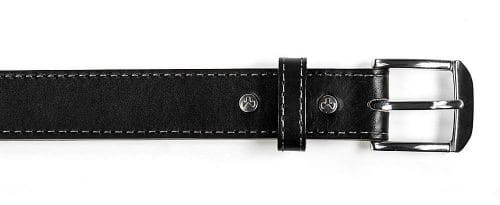 One other gun belt that we will take a look at today is the Magpul Tejas Gun Belt. Magpul is also a huge name in the gun world and they are most well known for their AR-15 P-Mags, which are regarded by many as the best quality AR-15 magazines on the market. Far fewer people seem to know Magpul for their clothing accessories, let alone their belts, but nonetheless the Tejas gun belt is a great option.
This belt looks just like any ordinary belt, so it's an excellent choice if you don't want to draw any attention to yourself. At the same time, this belt is also designed specifically for IWB concealed carry.
As a result, it is made entirely out of full grain bull leather with high quality polymer inserted into the inside of the belt to keep it as rigid and stiff as possible.
As the finishing touch, this belt is American made, specifically in Texas. For an inconspicuous leather gun belt that will provide you years of service without sustaining heavy wear and tear, the Magpul Tejas Gun Belt is definitely one of the top choices to consider.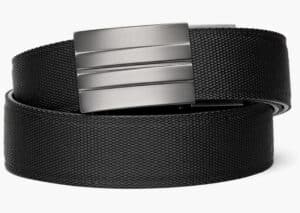 Thanks to Jeffrey and Jim for turning us on to the Kore Tactical Belt in the comments on the article.  We are a believer!  Without a doubt the most comfortable gun belt on our list.  The Kore gun belt doesn't sacrifice quality for comfort.
Their patented ratchet buckle technology precisely adjusts & locks the gun belt to your exact waist size. The nylon webbing is rated to 500lbs. and water resistant.  We also think these are the most fashionable gun belts around.  The great thing is they come in multiple colors and buckle styles.  They are all interchangeable so you can mix and match belts and buckles.
---
Conclusion 
In conclusion, a gun belt is an absolutely critical piece of your EDC and specifically for concealed carry of a firearm you conceal carry inside the waistband.
A normal belt will not suffice because it is not designed to support the weight of the gun. A gun belt, on the other hand, is. The 5.11 Tactical Trainer Belt, Hanks Kydex Belt, Magpul Tejas and Kore Tactical are just four examples of high quality gun belts available to you to become a part of your everyday carry.
Recommended Reading 
AR-15 Furniture And Accessories