So, you're looking for a Beretta M9 Holster?   Since there are literally hundreds to choose from, how do you determine which is the best holster for a Beretta M9?
The answer to that question depends on a number of factors, so take into account how you plan to wear and use your Beretta M9. For carrying concealed, you'll likely want a concealment holster. If it's a duty weapon, you'll need something a little different.
Best Beretta M9 Holster – Quick Pick
Our choice for the best holster for a Beretta M9 is the Cloak Tuck Holster by Alien Gear Holsters. This holster is a hybrid leather/polymer holster designed for inside the waistband (IWB) carry.
The leather back of the holster is comfortable for the wearer, and the polymer pistol skin is molded for the firearm for a perfect fit. It offers good retention while allowing for easy draw.
Get Great Guns and Ammo Deals!
---
What to Consider Before You Buy a Beretta M9 Holster
There are many things you'll want to consider before you purchase a holster for your Beretta M9. What type of holster might be best for your lifestyle and carry use? Which style offers the benefits you need without many disadvantages?
If you plan to carry on duty, you'll want a holster designed to be worn outside the waistband (OWB), unless this is your backup piece. Many of these holster styles also offer additional security with retention straps or thumb breaks. This will make it harder for an assailant to remove your weapon from the holster.
IWB Beretta M9 Holster
But, if you're going to carry concealed, an inside the waistband (IWB) holster is what you're after. These ease concealment because the entire holster goes inside the pants. Often, the grip will still be visible, so make sure your clothing can sufficiently cover the pistol and guarantee concealment.
Your dominant hand should also be a factor in your decision. Most holsters are not ambidextrous, meaning they can't be used for both right- or left-handed people. When ordering online, you should be especially careful to order the correct holster.
Beretta M9 Holster Styles
There are a wide range of holster types, so we'll cover a few of them here.
Match Your Specific Beretta M9 to the Right Holster
There are a few other things you'll need to consider before purchasing a holster for your Beretta M9.
Barrel Length
Often, firearms are available with variable barrel lengths. Some holsters come with closed ends. If you're purchasing a closed-end holster, make sure to measure your barrel length to ensure it will properly fit the holster.
Pistol Retention
If lead an active life, whether you're carrying concealed or not, you might want to consider additional firearm retention. This is usually in the form of a retention strap, but might also include a thumb break or finger button. These may slow down your draw time, so make sure to practice with it at home so it feels natural.
Concealment
If you plan to carry concealed, you might want to invest in some clothing to help keep your firearm hidden. This could include long shirts, sweaters, sport coats, or jackets. An inside the waistband (IWB) holster will be ideal, but you'll want to make sure the entire grip is covered.
---
The Best Beretta M9 Holsters:
Now we can take a look at some specific types of holsters and go over their advantages and disadvantages.
This is an outside the waistband (OWB) holster made of molded Kydex polymer. It offers four different styles of holsters in one: belt holster, belt drop offset holster, paddle holster, and paddle drop offset holster.
It's also IDPA (International Defensive Pistol Association) certified, (except for the drop offset for men's competitions). The International is USPSA (United States Practical Shooting Association) legal for both genders.
Some shooters don't like the Kydex polymer, as it can be somewhat abrasive, possibly marring the pistol's finish. This holster is not ambidextrous.
The International offers adjustable cant (carry angle) for three positions: straight drop, FBI (grip forward), and reverse cross-draw. It can accommodate belts up to 2 inches wide.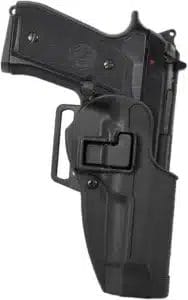 This is an outside the waistband (OWB) molded carbon fiber with both passive and active retention. You'll get an audible 'click' when the gun is holstered securely. To draw, there is a finger button to release the active retention. This prevents an assailant from easily drawing your weapon.
This holster comes with both a belt slide mount and a paddle. The paddle can slip directly onto the waistband without the need for a belt. This is a right- or left-hand specific holster.
The holster has a user-adjustable retention screw to guarantee the perfect fit to your firearm. But, it doesn't have an adjustable cant (carry angle).
This is a hybrid holster consisting of a leather backing and a polymer skin. The Cloak Tuck is an inside the waistband holster, and the part touching the skin is soft suede. The leather backing has a core of stainless steel spring metal to provide a sturdy surface.
This hybrid holster also allows for different shells, giving the wearer the option to keep the same base while carrying multiple weapons. There is no adjustable retention screw, but the polymer is molded to specific firearms.
The belt clips, on the other hand, are adjustable for depth, and Alien Gear carries a wide range of clip options, which you can purchase separately. The holster is not ambidextrous, so be sure to order the correct side.
Alien Gear Holsters offers a three-point lifetime guarantee on the Cloak Tuck. This includes a 30-day test drive, free exchanges of shells for life, and a Forever Warranty. If anything breaks on the holster, they will fix or replace it for free.
This leather shoulder harness holster comes in black or tan finish. It's designed to place your firearm under your off side arm, and it comes with a double spare magazine pouch under your strong side arm.
The unique clover design of the back of the harness is reinforced with a trademarked Flexon plate that swivels to adjust to a perfect fit. The molded leather holster provides a quick cross draw.
Galco's shoulder harnesses have been proven by military personnel in Iraq as well as law enforcement officials around the country. It is not ambidextrous.
Some users have stated the magazine pouch is tight or doesn't fit, but Galco says sometimes leather shrinks, so you might have to stretch the pouches to fit the standard magazines.
This is a waterproof nylon holster and is the official standard issue for U.S. military forces. It's an outside the waistband (OWB) holster and has a removable flap for extra protection from the elements.
The M12 has a double attachment system. It has belt slide slots and a specialize belt clip system. It can be adjusted for use on either the right or the left side, so it's the only holster mentioned here that is ambidextrous.
The flap over the top of the holster may increase your draw time, so you'll want to practice with it a bit, but you can choose to leave this part off. This holster can also be fastened to a shoulder harness with the M13 or UM84H systems, sold separately.
---
Best Beretta M9 Holster – Final Thoughts
You want the most secure Beretta M9 holster you can get. For the best, most versatile holster at the best price, we've picked the Cloak Tuck by Alien Gear. It offers deep concealment, a comfortable fit, and a lifetime warranty.
This holster also offers different shells for different firearms, so you can easily switch when you want to carry something else. Though it doesn't offer an adjustable cant (carry angle), it's preset at a muzzle-back position, allowing for easy draw. There's no retention strap or button to slow your draw time.
The Clock Tuck is an excellent holster for all your CCW needs.
Recommended Reading 
Best Beretta PX4 Storm Compact Holster