It's always great fun to head to the shooting range, especially on a crisp, sunny autumn day. It's also very easy to get preoccupied with the excitement of just getting to the range. As long as you've got your firearm, ammunition, and a pair of shooting glasses, you're good to go, right? Not necessarily. So, what will you take besides your rifle or handgun?  If you only had everything stored in a range bag.
Got Range Bag Essentials?
You've got your water bottle and cell phone, but do you have safety glasses and ear protection or a maintenance and cleaning kit? If you forgot them, now you have to get out of the line you waited in for an hour, get back in your car, drive home and get everything you forgot. You're probably frustrated and tired and want to call it a day. As crazy as it sounds, it's happened to the best of us.
Properly Prepare for the Range
Let's try this again. Preparation is key to having a successful day at the shooting range. Organization also helps — immensely. Good quality range bags are the first thing you'll need, specifically one that's filled with the right gear. Having a great range bag can make your shooting experience more enjoyable and much more beneficial.
This is especially true if your range puts a limit on shooting time.
Today, there are many range bags available on the market. These bags are used to transport guns, ammunition, cleaning kits and supplies, plus other essential items to and from your shooting range. Need more information on cleaning kits? Check out our review here.
Qualities of the Best Range Bags
Range bags come in all shapes and sizes and here's a few qualities a good range bag should have:
High-quality, tough zippers

Made from durable, water-resistant material

A compartment for ammunition

Rugged handles and a shoulder strap (essential)

Multiple, internal pockets (these allow you to keep smaller items organized so they're easily reachable when you need them)

Exterior pockets for additional items
What makes a good gun range bag?
A good gun range bag should be large enough to fit all of your guns, ammunition, hearing protection, cleaning supplies, and other shooting accessories. It should also be durable and water-resistant, and have multiple compartments for easy organization.
Look for a bag with adjustable straps for comfortable carrying, and look for a bag with a load-bearing frame for extra support.
It should also have extra padding to protect your firearms and accessories, and it should be easy to open and close. Finally, look for a bag with a bright, recognizable color so that it can easily be spotted in a crowded range.
The Right Range Bag is Personal
The decisive factor in selecting the right range bag for yourself depends on your personal preferences. How many guns do you usually bring to the range? What about how much ammunition and gear do you take with you? How often do you go to the shooting range?
In this review on what we think are the best range bags to last you a lifetime, we'll cover everything from AR-15 range bags to hunting, handgun and rifle range bags.
Best Overall Range Bag
Range Bags for AR-15's
Range Bags for Tactical Rifles
Range Bags for Hunting Rifles
Range Bags for Handguns
Range Bags for Women
Get Great Guns and Ammo Deals!
---
Best Overall Range Bag
If you only have one range bag, then we suggest go with Osage Range Bags.
The Osage River Tactical Range Bag is strong and durable, yet very lightweight. Your next trip to the shooting range will be hassle-free as you'll have enough room for all of your gear and then some. Organization is not a problem — this bag features a large dividable main compartment with a total of nine different storage chambers. In addition, two removable padded pistol pouches offer a second level of protection as well as large, heavy-duty zippers to keep your pistols secure.
You really do have a place for everything. As well as the pistol pouches, there are outer compartments to include ten magazine and accessory pockets. The Osage River Range Bag comes in both light duty and standard sizes (if you choose the standard size, you can fit more than one firearm, as it has more space). Constructed of 600D ballistic nylon, this bag is offered at a terrific price and has plenty of storage to fit several pistols, such as the ever-reliable  9mm.
Range Bag Warranty
Another perk of this bag by Osage River is their lifetime warranty. If your bag is defective, not to worry, the company will refund your entire purchase or replace it. Fully equipped with both handle and shoulder strap carry options, the overall design, features and price of this range bag have made it one of the best on the market. It's no wonder over 1,000 consumers give it excellent reviews on Amazon.
Osage River Tactical Range Bag – Features 
Multiple compartments for ample space to store pistols and gear

Durable, lightweight range bag

Adjustable padded dividers

Exterior zippered pockets for magazines and ammunition

High-quality 600D Ballistic nylon construction

heavy-duty zippers and pulls

Handle and shoulder strap carry options

Osage lifetime warranty

Available in standard and light duty sizes

Check latest price on Amazon
Now that we've highlighted our best overall pick, let's focus on some range bags for each specific category. First off, we have some valuable information on great range bags for your AR-15.
---
Best AR-15 Range Bags
Having the best protection for your AR-15 is a valid concern for many shooters. Whether you're taking your firearm to the shooting range or a competition, you'll want to keep it safe from any and all types of damage. A lightweight, durable bag is a wise choice, and while there are many options to choose from, we've narrowed it down to a few.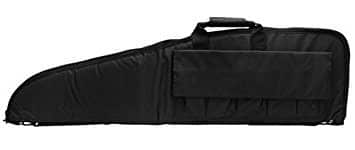 This AR-15 case is offered in four colors (tan, black, green, pink) and has been designed and constructed with tough PVC materials for extreme durability. With heavy-duty zippers to make opening and closing simple, these zippers also ensure your case doesn't open when you're in transit.
High-consistency foam padding will give you solid protection for your AR-15 against intermittent rattle and shakes. If you choose to take both your AR-15 and another rifle such as an AK 47 for target practice, this soft case will hold everything you need. The well-padded inside has enough room to keep your scope mounted on your rifle as well.
All About the Pockets
Weighing just 3 pounds, this case is very lightweight and the additional shoulder strap gives you the option for when carrying is a must. Five internal, spacious pouches can fit two standard magazines for your AR-15. A velcro secured flap over each internal pouch ensures your items are safe. Extremely spacious and durable, this case is among the best of AR-15 soft cases.
Features
Tough PVC material construction

Durable double zippers

High-density foam inner padding ensures excellent protection

Comes in a variety of sizes for any rifle

Can hold two rifles

Heavy-duty zippers on all pockets

Wrap-around handle straps with bottom and top compression straps

Check latest price on Amazon
This range bag by MidwayUSA qualifies for both categories in this review: AR-15 and Tactical Range Bags.
The MidwayUSA AR-15 Range Bag features heavy-duty zippers, numerous pockets and abrasion resistant denier nylon. This durable nylon exterior features a dual zipper lid which opens up to a roomy interior compartment that is completely padded to keep your rifles and accessories safe.
The open top internal pockets along each side enable you to carry additional firearms, plus two large external pockets on the opposing side of the bag feature removable AR-15/M-16 magazine organizers.
In addition, this bag features a water bottle holder and rubber gripping on the bottom of the bag. A removable, padded carry strap is also included for easy access to your belongings.
MOLLE webbing on the outside of the external pocket lets you attach numerous items (cell phone, lip balm) to keep your items easily accessible.
Four pouches fully attached by elastic are located inside the large exterior pocket to fit 18 AR-15/M-16 magazines. The MidwayUSA AR-15 Range Bag is a solid choice if you're looking for exceptional organizational features in a range bag. Looking for more information on AR-15 bags? Check out this link.
Features
Double stitched seams for additional strength

Safely stores up to 18 AR-15/M-16 magazines

Full wrap-around nylon reinforced carry handles

Two non-slip stabilizing pads on bottom of bag

External ID pocket

Three MOLLE webbing rows

Check latest price on Amazon
---
Best Tactical Rifle Range Bags
Carrying your rifle to the shooting range or need one in the field? Tactical Rifle Bags enable you to carry one or two long guns as well as tons of accessories.
With a name like VooDoo, you know it's going to magical. If you need a rifle bag that can carry more than two rifles, the Voodoo Tactical Rifle Bag is the one for you. With padding and extra storage space, this model stands head and shoulders above the single rifle carrying bag brands. It's the perfect rifle bag for the shooter who's always on the go.
The Voodoo Tactical Bag comes in a wide selection of tactical colors as well as standard black. But, there is nothing standard about this bag — it offers a significant amount of space for two AR-15's, handguns and ammunition, plus other stuff such as ear and eye protection and cleaning kits. Three exterior pouches serve as storage for extra magazines or other gear you need to bring with you.
The interior of this bag is pretty excellent as well. With padded pockets to hold two handguns securely, all compartments are locked with zippers for extra safety. At 42 inches, any compact firearm should fit nicely into this Voodoo bag. Extremely rugged and durable, this range bag is sure to hold up for many years to come.
Features
Can accommodate two rifles

Padded pockets can also hold two pistols

Holds six 30-round rifle magazines and eight pistol magazines

Padded carry handle and strap

Three exterior ammunition/accessory pouches

Tough locking zipper pulls
The California-based 5.11 Tactical is one of the leading manufacturers of military and law enforcement gear and equipment. Because of their commitment to gun enthusiasts, they frequently contact them as well as law enforcement officials and military personnel for their valuable feedback. This information is then used for when it comes time to design their products. The result is high-quality performance.
Pockets, Pockets!
This ingenious tactical range ready bag is nylon and water resistant to accommodate all of your shooting range gear. Five large exterior pockets include two that are lockable, one that is designed to hold a water bottle and one that can organize up to eight magazines. The interior of this range bag includes a hook-and-loop divider to enable the internal space for customization.
The 5.11 Tactical Range Ready Bag is lined and padded at the bottom for additional durability and protection. In addition, this range bag offers a removable ammunition tote and brass bag to let you carry only what you need. The 5.11 is a great choice for any shooter and one of the best range bags available on the market today.
5.11 Tactical Range Ready Bag – Features 
Removable ammunition tote and brass bag with two side zipper pockets

Water resistant

YKK zippers

Made from 600-denier polyester

Durable nylon carrying handles with Velcro closure

Sturdy, heavy-duty range bag

Plenty of storage space

Five large exterior pockets

Two lockable exterior pockets

Measures 24 inches x 16 inches x 10 inches

Includes shoulder strap

Includes water bottle holder

Check latest price on Amazon
---
Best Range Bags – Backpacks
When a hunting excursion is in your immediate future, you'll want to be ready. Roomy, rugged hunting packs are just what you need to fit all your gear and essentials in one accessible to-go bag. If you don't own a high-quality hunting backpack, packing for a hunt can be challenging and worrisome. Nothing like being able to put range bags on your shoulders to free your hands
In addition to quality, a proper fitting pack that has the storage for all your essentials and one that won't hinder the way you move while stalking, is the difference between night and day. And one more thing to keep in mind: having ease of access to your equipment when you're spending hours in the field or in a tree stand is essential.
We have a lot of great things to say about this hunting pack from TIDEWE. It's a pick for best pack for hunting rifles because it's versatile, has a great large capacity, and is comfortable, breathable, and adjustable for a comfortable fit. That last one is important, especially when this pack can go with you for even a 2-3 day trip. An open-back design with a carbon steel bearing frame keeps you pretty cool and dry, and padded adjustable straps on the shoulders and sternum take pressure off.
2 in 1 Backpack Range Bag
This is a 2-in-1 pack that can carry a rifle inside and a bow clipped onto the outside at the same time. That's not where the ingenious compartments and features end though- there's more than enough small and large pockets down the back, on the sides, inside, and even on the shoulder straps, for anything from your keys, to a 2-liter hydration system within reach. The detachable waist pack is also a convenient place to keep a smaller firearm within reach.
Along with the high-performance, soundless material, this pack is designed to keep you out of sight and blending in. Even the rain cover is dark, not like other packs' bright orange tarps that defeats the purpose of wearing camo in the first place. Pretty much, this breathable material with hypalon reinforcement panels are sturdy for any long hunting trip, and detachable waist pack and frame make this an easy pack to custom-fit.
Pros:
Compartments and pockets are convenient and well-designed

Room for enough supplies, rations for even 2-3 day continuous trip

Soundless, incognito material and frame

Great comfy fit
Cons:
The fabric has minimal stretch/flex in exterior pockets- if stretched to fit, zippers can pop

Not designed for easy clean if used to carry kills
The Alps OutdoorZ Commander is a seriously tough pack. With an 86-liter bag designed for longer, rugged hunting expeditions, it's a heavier pack, weighing around seven pounds. But, not to stress, this pack is built to accommodate anything and everything you need. Featuring an exclusive fastening system engaged for securing a crossbow, rifle or traditional bow, this pack can be used to fasten a wide array of equipment. A versatile backpack indeed!
Game Freighter Frame Included
With a multitude of pockets, pouches and straps for packing important gear that every hunter needs, this may be the right choice if you tend to overpack. Looking to accommodate many different loads? The frame on this pack can be worn alone and used as a freighter frame — meaning you'll be able to load up your pack with what you shoot, such as elk and other big game hunts and then haul back to your home base.
The Alps OutdoorZ Commander loads from the top and the front so you have many ways to pack and unpack. For the excursion hunter who needs a high capacity, durable backpack, this one is a solid and affordable choice that will last a lifetime.
Features
Huge capacity backpack for more intensive hunting expeditions

Well designed and affordable

Freighter frame to carry your game

Unique fastening system secures crossbow, rifle and bow

Extension lashing straps included for extra bulky loads

Rifle holder

Two side accessory pockets

Large main compartment

Front pocket

Spotting scope pocket

Spindrift collar with draw cord

Water port and pocket

Internal horizontal divider

Webbing loops for lashing

Quiver holder on each side of the pack

Total weight w/frame: 7 pounds, 5 ounces

Check latest price on Amazon
---
Best Pistol Range Bags
Range bags provide the best in storage, transportation, and organization for one or more handguns as well as all of your shooting items. Handgun range bags are designed to provide a quick, secure and safe storage carrying solution for your handgun, such as a Glock 19, ammunition and plenty of accessories to and from the shooting range.
The Gunmate Pistol Range Bag may not be the best looking bag, but it certainly does its job. It's simple in its design and actually has many features to it. At 16 inches wide by 8 inches high and 7 inches deep, this 2.5 pound range bag provides enough room to fit two handguns and a good deal of gear and accessories.
The Gunmate bag's interior has plenty of padding and movable dividers. Zippered side compartments are roomy and constructed to hold two full-sized handguns. From ammunition to ear and eye protection, it all fits neatly inside. You can also lock the eyelets on the zipper tabs for the main and side compartments to keep your belongings more secure.
Best Value Pistol Range Bag
The Gunmate Range Bag is a bargain at just around $30. It's material and zippers are both durable and very rugged. One would think that a bag at this price would rip or break relatively soon, but that couldn't be further from the truth. In no way is this bag flimsy or saggy.
Lastly, the Gunmate range bag can be customized to fit your needs. Featuring two removable Velcro hook and loop dividers to organize the inside of the bag, you can select the amount of interior sections that you require — a cool option for arranging your shooting accessories. The Gunmate Range Bag may not have all the bells and whistles, but it will last you quite a long time.
Features
Main compartment is covered by roll-up flap with sturdy zippers

Lockable zipper

Main compartment has removable hook and loop dividers

Removable, padded pistol rug

Measures 16 inches x 8 inches x 7 inches

Steel hardware

Check latest price on Amazon
Are you searching for a large, padded and extremely functional range bag for your handgun? Look no further, you've just found it. The Explorer Ready Range Bag is one of the most popular options on the market. This superbly organized bag also has a four star rating or higher on Amazon by 95% of its owners.
The Explorer may be large (18" x 10" x 13") and weigh a good deal (4.5 pounds) more than most other range bags, but this means there's extra room to store two of your handguns plus all of your equipment and other gear. And the only reason the bag weighs this much is because of the heavy-duty materials plus reinforced construction. It's a truly rugged and durable bag.
Smartest Range Bag Compartments
The Explorer Range Bag is recognized as one of the best range bags available. It's interior is smartly divided to keep all sections of your equipment organized. The two outside compartments allow you to further carry additional accessories. With the added removable inner sections, you can customize the large main compartment to your own needs.
This perfect shooting range bag is great for those that demand the utmost in reliability, durability and functionality. If you want to carry multiple pistols to the shooting range, along with a cleaning kit or maintenance tools plus extra gear, it's not a problem with the Explorer Tactical Range Bag — it was created to do just that!
Engineered by Experts
In addition, the Explorer was engineered and designed with input from range instructors, patrol officers and SWAT to give you exactly what you need in a shooting range bag. This tactical range bag is fully equipped with added room for ear protection, safety shooting glasses, ammunition, magazines, pistols and cleaning supplies. Made with 600 denier polyester, this long lasting range bag can handle any additional weight. It also sports carrying handles and a shoulder strap that are both made with heavy-duty nylon, guaranteed to not let you down.
Durable, plastic feet are added to the bottom of the bag and padded pockets as well, to protect your valuable firearms and accessories. Only the best quality zippers are used for the Explorer Tactical Range Ready Bag plus triple stitched handles to carry the added weight of all the other gear you may have packed.
This super durable range bag can fit up to five or more handguns, seven magazine pouches in the front compartment and four magazine pouches in the rear. That's a total of 11 magazine pouches. Incredible. This bag really can accommodate all of your shooting needs.
Features
Made with extremely tough 600-denier polyester to give you an everlasting range bag to handle added additional weight

Authentic Explorer Tactical Range Bags come with a keychain attached to the zipper–if it's not included, it's not real.

Adjustable and removable inner barriers to customize main compartment per individual needs

Includes two zipper handgun pouches

Seven magazine pouches in front compartment; four magazine pouches in the rear compartment

Exterior dimensions measure 18 inches x 14 inches x 10 inches

Interior main compartment dimensions measure 12 inches x 12 inches x 9 inches

Check latest price on Amazon
---
Best Range Bags for Women
What qualities do women look for in a range bag? Organization is at the top of the list, just as it is with various other range bag requirements. In addition, a good quality one with lots of pockets and pouches for multiple accessories is a sought after necessity.
Therefore, having a bag that doubles as a purse, as well a range bag is a guaranteed dream bag. Leather range bags are also popular options for women and men as well. Lightweight and easy to carry, full grain leather range bags are not only classy, they also show distinctive characteristics, so no two are identical. Please click here if you'd like more information.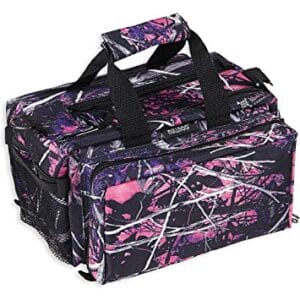 For decades, Bulldog has been the industry leader in the development of innovative firearm bags and storage solutions for many types of weapons.
The Bulldog Cases Deluxe Muddy Girl Range Bag is lightweight and ready to go. Keeping all of your necessities in one area is easy and there's a space for just about everything you'll need to go to the shooting range. Made of heavy-duty, durable nylon and a water-resistant outer shell, this bag will be your new trustworthy companion.
The Most Stylish Range Bag
This deluxe range bag features bright, fun shades of pink and purple, mixed with bold black and white tones. If you've been waiting for the hottest camouflage color, it's offered right now. The Muddy Girl Range Bag may be compact in size, but it's perfect for the recreational shooter.
The main compartment will easily hold your safety gear, accessories and ammo. The side pockets are thickly padded, even on the bottom of the pocket — perfect for carrying your firearm. Magazines can be secured in the elastic straps found in each side pocket. And the two mesh pockets on each of the short sides of the bag are ideal for water bottles, snacks or cell phones.
Consider the Muddy Girl Range Bag by Bulldog for your next range bag. With the internal divider for eye and ear protection, cleaning kit and additional firearms, this range bag is best in class. You'll be glad you had this well-constructed, reliable bag with you on your next trip to the shooting range as well as for years to come.
Features
Large main compartment with removable divider

Heavy-duty, durable nylon, water-resistant outer shell

Large main compartment with removable divider

Outer pockets for extra storage

Adjustable shoulder strap

Deluxe quality padding

Available in a pink and purple color mix with black and white camouflage

Check latest price on Amazon
US PeaceKeeper are manufacturers of nylon products with outstanding quality and affordable pricing. Plus, all of their products come with a lifetime warranty. The company's merchandise ranges from cases and backpacks to range bags and shooting mats. The US PeaceKeeper Mini-Range Bag is ideal for carrying two handguns, ear muffs, extra ammunition and eye/ear protection.
If you need a quality-made, reliable range bag for your firearm, a US PeaceKeeper Mini-Range Bag is a wise choice. PeaceKeeper products are designed not just for style and affordability, but also for durability. The mini range bag is an ideal accessory and is made using a tough and water-resistant 600D polyester material.
The Mini Range Bag
Featuring a 10-inch front pocket, two interior 12-inch padded side pockets and eight pistol magazine pouches, the US Peacekeeper Mini-Range Bag has plenty of space for all of your essentials. For a great, hassle-free day at the shooting range, choose the US PeaceKeeper Mini Range Bag to protect all of your prized gear. This range bag will be with you for many years.  For more information on a great women's range bag, check out this link.
Features
Rugged, durable, water-resistant 600 denier polyester

Eight pistol magazine pockets

Front pocket measures 10 inches x 7 inches x 2 inches

Two interior padded side pockets measure 12 inches x 8 inches

Brushed tricot padded liner

Hook and loop tab to protect gun

Brushed tricot padded liner

Heavy-duty double zippers offer locking capability

Available in pink, purple, olive drab and standard black

Weight: 1.2 pounds

US PeaceKeeper lifetime warranty

Check the latest price on Amazon
---
Best Range Bags – Final Word
Once again, the secret to selecting the best range bag is to determine your own personal needs. Think about it. How many handguns do you bring to the shooting range? Do you visit the shooting range? How much ammunition, equipment, and other essentials do you take along with you?
Determining exactly what you'll need, among other factors, will help you narrow down your search for the best range bag to last a lifetime. Investing in a quality, sturdy bag with excellent organizational benefits is very important, as is buying one that feels comfortable.
Something else to keep in mind is purchasing an Emergency Personal Injury Kit (EPIK) and a rapid application tourniquet. Both of these can save your life, so make sure you know how to use them. One final tip for your range bag … never forget to pack eye and ear protection, a cleaning kit, towel, extra ammo and a notebook and pen, just in case you want to keep track of your performances.
With so many great range bags to choose from, you're guaranteed to find one (or two) to last you a lifetime!
Recommended Reading
AR-15 Furniture And Accessories