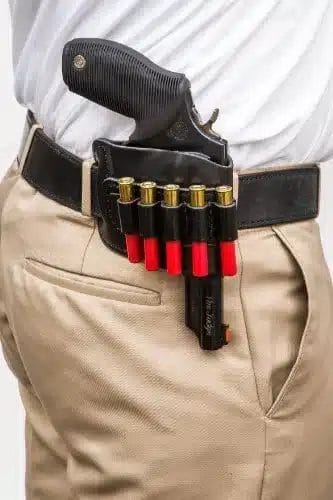 One of the most popular handguns to hit the market in the past decade is the Taurus Judge. This subsequently leads to the question: Which Taurus Judge holster should I buy?
Taurus Judge Holster Quick Pick
That's a difficult question to answer, depending on your specific model and intended use. Nonetheless, I've selected my top Judge holster: The Pro Carry Belt Ride Ranch Series.
Now, I didn't arrive at the decision easily. Nor do I think it's the best holster for you, necessarily. There's a lot more to the story. The Taurus Judge is a very diverse handgun. I have no idea which Judge you have, or how you intend to use it. Maybe we should go to school on the Judge to better understand my top five holsters for the Taurus Judge.
Get Great Guns and Ammo Deals!
---
Considerations For Selecting A Taurus Judge Holster
Let's be real here. The Judge is not your typical pistol. It's bulky. It's wide. And, unless you purchased the polymer-framed version, it's heavy. Since it is special, we have to think about what makes it special and how that affects our choice of holsters.
Which Model Taurus Judge Do You Have?
There are no less than twelve different models of the Taurus Judge. That complicates things holster-wise, don't you think? I remember shopping for my first holster for my Glock 19. One Google search yielded multiple pages of holsters which ALL fit my gun. This is not the case with your Judge.
Match Taurus Judge Model to Your Holster
Basically, there are two model determinations you have to make before adding a holster to your online shopping cart. First of all, how long is your cylinder? Some holsters will fit both the 2 ½" and 3" cylinders, while others are specific to one or the other.
Next, you must realize The Judge comes in two different frame materials. Steel-framed models are narrower at the barrel end than their polymer counterparts. A steel gun may loosely fit in a polymer-sized holster, but a polymer pistol won't begin to fit a holster made for the steel-framed Judge. Either way, an ill-fitting holster is a dangerous proposition.
How Will You Use Your Taurus Judge?
Many people own multiple guns. I have concealed carry guns. I have home defense guns. Some of my guns are for hunting. Some guns stay in the safe as collectibles and heirlooms. The Judge is such a unique firearm that different people own it for different reasons.
I have some favorite attributes for concealed carry holsters. I like inside the waistband (IWB) carry. This is where the holster attaches to your belt but resides inside the waistband of your pants.
It offers better concealment than outside the waistband (OWB) carry. I also prefer a holster, whether IWB or OWB, to attach to the belt with loops or sleeves which go all the way around. This prevents the holster from sliding on the belt and being drawn off with the gun.
Open Carry Your Taurus Judge?
Open carry is another animal, altogether. We know concealed carry is strictly for defensive use of a handgun. Open carry, on the other hand, may just encompass a trip to the range or a hike in the backwoods.
The ability to conceal no longer applies. Aesthetics enter into the equation. The only similar selection factor between open and concealed is safety. Safety in a holster comes down to a couple factors. Is the trigger secured? Will the gun stay on my person?
---
Top Five Holsters for Taurus Judge
My top 5 holsters came down to how I intend to use The Judge.
If a minimalist holster is what you're looking for, you may have found it in the Pro Carry Belt Ride Ranch Series. This holster makes the most sense for what I'm choosing for my judge.
The Judge is big, and it doesn't carry a ton of ammo. I'm not excited about using the Judge for daily concealed carry, but I am definitely stoked about shooting it at the range while carrying it in the Belt Ride.
Plinking at the range with The Judge and the Pro Carry Belt Ride Ranch Series will absolutely turn some heads. The Belt Ride is an easy-drawing, easy-holstering, simple design that even stows some extra shells.
Why should I waste time going back to my range bag for more ammo, when I've got another full cylinder on my hip?
I also like holsters that fit more than one gun. What if I trade in my 3" Judge for the 6" model? My Belt Ride will still work.
Pro Carry Belt Ride Ranch Series Taurus Judge Holster – Features
Open bottom, belt slide, OWB design

Gun-specific molding

Friction retention

Slot and center loop belt attachment

Five round spare shell/cartridge slots
Pros
Simple, compact design

Easily accessible open-top

Spare ammo slots

Unique, old-school looks

Accommodates varying barrel lengths
Cons
Ammo slots increase width and decrease concealment

Gun retention may be questionable over the long term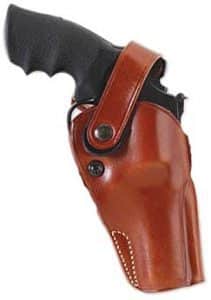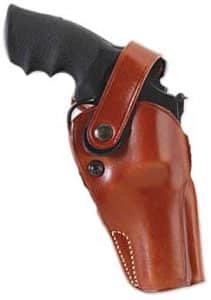 It's tough to criticize Galco. The name is synonymous with quality gun leather. The DAO holster has been around for a while and is fairly popular within the revolver world. Personally, I love the full frame design, protecting the gun from the elements.
Give me that adjustable retention screw and the leather retention strap for more security. I think you could fall down a mountain and this holster would still be on your hip. Let me take this hiking, camping, or back to the range.
Concealment, on the other hand is basically a no-go. Maybe, if you're an open-carrier, you could incorporate the Dual Action Outdoorsman into your EDC, but that is something I choose not to do.
Dual Action Outdoorsman Holster by Galco – Features 
Steerhide construction

Tension adjustment screw

Leather retention strap with polymer pull-tab

Strongside hip or crossdraw belt placement
Pros
Custom formed to The Judge

Galco reputation for quality

Durable, rugged construction

Comfortable OWB design
Cons
Leather holsters require some breaking-in

Not very concealable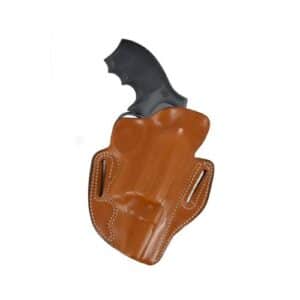 The Speed Scabbard line from DeSantis is well known in revolver circles as a manufacturer of quality holsters.
My take on the Speed Scabbard is that it's a versatile holster. Yes, it will still serve my needs at the range. It would suffice for a day in the woods, but it's not my first choice for those activities.
On the other hand, I do think I could conceal the Taurus Judge with this holster. It rides higher on the hip with two enclosed belt slots positioned lower on the holster.
It has a built-in, fixed cant that would move the butt of the gun forward enough to reduce printing. The open-top design and passive friction retention would allow for a quicker defensive draw.
I don't think I would want to open carry with this design if I could choose an option with adjustable retention (like the Galco DAO).
DeSantis Speed Scabbard Taurus Judge Holster – Features 
1 ¾", single position belt slots

Leather construction formed to the judge

Friction retention

Open-top, Outside the waistband placement

2 ½" and 3" cylinder models available
Pros
Open-top allows for quicker draw

Strong belt retention with enclosed belt slots

For use in open carry and concealed carry applications
Cons
Gun retention is not adjustable

Cant cannot be adjusted
If you're looking for an inside the waistband option, you might consider the Winthrop IWB Dual Snap. As you already know, I don't want to use The Judge as a concealed carry firearm.
But, for those of you searching for that option, this could be a strong alternative. I prefer the concealment of an IWB holster for daily carry (IWB vs. OWB).
Complete and enclosed belt attachments are also high on my list of priorities. I like to eliminate the chance of the holster coming off with the gun during a draw intended to save my life.
Once again, The Judge is a bulky gun. Steel-framed versions are also fairly heavy. Comfort may override concealment once you slap The Judge inside your pants.
Alien Gear Taurus Judge Holster – Features 
Hand-made and hand-dyed leather construction

Wet-molded to fit The Judge

Two snap loop belt attachments

3:30 to 4:00 inside the waistband carry position
Pros
IWB allows for good concealment

Snap loop attachments prevent sliding on belt

Available for steel and polymer frame Judge models

Durable cowhide leather
Cons
IWB may be less comfortable for the weight of the Taurus Judge

Can be difficult to put on and take off

I don't know how many holsters Fobus has sold, but if you've spent any time searching for holsters on the internet, I'm sure you have run across the name. Fobus holsters use a "paddle" to affix the gun to your hip.
The paddle is placed inside your pants (or inside your belt) and a plastic gun caddy holds the firearm on the outside your of your belt. A small ridge between the gun caddy and paddle prevents the holster from being drawn with the gun.
The Fobus is fifth on my list because it offers me the least benefit. I don't prefer OWB carry for concealment, and the paddle belt retention isn't solid enough for me. However, if price is a large concern for you, the Fobus earns some consideration.
Fobus Tactical TAPD Taurus Judge Holster – Features 
Injection molded polymer construction

Passive retention with positive "click"

Lightweight materials (4 ounces)

OWB carry with paddle belt attachment
Pros
Very comfortable in the 3:00 to 4:00 position

Economical price
Cons
Questionable stability with the heavy Taurus Judge

Gun rides further from the belt, causing potential concealment issues

Belt retention of paddle holsters is not as strong as other designs
---
Best Taurus Judge Holster – Conclusion
There are some strong options in The Judge holster game. The Pro Carry Belt Ride Ranch Series rose to the top of my list because of how I intend to use MY Judge; not because of how you may intend to use yours.
Research all of your needs. Get to know the specifications of your particular firearm. Other holsters on the list may fill more of your needs than mine. There are some unique differences in each of them. Go find the best one for your unique model, head to the range, and have a blast!
To see more holster reviews go here.
Recommended Reading
Full-sized Holsters For The Taurus PT92