The Ruger LCR is an excellent self defense, snub-nosed, revolver. It's easy to shoot, right out of the box, with a smooth trigger and manageable recoil.  Since the Ruger LCR is such a trustworthy self defense weapon and lightweight, you are probably in the market for a good Ruger LCR holster.
As with all snub nosed revolvers, it is harder to shoot long distances, but that is not what this trusty companion was built for. It was built for self defense. The LCR will handle +P ammo, which is more than capable of stopping any attacker in his tracks.
Ruger LCR Holster Quick Pick
You may find yourself wondering what is the best holster for Ruger LCR. I have done some research and found The Ultimate Suede Leather Holster by Relentless Tactical to be the best choice when it comes to a Ruger LCR holster.
This holster is comfortable, durable and works great. Relentless Tactical is so convinced you will love their product, they back it up with a lifetime warranty. They guarantee maximum protection with everyday comfort and performance for as long as you own it.  However there are several other great holsters for a Ruger LCR.  Read on to learn more.
Get Great Guns and Ammo Deals!
---
Things To Consider Before Buying A Holster for a Ruger LCR
Before we move on to the other holsters for the Ruger LCR, let's talk about some things to be considered before you decide which holster to buy.
History Of The Snub Nose Revolver
The snub-nose revolver is designed for close range and self defense. It was first designed to respond to the need for a compact repeating handgun that could be drawn quickly and concealed easily.
Colt, Smith & Wesson, and other manufacturers were producing small revolvers in the 1850's. In 1942, a few revolvers with two inch barrels were manufactured. By 1950, Smith & Wesson revealed the 5-shot J-frame Chief's Special in a .38 Special. This model was much more compact than previous renditions and is still in production to this day.
Why A Buy A Snub Nose Revolver?
Concealability
Snub-nose revolvers are popular for carrying for two main reasons. Concealability and speed.  You can easily conceal such a compact weapon. The Ruger LCR could fit into a pocket of your pants or jacket, a purse or briefcase, or just about anywhere you can think of.
The shape of the gun, especially the curve of the grip, make it easier to conceal than a similar sized semi automatic pistol. In a pocket, it doesn't really look like a gun, inside the waistband it can be worn comfortably without a large grip to dig into you.
Speed 
If you have ever strapped on a firearm with a long barrel and practiced drawing it and firing it, you know that it just takes more time. The short barrel of a snub-nose is quick to draw and is a very natural movement.
Dependability
It is almost impossible to jam a revolver. "Five for sure" is an often repeated phrase when talking about the dependability of a revolver. What if you do have a dud round? Pull the trigger again. It doesn't get much more straightforward than that.
Safety
Snubs have heavy triggers. It takes a deliberate pull of the trigger to fire these little guns. You're not going to accidentally shoot yourself by the gun getting snagged up on clothing. This can add to your peace of mind while carrying.
Ways To Conceal Carry a Ruger LCR
There are multiple ways to carry your Ruger LCR. Here are some of the different ways that you may want to keep in mind as you are searching for the way you want to carry.
IWB
Inside the waistband (IWB) is a the most popular choice for concealed carry. They are one of the easiest ways to conceal. You can usually choose from leather or kydex plastic, inside the pants or between the pants and belt.
Some models are tuckable and some require you to have an untucked shirt to conceal. They are usually not ambidextrous so make sure you get the proper one, especially if ordering online. It is recommended to get pants an inch or two larger, in the waist, than you normally wear.
OWB
Outside the waistband (OWB) is a great choice for people who may be seated for long periods or for open carry. These holster can come in leather, kydex or nylon. There are different levels of retention that you may want to consider. Passive retention is just the friction or pressure of the holster holding the gun in place.
There are higher levels that will have different mechanisms that will aid the friction or pressure from the holster. Generally, people feel comfortable with a level two retention for open carry. This would be a thumb strap or something similar to keep the gun in place.
Pocket Holster
This is a good choice for days you are wearing shorts or, for some reason, don't have a belt. Snub-nose revolvers work great in a pocket holster. They are small enough, light enough and a good quality pocket holster hides the shape of the gun.
Ankle Holsters
Ankle holsters can be uncomfortable. Some like them for a backup carry and the LCR would work great in one. The gun sits on the inside of the leg so if you are a righthanded shooter you would strap the gun to your left calf.
Purse/Briefcase
You can purchase a purse, briefcase or a backpack with a hidden holster inside or get a holster to place inside your bag.
Some don't like these as much because it goes against everything we learn about always being responsible for your weapon.
You can't leave these lying around without your supervision and it may be awkward to carry your briefcase everywhere you go…including the bathroom. It may be difficult to keep your bag 100% inaccessible to others.
Unusual Holsters
There are different, and a little less popular ways to conceal your weapon. There's belly bands, which is essentially a elastic band wrapped around your belly with a place for a firearm. Fanny packs are worn around your waist, and not a popular choice.
For women there are bra holsters that have the firearm resting on your chest, thigh holster that is the same as a belly band but around the thigh, and even underwear holsters.
---
Best Ruger LCR Holster Options
Now that you have a few ideas in mind, let's get on with the top picks for your Ruger LCR Holster.
This holster won the top pick because it really is a high quality holster. It is very well made, fits the LCR perfectly and is a comfortable everyday holster.
Relentless Tactical IWB Holster Features
Handmade

Genuine suede

Form fitted

Lifetime warranty

Made in USA
Pros
Very tough stitching
Quality materials
Rides low
Completely conceals
Comfortable even while squatting, bending, etc.
Cons
Can be difficult to re-holster
Clip can be loose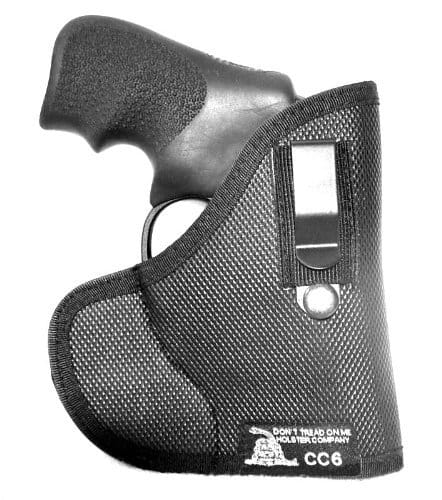 Patent pending design allows for easy conversion between pocket holster and IWB. High quality and does exactly what is says it will do.
Don't Tread On Me Pocket/IWB Combo Holster Features
Holster core is padded

Exterior is made of rough nylon for grip

Inside lining is smooth for easy draw
Pros
Fits over large belts
Button is not exposed on the inside so it won't scratch your gun
Comfortable
Does not print
Cons
Clip may be weak
Is not ambidextrous (if used IWB)
This pocket holster will not move in your pocket. The outside material is very "tacky" and makes your gun secure. It conceals very well in your pocket.
DeSantis Nemesis Pocket Holster Features
Ambidextrous

Covers the trigger guard

Outside material sticks in pocket
Pros
Will not move in pocket
Stays in pocket when drawing gun
Covers trigger guard
Cons
Open nose
Needs a little break in period for re-holstering
A little bulky for pocket carry
This holster includes Galco's patented copolymer injection-molded belt-lock paddle, which makes it possible to put this holster on and take it off without removing your belt. Made of premium leather, this paddle holster is top notch.
Galco Speed Paddle Holster Features
Fits belts up to 1 ¾ inches

Covered trigger guard

Adjustable retention

Available for right or left handed shooters
Pros
Comfortable
Holds the LCR close
Smooth draw
Very high quality
Cons
Hard to clip on belt
Very tight retention
Some printing with a thin shirt
Needs a break in period
---
Ruger LCR Holster – Conclusion
There are many holsters to choose from. The choice is a personal one, based on how you want to carry, your comfort and your budget. I found Relentless Tactical's IWB Holster to outshine the others. It is definitely a high quality product that won't break the bank.
It is made of genuine leather, right here in the USA, and has a lifetime warranty. I'm convinced you will like this holster as much as I do and will have years of enjoyable use.
Recommended Reading
Pocket Holsters For Ruger LC9S
Concealed Carry Holsters For Ruger 1911