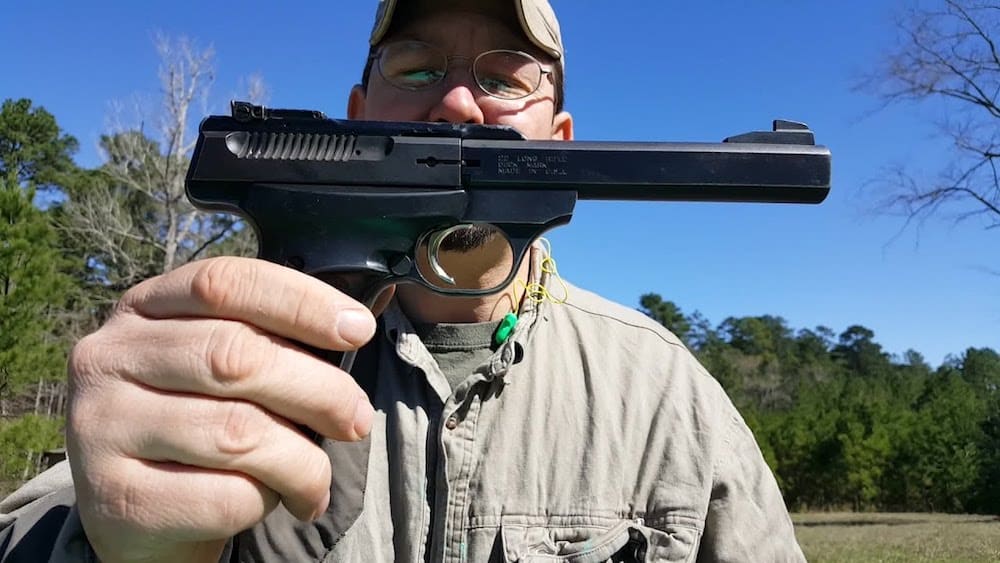 Everyone should have at least two .22 firearms in their collection: a rifle and a handgun. Let's talk about the latter of those two for a bit. If you currently don't have a .22 pistol in your collection, you need one! We'll get to why in a second.  Strap in for our comprehensive review of the Browning Buckmark.
Not Sure What .22 Pistol is the Best?
If you're not sure which .22 pistol you exactly need, there are numerous options on the table before you: the Ruger Mark Series, Ruger SR22, the Walther P22 or PPQ 22, the Smith & Wesson Victory, and the Beretta Neos to name a few.
But one more .22 pistol that you absolutely won't want to overlook is the Browning Buckmark. This is currently the third best-selling .22 pistol in the United States, after the Ruger Mark-series and the Walther P22, so it naturally deserves your attention.
Browning Buckmark – The Flagship of the Browning Firearm Line
In fact, the Browning Buckmark is currently the flagship pistol in Browning's firearm line, and it has been for many years.
Is the Browning Buckmark the only good .22 pistol on the market? No, but at the same time, it's also criminally overlooked and underrated.
Let's cover the Browning Buckmark pistol in greater depth.
Get Great Guns and Ammo Deals!
---
Why Do You Need A .22 Pistol?
First, let's talk about why you need a .22 pistol to begin with. A common piece of advice given in regards to guns is that every person needs to have at least one .22 rifle in their collection, and that's absolutely true.
But you would also be wise to include a .22 pistol to complement that rifle as well.
What is the Most Versatile and Practical Caliber?
Foremost, the .22 LR caliber is one of the most versatile and practical that you can possibly own. It's very quiet, has low recoil, is great for training purposes, and can be bought in bulk at low prices. It's very effective for pest control and small game hunting as well, and if you need to train anybody new how to shoot, it's certainly the round to start with.
So why would you limit yourself only to a rifle with this highly versatile and cost effective round? Since the .22 LR is an excellent training round, wouldn't it make sense to train with both a rifle and a pistol? If you're going to be teaching somebody new how to shoot, wouldn't it make sense to do it with both the rifle and the pistol?
The convenience of a .22 Pistol
Finally, if you're walking around your homestead or property looking for small game or pests, who says you have to lug around a rifle over your shoulder when you could just as easily have a pistol holstered on your hip?
For these reasons, owning BOTH a .22 pistol and a rifle is vitally important. Both have their uses. And if you're currently looking for a .22 pistol, the Browning Buckmark should definitely be on your short list of possible candidates.
---
Overview of the Browning Buckmark
The Browning Buckmark is designed using a blowback action. The frame of the pistol is built out of 7075 aluminum alloy steel, and the Browning Buckmarkmagazine holds ten rounds of .22 LR ammunition with one more round in the chamber for a grand total of eleven rounds.
Browning Buckmark Features
The pistol features a slide release as well as a manual thumb safety on the side; the safety also prevents the slide from moving back.
All variants of the Browning Buckmark pistol feature iron sights and the rear sight is adjustable. Sometimes, on the more expensive models, there will be a fiber optic front sight.
The grips of the pistol also change depending on the variant. Some feature finger grooves and others lack it; some feature rubberized groups, others plastic, and other wooden grips.
Browning Buckmark Grip
Speaking of the grips of the Browning Buckmark, it truly is one of the hallmarks of the pistol. It's purely subjective, but many people believe that the grips of the Buckmark are more ergonomic than those of its top rival, the Ruger Mark series. The grip angle is very natural, similar to a 1911, and the finger grooves only help make the grip melt in your hand.
Browning Buckmark Trigger
Another nice feature of the Buckmark is the trigger, which is one of the lightest and crispest of any .22 pistol on the market. The triggers on the Buckmark are also notable for being gold covered, which gives the Buckmark a nice, elegant look.
Browning Buckmark Magazine
Finally, the Buckmark's magazines are also designed to be equally as high quality as the gun itself. To this end, they are heat treated to ensure maximum strength. The follower is also angled properly to allow proper feeding.
---
Browning Buckmark vs. Ruger Mark
By way and large, the top competitor to the Browning Buckmark is the Ruger Mark series, which today is in its fourth iteration in the form of the Ruger Mark IV. In fact, it is most likely because of the Ruger that the Browning has not received the level of attention that it truly deserves.
But just because that the Ruger Mark series has drastically outsold the Browning does not necessarily mean that it is better. On the contrary, both pistols are of excellent quality and represent the finest .22 pistols on the market.
But there are differences between the two, which you will want to know before making a final decision.
Differences Between Browning Buckmark and Ruger Mark
The first difference is how the rounds are ejected. The Ruger Mark IV (and previous Mark pistols) have an oval that has been cut right above the breech for the brass to eject out. On the Buckmark, the slide completely opens up both to the left and the right when the slide is pulled back.
This means that there is more room for the brass to eject out of the Buckmark. Does this translate to greater reliability out of the Buckmark? Honestly, no since both pistols have a reputation for reliability, but it is something to think about. If you do have a jam, at least, it should be easier to clear it with the Browning versus the Ruger.
Another big difference between the two guns is how they are field stripped. Previously, the Ruger .22 pistols from the Mark I to the Mark III were an absolute chore to take apart. That changed with the Ruger Mark IV, where you simply confirm the weapon is unloaded and then depress a button on the rear of the frame to take apart the pistol.
Cleaning the Buckmark vs. Ruger
The Buckmark is easier to clean than the Ruger's Mark I to Mark III but more difficult than the Mark IV. It requires tools in order to disassemble. What you'll need to do is use a properly sized Allen wrench to remove the top strap.
At that point, you can unbolt the barrel from the frame to complete the disassembly. It's simple, but is just requires tools and more steps. Reverse the process to put it back together.
Remember, cleaning is absolutely critical when it comes to .22 pistols because they get dirtier easier when firing in comparison to centerfire handguns. Regardless of which pistol you get, you will need to field strip it eventually in order to clean it.
---
Browning Buckmark Specs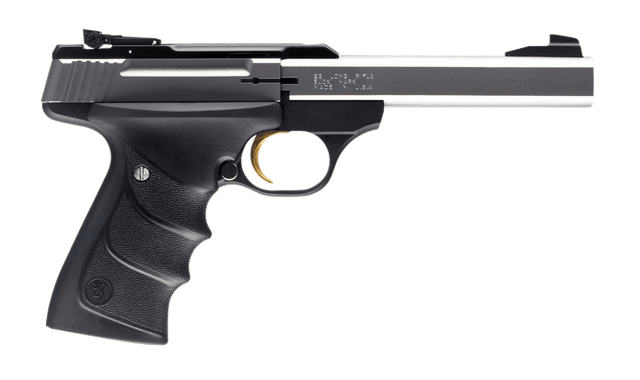 Here are some specs of the Browning Buckmark:
Caliber: .22 LR
Capacity: 10+1
Weight: 34 Ounces
Length: 9.5 inches
Frame Material: 7075-T6 Aluminum (CNC Machined)
Price: $300-$500 (depends on model)
---
Browning Buckmark Models
Here are a few Browning Buckmark models for sale to consider:
The Browning Buck Mark Standard is a semi-automatic pistol chambered in .22 LR. It features a 5.5-inch bull barrel with a black anodized finish, a single-action trigger, and a 10-round magazine capacity. It is designed with a contoured grip and thumb rest, as well as a textured grip and slide.
The Buck Mark Standard also features an adjustable rear sight and a fixed front sight, making it easy to acquire targets quickly. This pistol is reliable, accurate, and easy to use, making it a great choice for target shooting and plinking.
This is the flagship of the Buckmark Line.  You can't go wrong with the base model. However, there are some upgrade models to consider.
The Browning BuckMark Camper is an ideal firearm for both recreational and competitive shooting. This single-action pistol features a 5.5-inch barrel and weighs just under two pounds. It has an ambidextrous frame with a non-slip rubber grip, top and bottom slide serrations, a low profile adjustable rear sight, and a fiber optic front sight for improved accuracy.
The BuckMark Camper also comes with a 10-round magazine, making it well suited for target shooting and small game hunting. With its lightweight design and reliable construction, the BuckMark Camper is an excellent choice for shooters of all levels.
The Browning Buck Mark Camper is suitable for adverse weather conditions. It features an alloy receiver and tapered steel bull barrel as well as ambidextrous textured grips and a single-action trigger.
The Browning Buckmark Medallion with Vortex RDS is an excellent choice for any shooter looking for an accurate and reliable pistol. This semi-automatic handgun features a 5.5" stainless steel barrel with a black Melonite finish, a crisp single-action trigger, and a textured frame.
The Vortex Red Dot Sight (RDS) allows for quick target acquisition, and the integrated Picatinny rail allows for the addition of a wide variety of tactical accessories. This pistol is chambered in .22LR and comes with two 10-round magazines.
Whether you are looking for a reliable handgun for target shooting, small game hunting, or just plinking, the Browning Buckmark Medallion with Vortex RDS is an excellent choice.
The Medallion is the Cadillac of the Browning Buckmark line up. This model includes a Vortex Crossfire red dot sight, perfect for faster target acquisition and accuracy.  Gold plated trigger and laminated rosewood grips.
Browning Buckmark Accessories
There are plenty of accessories for your new Buckmark. Firs off you will want extra magazines for your pistol.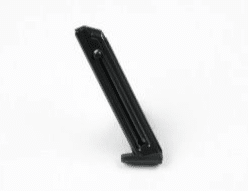 Browning Buckmark Magazines are made to the highest standards of quality and reliability. The magazines are constructed from durable, lightweight aluminum and offer a smooth, consistent feeding of up to 10 rounds of .22LR ammunition.
They feature a low-profile, ergonomic design that ensures an easy and comfortable grip. Additionally, the magazines have a unique, patented thumb-latch system for quick and easy reloading. This feature, combined with the magazine's wide floorplate, makes reloading a snap. Buckmark Magazines are the perfect addition to any Browning Buckmark firearm.
This Tactical Solutions Buck Mark Scope Rail Mount is designed to provide a secure and easy way to mount a scope to your Buck Mark pistol. It is machined from aircraft grade aluminum and features a matte black anodized finish. The scope mount is designed to fit all Buck Mark models and attaches to the rear sight dovetail.
It is designed to accept any Weaver-style scope rings, and it comes with two 6-48 screws for mounting. The mount also features a built in recoil stop for extra stability
The Browning Buckmark Holster is made from durable, high-quality materials that are designed to provide a secure fit for your Browning Buckmark pistol. The holster features a lightweight, open-top design with a thumb break retention strap for added security.
The comfortable, contoured design fits close to your body for easy concealment and includes an adjustable belt loop for a customized fit. This holster is ideal for both right and left-handed users and is compatible with most popular Browning Buckmark models.
Browning Buck Mark – Conclusion
In conclusion, there is simply no denying that the Browning Buckmark is one of the finest .22 pistols ever made. It's incredibly ergonomic, well made, reliable, easy to shoot, and practical.
Recommended Reading
Best Browning Buckmark Holsters
Best Browning HI Power Holsters
Best Browning 1911 .380 Holster
Concealed Carry Holsters For Browning 1911 .22