You're looking to carry your pistol concealed and you want to use an IWB holster. The question is, what are the most comfortable IWB holsters?
It doesn't matter how many slick features a holster has, at the end of the day, if it's not comfortable, you will give up on wearing it. You may even give up on concealed carry all together. We don't want that.
That's why I did the research for you and came up with a few of the most comfortable IWB holsters out there.
My top pick is the Cloak Tuck 3.0, By Alien Gear.
This holster is award winning. It offers the best-in-class for comfort and concealment. Readers of Concealed Nation dubbed this holster, "The best holster in the history of ever." It's built with form fitting neoprene and a flexible base that requires no break in time. I'm positive you will love this holster.
Get Great Guns and Ammo Deals!
---
Why Carry Concealed?
I know I'm preaching to the choir but I would like to point out some reasons why you should get your concealed carry permit and then carry every day.
It is a huge commitment and a decision you should make for yourself, based on your convictions.
It's Your Right
It is your guaranteed, constitutional right, as an American citizen to carry a gun. The Second Amendment of the Bill of Rights guarantees protection of the right to keep and bear arms for self protection. The Supreme Court has upheld this right. Just for being a citizen of this awesome nation, you have this right. Exercise it.
There Are Bad Guys
As much as we wish it wasn't true, there are bad people everywhere who would like to take advantage of you. You never know when something may happen where you will need to protect yourself.
Protect Yourself And Others
We can all agree that self protection is an important subject. Your family wants you to come home every night. No one wants to be a statistic.
You want to be able to protect your family. Keeping a firearm at home for home protection and carrying one in public are ways you can protect your loved ones.
You can also be a good samaritan. No one wants to stand by and watch someone else, even a stranger, get hurt by someone who is trying to take advantage of them. Most people want to jump in and help. Having a weapon is the best way to help others.
Being Aware
Some people report that having a gun on them automatically makes you more aware of things around you. Having a gun makes your senses go on high alert. You have to be aware of what's going on around you.
---
Special CCW Note For Women
Self defense, for women, starts before they even know they need it. In every situation you find yourself in, scan the area to see what's going on.
Part of what makes women vulnerable to attack is the appearance of not paying attention or looking nervous. A self confident, aware attitude can deter attacks.
Listen To Your Gut
If something or someone doesn't feel right, it probably isn't. Your instincts are pretty good. Don't be afraid of someone thinking you are silly for not wanting to be in a situation because you feel something isn't right.
Keep Everything Handy
Don't wait until you are out in a dark parking lot (or a lit one) to rummage through your purse, looking for your keys. Have them in your hand prior to leaving the store and be prepared in every way.
---
Four Objectives For IWB Concealment Holsters
Experienced shooters will tell you they have a box full of holsters that didn't work out for them. It's a journey to find the best holster. There are four objectives every IWB concealment holster should fulfill. If your holster fulfills these four basic requirements you will save yourself some time (and money) during this journey.
Security
An IWB holster needs to keep your gun in place as you walk, run, climb, do somersaults, etc. You won't spend your time standing still as you carry. A good quality holster will keep your gun nice and secure. It is a great load off your mind knowing that your handgun will be safely at your side.
Access
An IWB holster needs to give you quick and easy access to your gun, especially in a stressful situation. It should be in a stable position so you know exactly where to grab for the gun.
Concealment
An IWB holster needs to conceal your handgun. There should be no printing through your clothes.
One Hand Re-Holstering
In case the hand that is not holding your firearm is busy fending off bad guys, you will want to be able to re-holster your weapon with one hand. This is easiest if the holster has an open mouth.
---
CCW Recap
Just to recap what we've talked about so far. Deciding to carry a concealed handgun is a personal decision that should not be taken lightly. There are many reasons why you should exercise your second amendment right and I can not think of any reason not to.
Always be aware of your surroundings. This is a good idea for a man or a woman. Know who is around you, keep your needed items handy and be prepared to defend yourself, if needed.
Know the basic functions of good IWB concealment holsters. This will help you decide on a good holster. Comfort is a big feature that you should look for. Like we mentioned at the beginning of this article, if it's not a comfortable holster you will probably not wear it too often.
---
Most Comfortable IWB Holsters
Let's get to the top picks. There are many IWB holsters out there and I found a few of the most comfortable ones.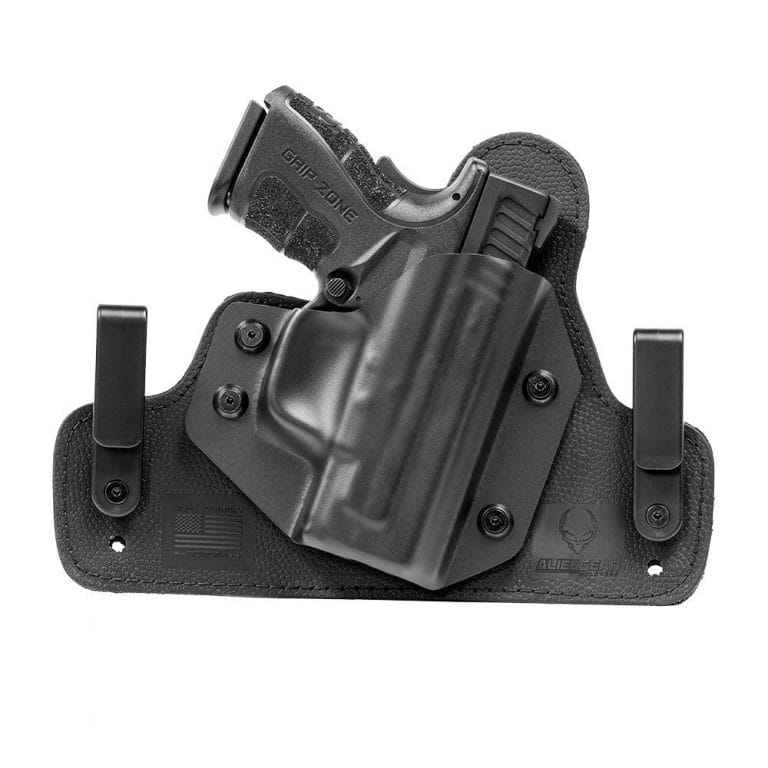 The Cloak Tuck IWB holster is firm yet flexible. This ensures your handgun is carried securely. The top surface is a thermoplastic polymer surface (alien skin) which will not mar your gun. The retention shell is custom made for your handgun with adjustable retention so you get the perfect fit.
IWB Holster Features
Adjustable ride, height, cant, and retention

No maintenance

No break in needed

Waterproof neoprene backpad

Lifetime warranty

Made in USA
| Pros | Cons |
| --- | --- |
| Right or left hand options | Needs Loctite to keep fasteners tight long term |
| Conceals well | |
| Very comfortable | |
| Works for skinny people | |
| Doesn't move | |
| Good retention | |
| Adjustable retention | |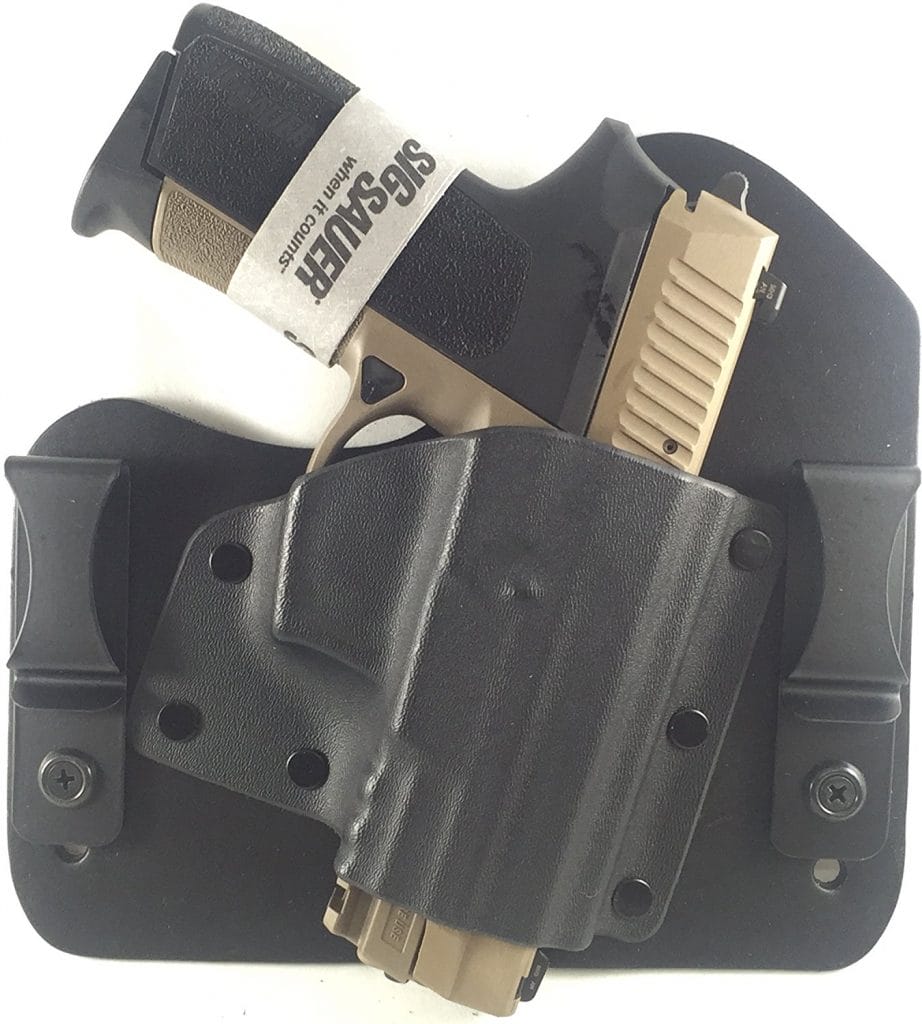 Everyday Holsters strives to make quality, comfortable holsters at a good price. It is extremely comfortable and easy to conceal.
IWB Holster Features
Made in the USA

Lifetime warranty

Premium leather and kydex

Comfortable

Easy to conceal

Fully adjustable
| Pros | Cons |
| --- | --- |
| Sturdy | Some leather needs to be trimmed |
| Comfortable | Kind of big for skinny or smaller people |
| Affordable quality | |
| Leather breathes when against skin | |
| Fully adjustable cant and height | |
| Even comfortable while sitting | |
If you're reluctantly wearing business casual, professional, or formal attire, a smooth and unobtrusive IWB holster is unavoidable- and this one definitely rises to the challenge.
One thing I love is that this holster is made from Hermann Oak American Steer Hide leather in the USA- and it's designed in America by law enforcement professionals. With one of the strongest steel waistband clips on the market, you can sit, stand, and move comfortably and safely with this IWB holster. The high-quality material fits inside any waistband that you need to wear with a tucked-in shirt at a comfortable height.
This custom molded design is sized to hold a Beretta 9mm and similar. While the compact design means that the deep concealment hides any lines showing through, it also means that any fitting firearm will be snug and secure- possibly to a fault? Some say that it's harder to attain a quick draw with such a snug fit.
| Pros | Cons |
| --- | --- |
| Great workmanship & premium material | Snug, might need breaking in |
| Strong steel clip | Doesn't fit all models in custom mold |
| Total flat concealment | |
This holster is built for comfort and concealability. It has adjustable cant and ride height and is made from super soft leather and durable kydex.
IWB Holster Features
Steel belt clips

Right and left hand options

Adjustable ride height and cant

Easy to conceal

Comfortable

Tuckable

Made is the USA
| Pros | Cons |
| --- | --- |
| Comfortable | Clips are flimsy |
| Affordable | Break in time needed |
| Good retention | Sharp edges needed some filing |
| Right and left hand options available | |
| Smooth draw | |
---
Best IWB Holsters – Final Thoughts
Looking for a comfortable IWB holster can be a lot of research. Most of the options we listed can be used with a lot of different guns. Check each one listed to see if it fits your handgun.
The Alien Gear 3.0 Tuckable out shines the others. Not only has this holster won awards, Alien Gear stands behind their product. They offer a 30 day trial period. If you keep it you get a life time of shell swaps. If you end up trading your handgun out for a different model you can get different shells for the new handgun.
We've reviewed a lot of IWB holsters on Gun News Daily. For a full list, check out our holster review page here.
Recommended Reading
Best IWB Holster For The Shield 9MM
IWB Holsters For Concealed Carry
1911 IWB Concealed Carry Holster
Best IWB Concealed Holster For Glock 26
Glock 23 Concealed Carry IWB Holster
IWB Holster Choices For The Kel Tec P-11