Convicted Russian agent Maria Butina compared the deal that freed formerly imprisoned WNBA basketball player Brittney Griner to the film The Godfather while touting Russia's "position of power" in the negotiations.
"I actually believe that we have certain arguments reminiscent of the film The Godfather, an offer you can't refuse," Butina said on Russian state television, according to an English translation of her comments provided by The Daily Beast columnist Julia Davis on Friday.
"I'm going to make him an offer he can't refuse" is a famous line from the 1972 film that notably centers on organized crime.
Griner was arrested in Russia in February for allegedly possessing cannabis oil in her luggage when she arrived at a Moscow airport. The Phoenix Mercury player had traveled to the country to compete in a pro league there during the WNBA off-season. She was sentenced to nine years in prison in August, but was freed on Thursday after the United States agreed to exchange her for a notorious Russian arms dealer, Viktor Bout, who is also known as the "Merchant of Death."
While many have celebrated Griner's return, some have criticized the fact that it allowed Bout to walk free and did not also lead to the release of other Americans detained in Russia, such as former U.S. Marine Paul Whelan.
The convicted Russian agent said that Russia set the conditions for the Griner-Bout swap during her Russian state television appearance. Butina pleaded guilty in late 2018 to conspiring to act as an unregistered foreign agent within the U.S. She was accused of trying to establish ties between Russia and former President Donald Trump's administration, as well as trying to infiltrate conservative groups like the National Rifle Association (NRA), NPR reported in 2019.
Butina was sentenced to 18 months in prison in April 2019, but had credit for time already served. She was released from prison six months later and was deported back to Russia.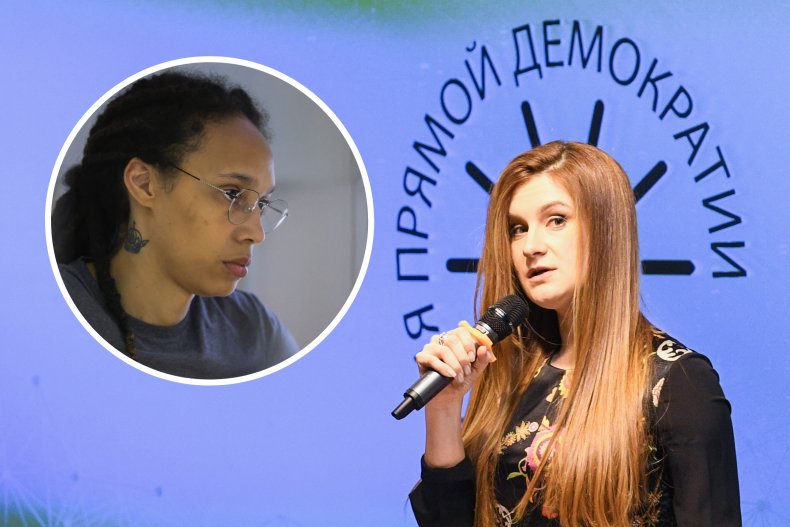 Margarita Simonyan, editor-in-chief of the Russian state-controlled media organization RT, also weighed in on the Griner deal on Russian state television.
"The first problem is that [Whelan] is white. His second problem is he is a man, his third problem is he is a heterosexual, that is something that cannot be forgiven today," Simonyan said.
White House press secretary Karine Jean-Pierre defended the deal during a press briefing on Thursday. She repeatedly stressed that President Joe Biden did not make his decision to swap Bout for Griner lightly, but believed it was ultimately the right thing to do.
Jean-Pierre also said multiple times during the briefing that the choice at hand wasn't which American in Russia to bring home; it was to either bring Griner home or nobody at all.
She said that the U.S. remains committed to freeing Whelan, who is "being treated differently" than Griner, and other Americans who remain detained in other countries around the world.
Newsweek reached out to the White House for comment.