When combined with other skills, a fast gun draw can improve your chances of hitting a target. Even small gains in reaction time can make a big difference, especially when you're using your gun for self-defense. Consider these tips for speeding up your gun draw.
How To Improve Your Gun Draw Time
Just like anything else, the practice creates improved performance in a fast gun draw.  Below are a couple tips that can help you improve your gun draw time.
Get Great Guns and Ammo Deals!
Improve Your Physical and Cognitive Health
Factors including your age, physical fitness, depth perception, and level of fatigue influence how quickly you can draw your gun. While you won't always be at your peak level, improving the health of your body and mind can improve your reaction time.
In addition to following best health practices, such as eating nutritious food, hydrating with water, getting enough sleep, and exercising, you can perform cognitive exercises. These activities help sharpen your brain, and they can be very fun. Consider playing a card game, putting together a jigsaw puzzle, doing a crossword puzzle, learning a new language or instrument, or using your non-dominant hand for everyday tasks.
All of these activities improve your brain's processing ability. And since you'll be reacting to visual, auditory, or tactile signals, these brain training exercises can make a big difference in how quickly you respond to stimuli.
Build Situational Awareness
Another way to speed up your reaction time with a gun is to stay aware of your surroundings. When you know what's going on around you before a crisis starts up, you can respond more efficiently instead of wasting time getting your bearings.
One way to conscientiously build your situational awareness is to scan your environment every time you enter new surroundings. Position yourself so you can see most of the space around you. Note exits, people's locations, and potential threats. The more aware you are, the better you can react to any situation.
Wear the Right Holster for You
Finally, your carry position and the quality of your holster can either help or hinder your draw. When considering which carry position is the safest, prioritize carrying in a way that feels most natural for your body. While every holster position has pros and cons, it's best to place your holster in a way that won't require contorting your body to reach your gun.
Your body type and how you spend your day—whether you're generally seated, standing, or doing a lot of physical activity—can impact how well waistband, ankle, shoulder, or thigh holsters work for you. No matter which holster you choose, regularly perform drawing drills to build familiarity and muscle memory with your position, holster, and weapon.
Gun Draw FAQs
We put together answers to some of the most common gun draw questions.
What is the Fastest Gun Draw Record?
The fastest gun draw world record is held by Ernie Hill. In 1982 he drew his gun from a standing position and fired a shot in 0.208 seconds.
What Hollywood Actor Had the Fastest Gun Draw Record?
While there haven't been any official competitions lately we have found, back in 1954 there was a fast draw competition at Knott's Berry Farm. Results are conflicting, but apparently Sammy. Davis Jr. and Jerry Lewis had sub .25 second draw times.
Can I Practice Gun Drawing Without Ammo?
Yes you can practice gun drawing and firing without live ammo.  You can dry fire most modern weapons.  There are a few exceptions. Rimfire weapons are weapons that you should not dry fire. Without ammo in a rimfire weapon, the firing pin will strike the rim of the chamber.  This can damage firing pins. Also any older pistols that have the firing pin on the hammer.
For these weapons you can use a product called Snap Caps.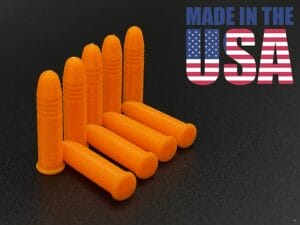 These 22 LR Snap Caps are made of high quality material which is ready to withstand an intense reloading/shooting practice using a 22 LR firearm. These are great for pistol shooting training and will allow you to train safely at home as no real ammo is used. Dummy rounds will help you see your trigger finger input and recoil anticipation when you drop the hammer on a dummy round thinking it's a live round. This product can also be used for tactical weapons malfunctions drills.
Dry Fire Training Systems
There are also a number of dry fire training systems. This allows you to safely train at home without using live ammo. You can have endless amounts of training shots to improve your fast gun draw without spending tons of money. Here is one of our favorite dry fire training system for your 9MM.
The Quantum XG 9mm dry fire laser training cartridge combines unprecedented accuracy and simplicity backed by a full 1-Year warranty. G-Sight offers the only 9mm laser training cartridge with patent pending Shoot For Life technology giving you virtually endless shots using the easily replaceable snap cap strike pads.
Dry Fire Training Kit Includes
Each Quantum XG 9mm laser bullet for dry fire training includes: 1 Class IIIA laser, less than 5mW, laser cartridge, 2 sets of replaceable batteries, 6 replaceable strike pads, 2 sets of replaceable and adjustable o-rings and a free mobile dry fire training app. Enjoy this laser bullet 9mm for dry fire training in the comfort and safety of your home, office or while traveling.
Fast Gun Draw Conclusion
Developing and improving your fast gun draw will not only help you become more comfortable with your weapon, but when the SHTF in a real life and death situation, a fraction of a second improvement can be the difference in walking away or being carried away.
Recommended Reading
Defensive Shooting Drills: Training How You Fight
Practice Better Gun Handling With The Center Axis Relock
New Gun Owner Guide: How to Find Gun Training Options
Running and Gunning: Moving While Shooting