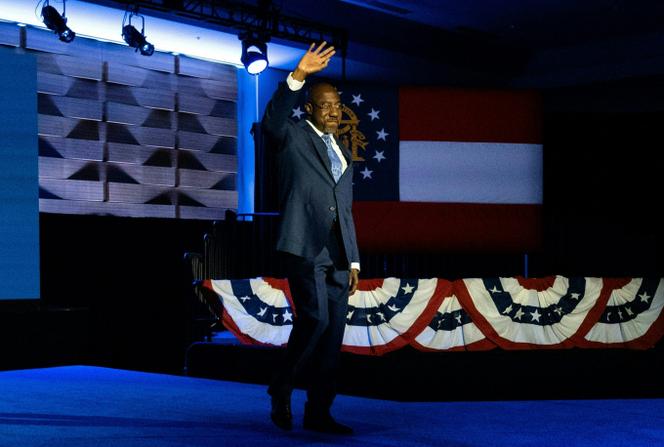 During a televised debate for Georgia's Senate election on October 15, Republican candidate Herschel Walker tried to deflect the many criticisms over his candidacy. "This race isn't about me. It is about what Raphael Warnock and Joe Biden have done to you and your family," said the ultra-conservative former American football player.
Mr. Walker, backed by former President Donald Trump, continually tried to steer the debate back to President Biden, saying that his opponent, the incumbent Democrat Senator Raphael Warnock, was merely an agent of the Democrats' national policy – this was a national battle, Democrats versus Republicans, and had little to do with these men.
In fact, during this campaign, no one has really paid any attention to African-American minister Mr. Warnock. But, if the Democrats are to retain the Senate, all hope now lies with this 53-year-old progressive Baptist. With neither candidate having broken through the 50% barrier, because of the presence of Libertarian candidate Chase Oliver, a run-off election will be held on December 6. Mr. Warnock received 49.4% of the vote, while Mr. Walker received 48.5%.
Two years ago, Mr. Warnock unexpectedly helped President Biden gain control in the Senate by winning a run-off election on January 5, 2021 (as did the state's second Democrat senator, Jon Ossoff, whose term was not up for re-election on November 8). In the past, Republicans have fared far better in run-offs, with Democrats failing to mobilize the Black electorate a second time round. But the opposite was true in 2020, as the national stakes were so high. This year, however, the outcome of the election is shrouded in uncertainty.
"I'm not a senator that used to be a pastor. I'm a pastor who happens to serve in the Senate," Mr. Warnock said at a recent rally, and indeed continues to preach every Sunday at his Atlanta parish. He is on the left wing of the Democrat Party, and voted for a proposal to raise the minimum wage in Georgia to $15, compared to the current $7.25. He is also in favor of restricting the carrying of weapons, and is happy to have voted for a law controlling the sale of weapons under Mr. Biden (African Americans are the primary victims of homicides). As a result, gun lobby the National Rifle Association has a black mark next to his name.
Nor did he fail to condemn the Supreme Court's decision removing the federal right to abortion. "A patient's room is too small a place for a woman, her doctor and the US Government. These are deeply personal healthcare decisions, not political ones," he said during his campaign, adding: "God gave us a choice. I am a pro-choice pastor."
'Jesus spent a lot of time healing the sick'
Before winning his Senate seat – he was the first Black Democrat to be elected in a former Confederate state – he followed the activist path of many African Americans. Mr. Warnock was born the 11th of 12 children in a family raised by pastor parents in the city of Savannah, Georgia. Wanting to follow in the footsteps of Martin Luther King, like him he studied at Morehouse College, an Atlanta institution known for educating young Black boys, and then in New York at a Protestant theological seminary affiliated with Columbia University.
A progressive, he began his career as a young pastor in the Abyssinian Baptist Church in Harlem, known for having hosted Fidel Castro in 1995. In response to criticism from Republicans, Mr. Warnock refused to say whether he had anything to do with this event and whether or not he met the Cuban dictator, but when Castro died, in 2016, he did offer prayers for the Cuban people and said that Castro's legacy was "complex, kind of like America's legacy is complex."
At the turn of the century, he practised in Baltimore, before returning to his home state in 2005. He became a pastor in the same congregation as Martin Luther King, at the Ebenezer Baptist Church in Atlanta. He is a strong opponent of the death penalty and in 2011 he unsuccessfully attempted to stop the execution of Troy Davis, an African American man convicted, somewhat disputedly, for the murder of a police officer in Savannah. Mr. Warnock made a name for himself during the Obama years ((2009-2017) and it was he who delivered the public benediction at the inauguration ceremony for the president's second term.
Mr. Warnock fights for healthcare rights and, in 2014, when Georgia refused to expand Medicaid offered by the new Obamacare law, he led a sit-in at the Georgia State Capitol, resulting in him being handcuffed and arrested. "I've read the Gospels a few times, and Jesus spent a lot of time healing the sick. Even those with pre-existing conditions," he told the New York Times in 2020.
During his campaign, Mr. Warnock had to defend himself for having voted for 95% of President Biden's plans: "He's for Joe Biden, I'm for Georgia," said his opponent, Mr. Walker. In a state where year-on-year inflation was close to 12% in September, compared with 8.2% in the rest of the country, the outgoing senator counter-attacked in the manner of the American president, denouncing the profits of oil and pharmaceutical companies and promoting the "Biden plan," renamed the "inflation reduction act." This act was passed this summer and includes a cap on the price of insulin. Mr. Warnock stated that he had urged the president to cancel out a portion of student debt, a measure that should benefit African American students in particular.
We are interested in your experience using the site.
This battle is not over and will go on now for another four weeks. Shortly before midnight on Tuesday, when a run-off began looking more likely, he turned to his supporters and said: "I'll tell you what I say in church on Sunday: keep the faith and don't get discouraged."