More on voting in Georgia from the Guardian's Andrew Lawrence, in Atlanta.
Mike South cast his ballot at Grace International Church with the economy top of mind. "My retirement has shrunk by 50 percent," he said. To say he worked hard for it barely tells the story.
After launching a decade long career at NASA as computers expert following the Challenger explosion, South, 64, pivoted to directing and acting in porno movies before cementing his legend as an industry gossip columnist. In 2013, CNBC pronounced him one of porn's ten most powerful people.
Porn drove his political engagement. "There was a time when free speech would've been an issue, especially in Atlanta," he says. "Most of the people in my business are hardcore Democrats, but I kinda stand out because I'm more libertarian—which I would expect them to be."
South says he voted for libertarian candidates whenever possible, including in the senate race between Herschel Walker and Raphael Warnock. ("The truth is I don't like either one of them," he quipped, as his support dog Lola heeled.) Third-party voters could have a significant impact on that race, which is trending closer toward another senate runoff. A new Warnock ad tips voters to the possibility of having to return to the polls again over the holiday season. After being barraged with campaign ads for the past seven years, in the country, South winces at the thought of yet another trip to the polls. "I'm over it."
Election officials in Georgia's largest county removed two workers from a polling site on the morning of Tuesday's midterm races after their colleagues shared social media posts of the pair at the US Capitol attack on 6 January 2021.
Fulton county elections officials told media outlets that they fired the workers – a mother and her son – about 15 minutes before the polls opened Tuesday morning. They had been assigned to a polling site at a library in the community of Johns Creek.
The mother and son fell under scrutiny after the woman made a comment that caught the attention of a colleague while they were at an event for poll workers, Fulton county's interim elections director, Nadine Williams, told the local news station WSB-TV. Colleagues of the woman also found social media posts by her which were reported to the county, WSB-TV added.
Williams would not elaborate on the nature of the posts. But the Washington Post reported that it was provided with copies of the social media screeds in question, and they showed the woman's family forming part of the mob of Donald Trump supporters who staged the Capitol attack.
According to the newspaper, one of the posts read: "I stood up for what's right today in Washington DC. This election was a sham. [Trump vice-president] Mike Pence is a traitor. I was tear gassed FOUR times. I have pepper spray in my throat. I stormed the Capitol building. And my children have had the best learning experience of their lives."
Trump supporters attacked the Capitol in a failed attempt to prevent the congressional certification of the former Republican president's defeat to his Democratic rival Joe Biden in the 2020 election. One of the mob's stated aims was to hang Pence after it falsely accused him of failing to avail himself of the ability to single-handedly prevent Biden's certification.
Officials have linked nine deaths to the insurrection, including suicides by law enforcement officers traumatized after successfully defending the building from the pro-Trump mob. Hundreds of participants have been charged criminally in connection with the attack, and many have either pleaded guilty or otherwise have been convicted over their roles.
During the 2020 presidential race, Fulton county experienced long lines at the polls, administrative mistakes and death threats against election workers. The Washington Post reported that the turmoil during the election two years earlier prompted Fulton county to prepare for Tuesday's midterms – which many regard as a referendum on American democracy – by assigning police to more than half of its 300 or so polling places, with other officers patrolling between sites.
Georgia is holding some of Tuesday's most-closely watched elections, including the race between incumbent Democratic Senator Raphael Warnock and Republican challenger Herschel Walker that could determine which political party controls the US Senate.
A rematch from the 2018 electoral showdown between incumbent Republican governor Brian Kemp and Democratic challenger Stacey Abrams is also being watched nationwide on Tuesday.
When Jeff Zapor showed up at his polling place in South Lyon, in the Detroit suburbs, on Tuesday, the most pressing race on his mind was the contest for secretary of state, the elected official who oversees voting and elections in Michigan.
That in itself is extraordinary. Long overlooked downballot races, there has been an enormous amount of attention on secretary of state races since the 2020 election, when their role in overseeing vote counting came into focus as Donald Trump tried to overturn the election. Michigan is one of several states where the Republican nominee for secretary of state questioned and tried to overturned the results of the 2020 race.
Standing outside his polling place, an elementary school, Michigan, Zapor said he voted for Jocelyn Benson, a Democrat, who is running for a second term. She leads her opponent Kristina Karamo, a community college professor, in the polls.
"I think election deniers on the ballot is a very dangerous thing," Zapor, a 46-year-old mental health counselor said. "When you're running on a platform of complete abject falsehoods, to me, that shows a complete lack of character. And you're running for the exact wrong reason."
Zapor added that he was concerned that there could be a repeat of efforts to overturn the election, like there were in 2020.
"I think it's a certainty. I'm very concerned. Both in Michigan and in the nation, in 2024, I guess even in this election, will continue to be divisive and to see violence would not surprise me. I really hope I'm wrong, but that's what I think," he said.
South Lyon is a competitive area in Oakland county, a battleground in Michigan.
Another voter, who would only give his middle name, Alex, said he was also deeply concerned about election denialism.
"I'm concerned in general that the truth in general has eluded us and many will continue to leverage what happened in 2020 and for false information in general," he said.
Another voter, who would only give his first name, Tom, said he voted for Michigan governor Gretchen Whitmer, a Democrat, because she was the "lesser of two evils." He said he also voted for Benson, who sees the state's motor vehicle offices in addition to elections, because he recently had a quick appointment renewing his driver's license.
"She did what she said he was going to do," he said.
In Michigan, students are coming out for Slotkin in Lansing, whether they like her or not.
"I don't like much about Slotkin, but everyone else was worse," said Kathryne Ford, 26, a biochemistry PHD candidate at Michigan State University outside of the Don Johnson Fieldhouse this morning. Ford called Slotkin a "cop," with reference to her career as a CIA analyst, but lists abortion restrictions as her top concern this election cycle. "Abortion is a human right. The government should not be able to control what happens to your own body," she said.
Camille Mikolas, 25, wore braids and a big smile as she went to cast her vote for Slotkin. "I don't want to have a baby!" she laughed. Talking about her support for the referendum looking to enshrine abortion rights in Michigan's state constitution, she added "Conservatives are pretty good at saying my body my choice when it comes to vaccines or whatever, but not when it comes to this. And I don't think that's fair." Mikolas said she'll be voting Democrat down the ticket today.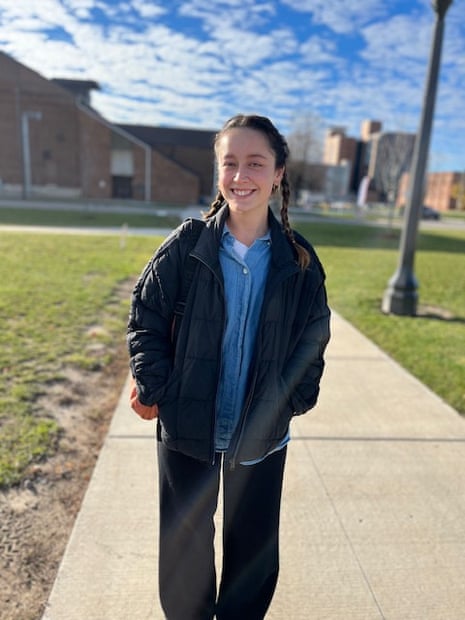 But the issue runs both ways for other voters. "I like Elissa," said Belinda Fitzpatrick, 59, a swing voter. "But I voted against her. My biggest issue is the abortion thing. People are just using it like contraception," said Fitzpatrick, who said she will also be voting aganst the proposal to enshrine abortion rights. Fitzpatrick will vote Republican down the ticket, as Michiganders also choose their governor and attorney general today. "I think it's time for Republicans to have the power back," she said.
Trump briefly stopped to speak with reporters outside the polling place, confirming that he did vote for incumbent Florida governor Ron DeSantis, a Republican.
Donald Trump has cast his vote during today's midterm election, with photos captured of him and Melania Trump outside a Florida polling place.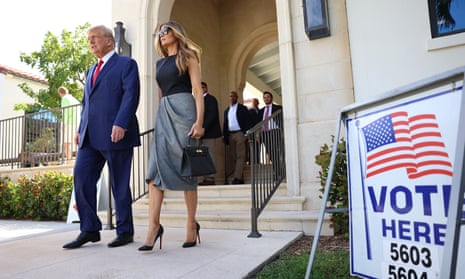 Over in Kentucky, Ona Marshall, who is a co-owner of one of the last two abortion clinics left in Kentucky, said the line was overflowing at the polling location where she went to vote today in Louisville, around 11am.
"Not even in a presidential year have we seen that number of people, and this is mid-morning," she said.
Of course, there's no way of knowing whether those voters were out in favor of or against Amendment 2, the ballot proposal looking to restrict abortion in Kentucky. But Marshall said she is hopeful.
"Whatever happens, for our country and democracy, it's extremely important that we have a higher turnout at the polls for every election, so to see it in a midterm election is definitely hopeful," she said.
Maggie Acosta, an organizer door-knocking for Democratic candidates with the hospitality union Unite Here, noted she has heard from many fellow Arizonans who are outraged over the supreme court's recent decision to overturn Roe v Wade.
"Instead of going forward, I'm being pushed back," Acosta said. "So it's time that we stand up and fight for what we deserve."
The results of today's election could have sweeping implications for abortion access in Arizona, which has a pre-Roe abortion ban still on the books. If Democratic gubernatorial candidate Katie Hobbs cannot win today, Republican lawmakers may move to enforce that law, which has become the subject of court battles.
Vice-President Kamala Harris touched on those stakes yesterday, when she participated in a virtual reception with Unite Here organizers. Acosta had the chance to pose a question to Harris, and she asked the vice-president for her message to young women who are devastated by the end of Roe.
"Know your power," Harris replied. "So many of our movements that have been about progress have been led by young leaders, and we need them now. We need them to lead."
Carlisa Johnson reports for the Guardian in Georgia:
Georgia voters will decide between Democrat Stacey Abrams and the incumbent Republican governor, Brian Kemp. This race has received immense national attention as it set the stage for the rematch of Abrams and Kemp this election season. However, the gubernatorial race isn't the only race receiving national attention. Georgia's Senate race could determine which party holds power next year in the nation's capital. Current Senator Raphael Warnock is facing off against controversial Republican candidate Herschel Walker.
Coleman Williams, a voter in Avondale Estates, Georgia, said he feels the weight of this election as a Georgia voter. "I've watched the debates, and there's just so much at stake for everyone," said Williams. "I'm feeling nervous but hopeful because Georgia knows that we have to get out there, and we clearly have."
Maggie Acosta has been knocking on the doors of her Arizona neighbors for months, trying to convince them to support Democrats in the midterm elections.
Acosta, a member of the hospitality union Unite Here, has participated in campaign work since 2017, and she said the stakes feel particularly high this time around.
"This is very important – not only for me, but for my future, my kids, my grandchild," Acosta said.
This election cycle, Unite Here's organizers have been on the ground in four battleground states – Arizona, Georgia, Nevada and Pennsylvania. Collectively, the union's members have knocked on 2.7 million doors, including 750,000 in Acosta's home state of Arizona.
Unite Here's work builds on their momentum from 2020, when the union knocked on 3 million doors after developing a contactless canvassing plan to keep organizers safe from coronavirus.
Acosta, a cancer survivor, had her concerns about door-knocking in 2020, but she chose to do so in part because of her outrage over Republicans' handling of the pandemic. Now she has returned to her post, in the hopes of electing Senator Mark Kelly and gubernatorial candidate Katie Hobbs, both of whom are locked in closely contested races.
"No house is going to be left unknocked," Acosta said. "I feel like being out there and talking to people face to face is the only way that we're going to make a difference."
Typically, a party's soul searching begins after the polls close and the results are in. But not this year.
Democrats, anticipating heavy losses after a seesaw election season, were already pointing fingers.
It began weeks ago. In an op-ed for the Guardian, Vermont senator Bernie Sanders, the party's progressive standard-bearer, blamed Democrats for failing to deliver a strong economic message that addresses the pocketbook concerns of most Americans.
"In my view," he wrote, "it would be political malpractice for Democrats to ignore the state of the economy and allow Republican lies and distortions to go unanswered."
Meanwhile, many top Democrats say their party mishandled the issue of crime and public safety.
Stanley Greenberg, a veteran Democratic pollster, argued in the American Prospect that the party had badly mishandled the issue of crime and public safety, writing that the 2022 midterms would be remembered "as a toxic campaign, but an effective one in labeling Democrats as 'pro-crime.'"
But others say Democrats' challengers are much deeper. A policy memo released on the eve of the election, the centrist Democratic think-tank Third Way concluded that the party's brand had become toxic to swing voters. "Despite a roster of GOP candidates who are extreme by any standard, voters see Democrats as just as extreme, as well as far less concerned about the issues that most worry them," it stated.
Progressives wholeheartedly disagree. A pre-election memo from the Working Families Party national director, Maurice Mitchell, credits progressives for pushing Biden to deliver on key parts of his economic agenda.
"Democrats' passing big and popular legislation and Republican extremism have kept many races much closer than the normal midterm patterns would dictate," Mitchell wrote. But he warned: "If Democrats face significant losses, those failures of governance and the Democrats who blocked a pro-working-class agenda will bear much of the blame."
It's just after 12pm here in New York, which means that voting is well under way in most places across the country. Here's a look at what's happening at polling locations across the US.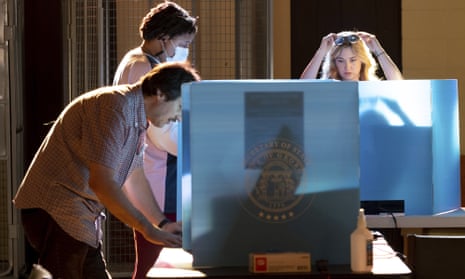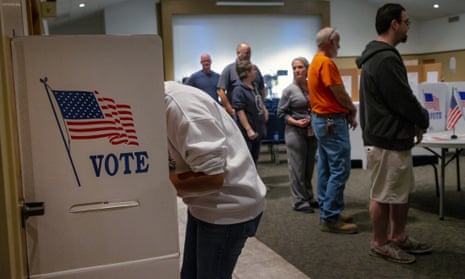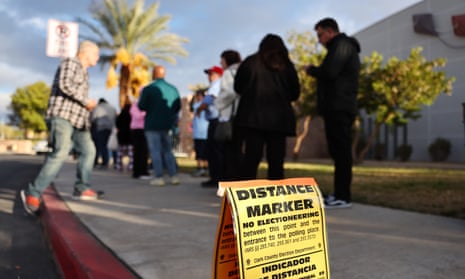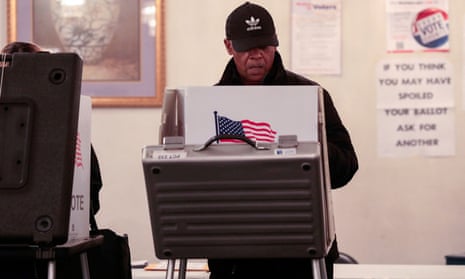 In Columbus, Ohio, Jeffrey Weisman voted for the bestselling author and Republican candidate for the US Senate, JD Vance. But not with great enthusiasm.
"I vote Republican pretty much all the way and that is my main reason why," he said.
Vance has a slim lead over his Democratic rival, Tim Ryan, in a state that has come to give large majorities to Republican candidates. The tight race in part reflects the strength of Ryan's campaign for a seat that may decide whether Democrats retain control of the Senate. But it's also a reflection of voter doubts about Vance's sincerity after he dramatically shifted from slagging off Trump as a "fraud" and a "moral disaster" to becoming a fervent supporter in order to win his endorsement in the Republican primaries.
Weisman, who owns a retail jewellery store, said it didn't matter that Vance was endorsed by former president Donald Trump.
"I like the Republicans' stuff when it comes more to the economy. I'm a business owner and I feel that things are not going in the right direction with the Democrats in charge. I'm hoping that maybe the Republicans in charge will get things going a little better economy wise," he said.
Weisman twice voted for Trump in the presidential elections. But with the former president apparently on the brink of announcing another run for the White House, Weisman would prefer he stayed out.
"It's a tough one. I like his politics. His mouth scares a lot of people. So I personally do not think he can win because of the mouth, the controversialness of him. And so I think that would be a tough road for him," he said.