The stakes are clear when Florida Republican senator and former presidential hopeful Marco Rubio debates Democrat Val Demings, an Orlando-area congresswoman and the former chief of the city's police department.
For Rubio, the Tuesday night debate is an opportunity to woo voters to send him back to Washington and solidify the Republican side in what could potentially be another deadlocked Congress in 2023.
For Demings, the debate is not only an opening to rally her existing base, but to appeal to on-the-fence voters in a state historically among the nation's most competitive.
While most polls show Rubio with a roughly 5-point lead in a state former President Donald Trump won in 2020, more recent numbers from a progressive-leaning pollster at the end of the summer showed the pair in a virtual tie as Demings hammered Rubio and the GOP on state-level abortion bans sweeping the country.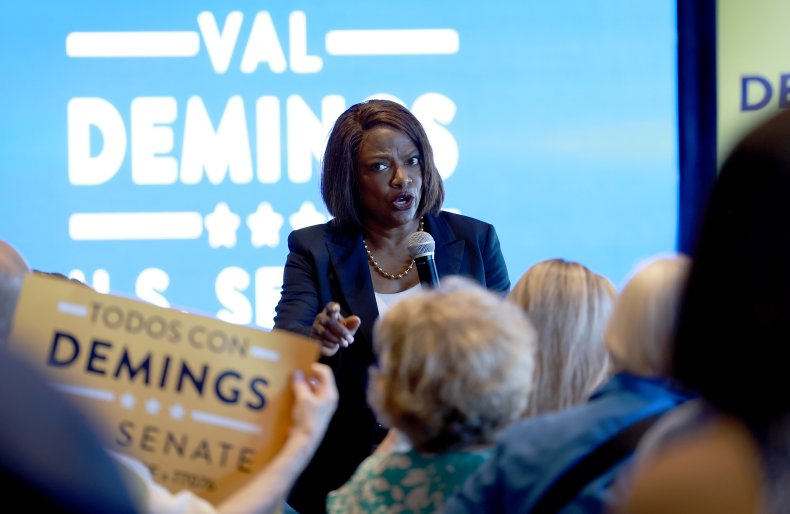 Almost one in 10 voters in the state have yet to make up their minds, Mason-Dixon polling from September shows, leaving ample room for Demings to score an upset in one of the nation's most under-the-radar contests.
But as abortion's race-altering influence on the electorate has begun to wane entering the fall, Demings' campaign has begun to place a lesser emphasis on it in an effort to expand her base of support beyond her party line.
Polling nationwide shows that the economy remains the most critical issue to voters of all affiliations in the closing weeks of campaign season. And both candidates have made the issue central to their efforts.
Demings, for the most part, has tied her horse to the federal Inflation Reduction Act, a massive spending bill in Congress considered a tenet of President Joe Biden's ambitious domestic policy slate. In an interview on MSNBC this month, Demings touted her support of the bill as a means to fight inflation while criticizing Rubio's lack of support for it. And in Congress, she has supported a number of Democratic House initiatives to try to offset inflation, including legislation to bolster solar energy production.
Key to her attacks has been a recent push to malign Rubio's support of an effort to reverse sections of the Inflation Reduction Act that allow Medicare to potentially lower the cost of some prescription drugs—a possibly successful wedge issue in a state where health care was a top issue in the 2018 midterms.
But with Republicans polling ahead of Democrats nationally on their ability to run the economy, Rubio has sought to use Demings' support of the Inflation Reduction Act and other measures against her, as well as the Biden administration, saying the new spending has actually exacerbated inflation.
"There isn't a single thing in this bill that helps working people," Rubio said in a nearly 20-minute speech on the Senate floor shortly after voting against the bill in August.
But Demings has also sought to reframe Democrats' position on crime—an area she has a distinct advantage.
While support for stricter gun control is generally low nationwide, Florida was the site of two of the most emotionally charged mass-shooting incidents of the last decade—the Pulse nightclub in Orlando in 2016 and Marjory Stoneman Douglas High School in Parkland in 2018.
Demings has been vocal in opposing the National Rifle Association, supporting legislation to lawfully remove weapons from people seeking to harm others, and has opposed arming school teachers, saying it deflects from the root issue in school shootings.
She has also clearly broken on the national narratives driven by conservatives that Democrats want to "defund the police" by either sponsoring or co-sponsoring several Democratic-led police funding bills that party members introduced ahead of the midterms. She also has called herself Chief Demings in a campaign in which the three-term congresswoman has sought to depict Rubio as a career politician.
There's also the question of the influence of Trump, whom Demings twice voted to impeach.
She was an impeachment manager for the House Democrats during their first case against Trump in the U.S. Senate and, following the riot at the U.S. Capitol on January 6, 2021, voted to expel nearly 140 of her Republican colleagues who voted to object to the Electoral College certification.
While Rubio was a frequent Trump critic throughout his presidency—particularly after a 2016 presidential campaign in which the latter maligned the Florida senator as "Little Marco"—he has recently become one of the president's biggest defenders as vice chairman of the Senate Intelligence Committee in the weeks after an FBI raid on Trump's home at Mar-a-Lago.
He has also sought to tie Demings to national Democrats, including running ads on Demings and Democrats' record on immigration—a particularly salient issue in Florida and among the state's Hispanic community—and hitting her for a recent campaign event with first lady Jill Biden in the deep-blue city of Orlando last week.
"Val Demings has not deviated from Joe Biden's agenda once in the past two years, consistently making Floridians' lives harder than they were the day before," Elizabeth Gregory, communications director for Marco Rubio for Senate, said at the time. "The only way to put a stop to the far left's radical agenda is to put an end to Democrat-controlled Washington and re-elect Marco Rubio this November."