Tactical reloads do look quite cool, and they are fun to perform. However, in a perfect world, reloads wouldn't be a thing. Ideally, you would be able to keep shooting your rifle without worrying about running out of ammo or reloading. The problem is every firearm eventually needs to be reloaded, even military belt-fed machine guns that can take up to thousands of rounds at a time. That is where high-capacity AR 15 magazines come in.
As far as AR-15s are concerned, most rifles come with standard 30-round magazines, which are also used by the military. Some people, who aren't initiated to the simple pleasures of shooting multiple rounds on the range, or mag dumping into some sandbags, may even consider 30 rounds to be "too much", however, real firearm enthusiasts know, that when it comes to the round count a magazine can hold, the more the merrier.
So, in today's article, we are going to try and answer some of your questions about High Capacity AR 15 mags, and review some of the best High Capacity AR magazines on the market.
How Big Can AR 15 Magazines Get?
A typical AR-15 magazine can carry 30 rounds of .223 Remington or 5.56 Nato which are also considered high-capacity magazines. There are also 10, and 20-round magazines available in the market, however, when it comes to ultra high-capacity magazines, there are several options. Some high-capacity stick magazines can carry 40 rounds, and there are also some quad-stack magazines available in the market, which can carry up to 60 rounds. Drum magazines can carry even more, with some having as high as 75 or 100-round capacity.
Why Doesn't the Military use Ultra High-Capacity AR Magazines?
The US military currently uses the M4 as their main combat rifle, which is the military version of the AR-15. However, they don't use ultra-high-capacity magazines. In most cases, the military uses standard 30-round high-capacity magazines, because they are easier to carry, don't add too much to the weight of the rifle, and are very reliable.
 AR 15 Drum Magazines
Drum magazines, and quad stack magazines that have higher capacities than 30 rounds, can sometimes be a little less reliable. They can lead to feeding issues, which is not acceptable for the military, however, in the civilian market, it is not an issue, because these malfunctions are quite rare if you use a quality magazine.
Other militaries in the world have used high-capacity magazines, for instance, the Russian military uses 40-round stick magazines and 75-round drum magazines with their RPK light machine guns.
What is a High Capacity Magazine?
High capacity mags are commonly defined as a magazine capable of holding 10 rounds of ammunition or more. These can be used in AR type rifles, but are also available for semi-automatic pistols.
What are the Laws Around High Capacity AR Mags?
The laws currently in place for high capacity AR-15 mags vary by state.  In 1994 Congress passed a law that prohibited high capacity mags. However that prohibition expired in 2004. Today every state has it's own laws regarding it position on these magazines.
What States Have a Ban on High Capacity Magazines?
Currently 12 states have a ban on High Capacity Magazines.  Each state's bans are unique.  These laws are ever changing so it is important to check your states laws before buying a high capacity mag.
Washington
California
Colorado
Hawaii
Maryland
Delaware
New Jersey
Connecticut
New York
Massachusetts
Rhode Island
Vermont
Best High Capacity AR Magazines:
Here are some of the best High capacity AR mags on the market. We have added a couple of 30-round options for average shooters and a couple of higher-capacity options for shooters who are looking to have a little more fun at the range.
Magpul PMAG GEN M2 MOE AR-15 30-Round Magazine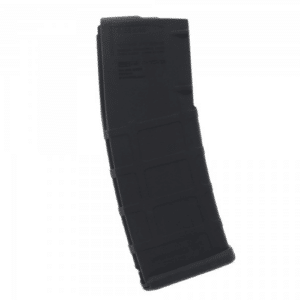 Magpul is perhaps the most popular manufacturer when it comes to aftermarket AR-15 magazines. They make a wide range of exceptional products, but their PMAG GEN M2 MOE AR-15 30-Round Magazine is easily one of their best offerings.
These polymer magazines are lightweight but are also very durable. They are made with impact and crush-resistant polymers. Magpul PMAG M2 magazines are designed with a constant curve along the length of the magazine, which results in a smoother feeding action, and an enhanced internal geometry. The polymer surface of the magazine is also textured for better grip.
The Magazine also used a Corrosion-resistant stainless steel internal spring that keeps pressure on the rounds, allowing it to feed into the chamber reliably, but still isn't too hard that the magazine becomes difficult to load. The PMAG M2 has a self-lubricating follower as well, which improved reliability.
Overall, the Magpul PMAG M2 is one of the only Polymer magazines that offer the same feeding reliability as a Mil-Spec GI Steel Magazine, while being lighter, more reliable, and more durable.
KCI AR-15 .223 / 5.56mm 100-Round Gen 2 Drum Magazine
With the 100-round capacity of the KCI AR-15 Gen 2 Drum Magazine, the word high capacity just doesn't seem enough. KCI is known to make some very affordable AR magazines that are also good in quality and performance. Their Gen 2 Drum magazine is among one of the best options in their catalog if you want to take your capacity to the next level.
This polymer magazine has two drums, and it uses an alternating feeding system, where rounds are fed into the rifle from both drums in turns. This maintains the balance of the rifle and does not make it sway on one side under the weight of the magazine.
The mag also has a see-through front and has round count indicators on it, which help you keep track of how many rounds you have left. To improve reliability, the KCI 100-round Gen 2 drum magazine features reinforced steel feed lips. The tensioning system inside the drums is also designed to be very reliable, and with good ammunition, there are very low chances of a feeding malfunction.
Loading any 100-round magazine can get a little difficult, especially after the first 50 rounds, therefore, this drum magazine also comes with a magazine loader, which makes loading very easy. You also get a carrying case and graphite lubricant for the magazine.
Brownells – AR-15 Magazine
If you want a standard USGI steel AR-15 magazine, then Brownells is the best manufacturer you can opt for. Before the Military upgrades to Magpul Polymer Magazines, they used Brownells 5.56 AR magazines for a long while.
Brownells has been making these USGI steel AR magazines for almost two decades now, and all their magazines come off the same assembly line, where they are to be sold to the military or civilians.
Brownells also makes very high-quality and affordable Aluminum Magazines for Civilians, which are tested with the same strict standards that their military magazines are tested. These magazines feature a stainless steel internals spring, which has a hard coat anodized finish to prevent corrosion.
The spring puts the right amount of tension on the rounds for reliable feeding. It has reinforced feed lips and a Magpul anti-tilt follower for improved reliability and longevity.
The Brownells AR-15 Aluminum USGI style Magazine is available in both gray and desert tan colors.
Magpul PMAG D-60 AR-15 60-Round Polymer Drum Magazine
Magpul is one of the most popular and trusted manufacturers when it comes to AR-15 magazines. They currently make magazines for the US military as well. If you are looking for a reliable high-capacity magazine, then you have to check out the Magpul PMAG D-60 60-round drum magazines for AR-15 rifles
This drum magazine has double the capacity of a standard magazine. Yet it is designed in a very ergonomic form, that is easy to carry on the field. This lightweight drum magazine is designed to be very durable. It has Impact resistant polymer construction, which can keep up with rugged use.
Loading the magazine is very easy. You don't need a dedicated magazine loader, since the internal ratchet system makes the magazine very easy to load. You can also leave the magazine loaded for extended periods of time, and the internal spring won't get damaged. The magazine is also compatible with USGI stripper clips and most other speed-loading devices.
The PMAG D-60 features an Anti-tilt, self-lubricating follower like all Magpul PMAG series magazines, and the internal stainless steel spring also has a corrosion-resistant finish. The backside of the magazine also has a clear window, which gives you an idea of how many rounds you have left in the magazine.
One of the best things about the PMAG D-60 is that it is very ergonomic. When inserted in the rifle, it doesn't hang any lower than a standard Magpul 30-round magazine. It also has the same consistent curve, which makes it easier to handle.
This drum magazine is compatible with any STANAG 4179 platform firearm, such as the M4, M16, SCAR MK16/16S, HK416, MR556, M27 IAR, and some others
Final Thoughts
So, here were some of the best high-capacity magazines on the market. However, keep in mind that some states in the US like New York, California, and Hawaii have bans on high-capacity magazines, and may not even allow 30-round magazines. Make sure to check your local state laws before using a high-capacity magazine.