What Makes a Rifle Pistol?
The term rifle pistol isn't an official firearm designation. You can say that it covers any firearm that looks and shoots like a rifle but is classified as a pistol. So, what makes a firearm a pistol? It's not the caliber like many people think. A rifle can be chambered in a pistol caliber and a pistol can be chambered in a rifle caliber as well. We have an in-depth article about rifle calibers.  Typically, when talking about a pistol most people think of a handgun, however, any firearm that is designed to be fired with one hand does not have a stock, and has a barrel shorter than 16 inches is classified as a pistol.
So, by using modern pistol braces, which are not legally a stock, but could be used similarly, people can have very compact Personal Defense Weapons that aren't classified as SBRs (Short Barreled Rifles).
Pistol Caliber carbines VS Rifle Caliber Pistols:
This is where many people confuse Pistol caliber Carbines with rifle pistols. Though a PCC is chambered in a pistol caliber, it is still a carbine, which means that if it has a stock, it is a rifle. However, if you remove the stock, it won't be a PCC, but just a pistol that looks like a carbine.  Now, the caliber doesn't matter, a firearm that looks like a rifle, and fires a rifle caliber, can still be a pistol if it doesn't have a stock or a vertical foregrip.
AR-15 Pistol vs Rifle
A perfect example is the difference between an AR pistol vs. rifle.  The barrel length on an AR pistol will be shorter than 16 inches.  Therefore it will have less space for accessories that can be mounted. Also, because by definition it doesn't have a buttstock or or vertical foregrip it will less easy to handle than an AR-15 rifle.  There are brace options for an AR-15 pistol reviewed in this article. 
Why Buy a Pistol Rifle?
There are multiple reasons why you would want to buy a pistol rifle. They are very compact, and versatile weapons. If you are using a pistol caliber, they can significantly increase its effective range and accuracy, and if your pistol has a rifle caliber, then you have a lot of firepower in a small package. In any case, a Pistol rifle makes for a perfect PDW (Personal Defense Weapon).  Here are some of the best Pistol Rifles on the market.
PSA AK-V 9mm SBA3 Pistol
The AK-V from Palmetto State Armory is a civilian semi-automatic version of the Russian Vityaz submachine gun. This version comes with a pistol brace and is legally a pistol.
It is chambered in 9mm, the AK-V has a direct blowback operating system, as opposed to the long-stroke piston system in a regular AK., and comes with several modern features. It has an extended safety lever, Magpul AK Polymer Grip and upper-lower handguards, and an M4 stock adapter, with an SBA3 pistol brace on it. Unlike most AKs, the dust cover is hinged and has a section of Picatinny rail on top of it, which can be used to mount optics, that will also hold zero.
As far as the construction is concerned, The AK-V has a stamped sheet receiver, with a forged front trunnion and bolt. The barrel is made from 4150 Stainless steel and is 10.5 inches long. On the front of the barrel, you get a 2 Port "Tanker Style" Muzzle Brake, which makes the pistol very smooth to shoot.
The AK-V uses a PSA U9 35 Round Patterned Magazine, however, it will also work with CZ Scorpion 9mm magazines. Overall, it is an excellent and high quality PDW, that is also more affordable than other similar options.
Sig Sauer MPX PCB 9mm 4.5" Pistol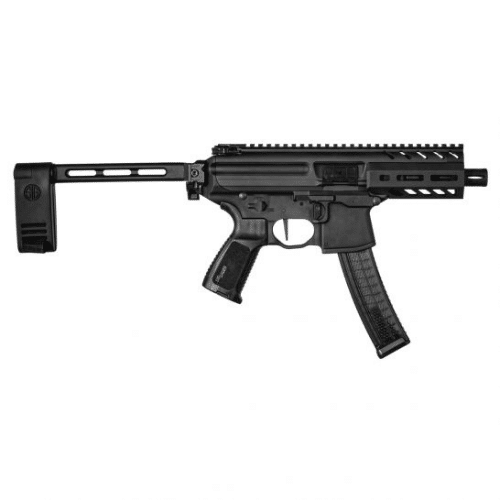 Sig Sauer recently Won the US Army contracts for both their standard sidearm and NGSW (Next Generation Squad Weapon), which is a testament to the quality of their firearms.
The Sig Sauer MPX is a Sub-Gun, which is available in a pistol configuration with a brace as well. It is chambered in 9mm, and it has a short-stroke piston and a rotating bolt operating system. This system has multiple advantages over the direct blowback system that is used in many 9mm PDWs. it is safer, and more reliable as well.
One of the best things about the MPX is its controls. The MPX has AR-style controls, which makes shooting it very easy and instinctive for anyone who regularly shoots ARs. The controls are also completely ambidextrous, making the MPX perfect for both left-handed and right-handed shooters. The trigger on the MPX is amazing. It is a flat-face trigger, with a clean and crisp break. The reset is short, which allows for faster shots.
This MPX features a 4.5-inch steel barrel, which makes the pistol very compact, and light as well. The handguard has M-Lok slots, and the top has a continuous Picatinny rail for mounting optics. Overall the MPX is an excellent option for a self-defense PDW, competition gun, or Range gun.
Blem PSA 9mm Lightweight M-LOK MOE SBA3 Pistol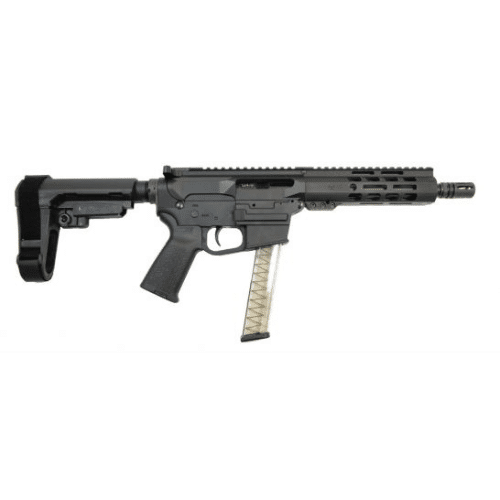 The Blem 9mm lightweight pistol from PSA is another excellent and affordable rifle pistol. It has a simple blowback operating system and is designed as a 9mm AR, with identical controls, and aesthetics.
This pistol has an 8-inch CMV steel heavy-profile barrel, with a birdcage flash hider. The upper receiver is made from Forged 7075 T6 aluminum, and has a minimalistic design, with no forward assist. The lower receiver is also made from Aluminum and is designed to accept 9mm Glock Magazines. Which makes it really easy to find high-quality extra mags. One of the drawbacks of the Blem PSA 9mm pistol is that it doesn't have a last-round bolt hold-open feature like other pistols on this list.
The Blem PSA 9mm pistol uses an SBA3 Adjustable Pistol Brace, which rides on a 6-position buffer tube. It has a Magpul Grip and a Modern M-Lok handguard, with a Picatinny rail on top
Overall, if you are looking for a high-quality 9mm AR Pistol, this is a great option, the controls are easy to get used to, and the compatibility with Glock mags makes it a good option. Moreover, the  Blem 9mm lightweight pistol is an excellent entry-level option and provides great value for money.
B&T APC9 Pro 9mm Pistol
The Brugger and Thomet APC9 Pro is the civilian version of the APC9k, which is the first Submachine gun adopted by the US military after the M3 grease gun. The Army uses it for personal security units in limited numbers, and anything that is adopted by the military after trials has to be good.
Well, the B&T APC9 Pro has many features that set it apart from other semi-auto pistols and PCCs and make it an excellent firearm in general.
The B&T APC9 Pro is a blowback-operated semi-auto pistol, which is chambered in 9mm. It diverts from the standard AR platform in many ways. It has excellent features like a complete ambidextrous design, a side-folding stock, M-Lok compatibility, and non-reciprocating side charging handles.
As far as capacity is concerned, it comes with a standard 21-round magazine and accepts Accepts P320 Style Magazines as well. The trigger on the B&T APC9 is great, with very little takeup, and a crisp break. The reset is also short which allows for rapid shots in Semi-Auto.
One thing to keep in mind with the B&T APC9 Pro is that the barrel features a European-style tri-lug setup rather than muzzle threads, so you have to buy your suppressors and muzzle devices accordingly.
Overall, the APC9 Pro is a very reliable and formidable sub-gun. Which can be used for home defense and several other applications.
Kalashnikov KP9
If you are an AK guy and want a 9mm AK pistol that is made by Kalashnikov USA, the KP9 is the perfect firearm for you. The KP9 is almost identical to the Russian Vityaz-SN submachine gun. However, the civilian version in the US is obviously semi-automatic.
Like the Vityaz, the KP9 is a direct blowback firearm, and it comes with a 9.5-inch barrel. It used a KP9 30-round magazine, which is the same as vityaz mags. However, it won't work with CZ Evo Magazines which is a slight drawback.
Other than that the fit and finish on this rifle are incredible. Everything is made in the USA under the supervision of Kalashnikov, using the Vityaz blueprints and Molds. So, this is the closest thing you can get to the Iconic vityaz SMG used by the Russian special forces. Moreover, the KP9 is an improvement over the Vityaz design in some ways. The original vityaz rifles were known to develop cracks in the dust covers, which were fixed by Kalashnikov USA for the KP9.
The controls and sights on the KP9 are pretty standard like any other AK. The dust cover is hinged and has a Picatinny rail on top of it to mount optics as well. Which will hold zero even after the dust cover is opened.
Overall, the KP9 is an excellent sub-gun for any Kalashnikov fan. It is reliable, and quite accurate, with a very mellow recoil impulse, which makes it very controllable.