Former President Donald Trump is receiving widespread praise from conservatives after Roe v. Wade was overturned on Friday by the Supreme Court following nearly five decades of precedent.
Trump was president when Supreme Court Justices Neil Gorsuch, Brett Kavanaugh and Amy Coney Barrett were approved to join the Court. All three, in addition to Justices Samuel Alito and Clarence Thomas, voted to overturn Roe.
Mitch McConnell, the Republican leader in the Senate, tweeted, "The Supreme Court's landmark ruling in Dobbs is courageous and correct. This is an historic victory for the Constitution and for the most vulnerable in our society." Dobbs v. Jackson Women's Health Organization is the Mississippi-based case that asked the Court to examine Roe.
In a statement, McConnell compared U.S. laws to other nations and said Democrats' views toward abortion "are jaw-droppingly extreme."
"For 50 years, states have been unable to enact even modest protections for unborn children," McConnell's statement reads. "More than 90% of Europe restricts abortion on demand after 15 weeks, but every state in America has been forced to allow it more than a month past that, after a baby can feel pain, yawn, stretch, and suck his or her thumb.
"Judicial activists declared that every state had to handle abortion like China and North Korea and no state could handle it like France or Germany. Not anymore. Now the American people get their voice back."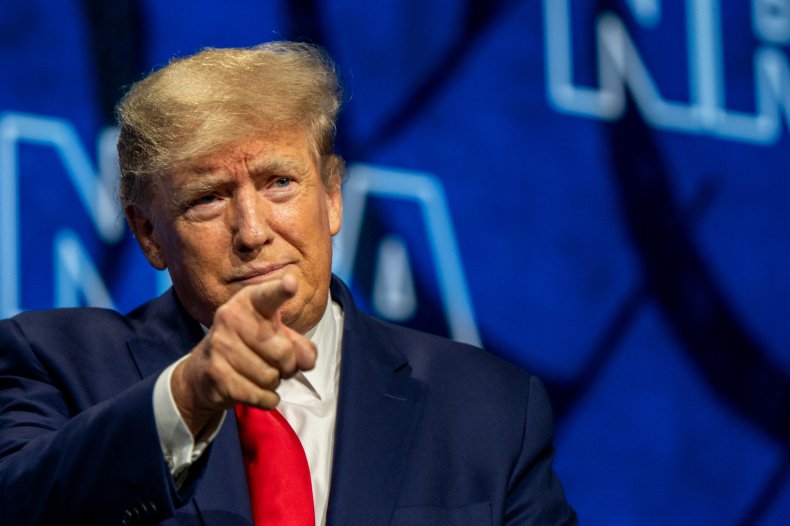 Kimberly Guilfoyle, formerly married to California Governor Gavin Newsom and now engaged to Donald Trump, Jr., said the decision means that "life wins!"
"This wouldn't have happened if President Trump didn't appoint 3 Conservative SCOTUS Justices," Guilfoyle wrote.
"We would never have gotten this victory for LIFE without President Trump," tweeted conservative commentator Monica Crowley. "Thank you, Mr. President."
"The greatest pro-life president in United States history appointed 3 justices to the court," tweeted Jack Posobiec. "And they have overturned Roe v Wade once and for all."
Ronny Jackson, a current Texas congressman and former White House physician during Trump's tenure, tweeted, "Our prayers have been answered!"
"This is the moment we've been waiting decades for, Roe v. Wade is overturned!" Jackson wrote. "Thank you to every pro-life activist who has helped make this victory possible, and thank you to President Trump for nominating 3 fantastic pro-life justices. Huge win!"
Conservative commentator Erick Erickson tweeted with religious undertones.
"Ending Roe v. Wade is not about the nation returning to God, but God now opening our eyes to just how depraved our nation is," Erickson wrote. "You ain't seen nothing yet."
Barrett previously argued that Roe v. Wade may not qualify as a super-precedent, or a precedent that the Supreme Court could never overrule according to certain definitions. As a Supreme Court nominee, she expressed that challenges and disagreements with the ruling remained.
Prior to today's decision, a Gallup poll showed that only 25 percent of Americans had "a great deal" or "quite a lot" of confidence in the Supreme Court. Confidence in the Supreme Court overall has averaged 35 percent for the past 16 years.