Even though former President Donald Trump has lost proxy battles with other key Republicans, he remains the most sought-after endorsement in the GOP. But Trump's time as kingmaker could be coming to an end now that his former allies have had a taste of independence.
More than 100 of Trump's endorsed candidates have won their primaries, and support from the former president still seems to go a long way with voters. Trump has reason to brag about his endorsement record, but his former allies are starting to make their own set of endorsements, and in several instances, they've proven powerful enough to hold their own.
The former president's mixed results in the ongoing primary elections, coupled with the unfavorable public hearings from the House committee investigating January 6, 2021, mean voters "are likely to see more people re-discover their courage," GOP strategist Alex Patton told Newsweek.
"Republicans aren't going to wake up one day and declare they have found Jesus and changed their minds about the former Republican president because the social pressure within the 'tribe' won't stand for it. Republicans will simply migrate," he explained. "What we may be seeing is the beginning of 'turning the page' to 'what's next?'"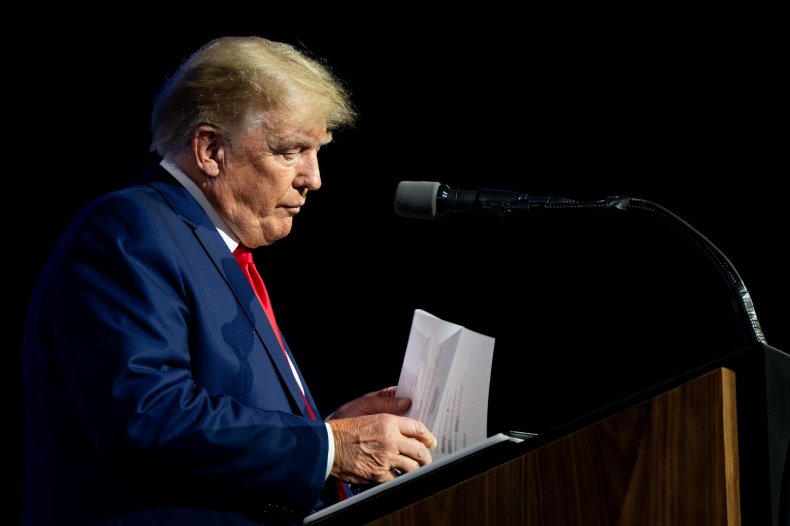 In Tuesday's runoff election in Georgia, Trump-endorsed Vernon Jones was crushed by businessman Mike Collins, losing by nearly 50 points to his opponent, who was backed by Governor Brian Kemp, a Trump rival. Kemp became one of the former president's favorite targets after he refused to help overturn the results of the 2020 presidential election.
The governor himself dealt Trump a massive blow last month when he beat out former Senator David Perdue, Trump's pick, for the Republican gubernatorial nomination. Kemp's primary victory was also seen as a win for former Vice President Mike Pence, who stumped for the governor after slowly distancing himself from his former commander-in-chief.
And it's not just in Georgia where Trump has lost a proxy war. Last week, Representative Nancy Mace won South Carolina's GOP primary against Trump's candidate, former state Representative Katie Arrington, with a full-throated endorsement from former U.N. Ambassador Nikki Haley. Haley, who served in the Trump administration, has fallen out of favor with the former president since lambasting him in the wake of the January 6 riot.
Patton said that while each race has its own unique local context, the key takeaway is that more and more people are beginning to publicly challenge Trump.
The conflicting endorsements from Kemp, Pence and Haley signal there is a group of high-profile Republicans who are ready to mark their independence from Trump—officials who do not agree with the former president on everything but do not want to go so far as disavowing him either.
Audrey Haynes, a political science professor at the University of Georgia, explained to Newsweek that all three Republicans have carefully chosen their words to thread the needle between courting Trump's supporters while avoiding the "America first" label associated with Trump—the very man who has attacked them both politically and personally.
"That tells you that there is still a great deal of strategic calculation going on, and these endorsements of non-Trump candidates may be a way they can signal that they are trying to move away from a MAGA dominated party," Haynes said.
Pence, Kemp and Haley are likely to benefit from their connection to winning candidates they endorsed, according to Haynes, and their victories have added to their perceived influence in the Republican Party. While Trump's the top of the pack now, Haynes noted that "political winds can change quickly," and when politicians sense change, they will "act accordingly."
"Small gestures, such as endorsing a non-Trump candidate, rather than staying silent, can be indicators that the wind is changing, and smart politicians (Kemp, Haley and Pence are all very smart politicians) are going to make sure they have their sails tacking the direction that keeps them in the race," she added.
Despite the fact that a question mark is emerging over the power of Trump's endorsements, most Republican hopefuls would still rather have his backing than not.
The caveat, as Republican strategist Jay Townsend told Newsweek, is that soon enough, "a prominent Republican candidate somewhere is going to say they don't want [a Trump endorsement]. And then go on to win without it," further diminishing his standing as the GOP juggernaut while expanding room for other Republican leaders under the party's big tent.