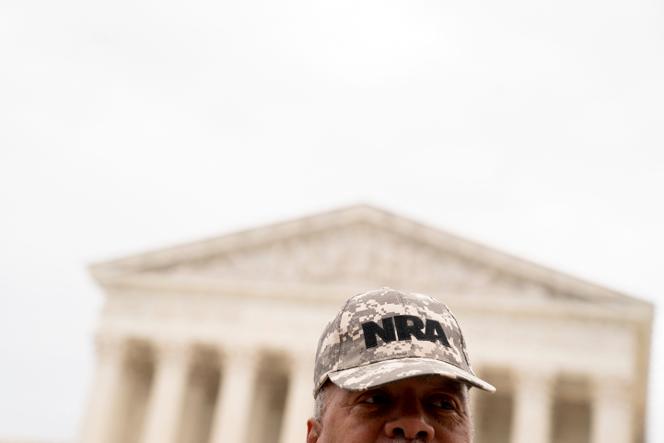 The Supreme Court on Thursday, June 23, struck down a restrictive New York gun law in a major ruling for gun rights. The justices' 6-3 decision is expected to ultimately allow more people to legally carry guns on the streets of the nation's largest cities — including New York, Los Angeles and Boston — and elsewhere.
About a quarter of the US population lives in states expected to be affected by the ruling, the high court's first major gun decision in more than a decade.
The ruling comes as Congress is actively working on gun legislation following recent mass shootings in Texas, New York and California.
In their decision, the justices struck down a New York law requiring people to demonstrate a particular need for carrying a gun in order to get a license to carry one in public. The justices said the requirement violates the Second Amendment right to "keep and bear arms."
California, Hawaii, Maryland, Massachusetts, New Jersey and Rhode Island all have similar laws likely to be challenged as a result of the ruling. The Biden administration had urged the justices to uphold New York's law.
New York governor Kathy Hochul said the ruling was a "dark day." She told reporters that it was "shocking, absolutely shocking, that they have taken away our rights to have reasonable restrictions." She added that the ruling came at a particularly painful time, with New York mourning the deaths of 10 people in a shooting at a supermarket in Buffalo earlier this year. "This decision isn't just reckless. It's reprehensible. It's not what New Yorkers want," she said.
It is outrageous that at a moment of national reckoning on gun violence, the Supreme Court has recklessly struck do… https://t.co/ihS8FWQDax

— GovKathyHochul (@Governor Kathy Hochul)
President Joe Biden said in a statement he was "deeply disappointed" by the Supreme Court ruling. It "contradicts both common sense and the Constitution, and should deeply trouble us all," he said.
He urged states to pass new laws. "I call on Americans across the country to make their voices heard on gun safety. Lives are on the line," he said.
Gun control groups called the decision a significant setback. Michael Waldman, president of the Brennan Center for Justice and an expert on the Second Amendment, wrote on Twitter that the decision could be the "biggest expansion of gun rights" by the Supreme Court in U.S. history.
Also Thursday, underscoring the nation's deep divisions over the issue, the sister of a 9-year-old girl killed in last month's school shooting in Uvalde, Texas, pleaded with state lawmakers to pass gun legislation. The Republican-controlled legislature has stripped away gun restrictions over the past decade.
The court's decision is somewhat out of step with public opinion. About half of the voters in the 2020 presidential election said gun laws in the U.S. should be made more strict, according to AP VoteCast, an expansive survey of the electorate. An additional one-third said laws should be kept as they are, while only about 1 in 10 said gun laws should be less strict.
We are interested in your experience using the site.
The National Rifle Association (NRA), the country's largest gun rights organization, praised the decision. NRA CEO and Executive Vice President Wayne LaPierre described it as a "watershed win."
"The NRA has been at the forefront of this movement for over 30 years and was proud to bring this successful challe… https://t.co/kNDv143CwE

— NRA (@NRA)