The June 14 Republican primary in South Carolina's 1st Congressional District pits incumbent Rep. Nancy Mace, a candidate Donald Trump supported in 2020, against former state Rep. Katie Arrington, who has the former president's endorsement.
Republicans are focused on regaining control of the House by flipping seats, but the party's faction that embraces Trump's "America First" platform is committed to replacing representatives whose track record is not friendly to the former president.
From 2016 to 2018, Arrington represented South Carolina's 94th House District.
In 2018, she defeated sitting congressman and former governor Mark Sanford in the Republican primary before losing in the general election to Democratic Rep. Joe Cunningham. It was the first time a Democratic U.S. House candidate prevailed in the district since 1978.
Bolstered by Trump's support, Mace unseated Cunningham in 2020. Mace voted to certify Joe Biden's victory in the 2020 presidential election and has frequently blamed Trump for the Jan. 6 U.S. Capitol events.
This led Trump to give Arrington his stamp of approval to unseat Mace.
"She turned her back on [former] president Trump, and that is not what a conservative does," Arrington said at a May 23 debate. "She read the room wrong. She thought this district was a moderate district, and we are not."
Through May 25, which was the deadline to submit pre-primary fundraising reports, Mace raised more than $4.1 million in contributions and had $1.4 million cash on hand.
Federal filings showed Arrington with more than $909,000, including a personal loan of $525,000. As of May 25, she had $607,000 cash on hand.
Mace served as a state representative in South Carolina's House of Representatives from 2018 to 2020 before earning her current seat in the 1st Congressional District. She is endorsed by former South Carolina governor Nikki Haley, U.S. House minority leader Kevin McCarthy (R-Calif.) along with the National Rifle Association, and Club for Growth.
Mace claims that Arrington is not electable. She points to 2018, when Arrington upset Sanford in the Republican primary but lost to Cunningham.
"I'm the only candidate up here who knows how to beat a Democrat in this day and age in this district," Mace said in a statement. "I promised that I would work hard, I promised to be an independent voice, and I promised not to tow the party line when they taxed too much and spent too much in this country."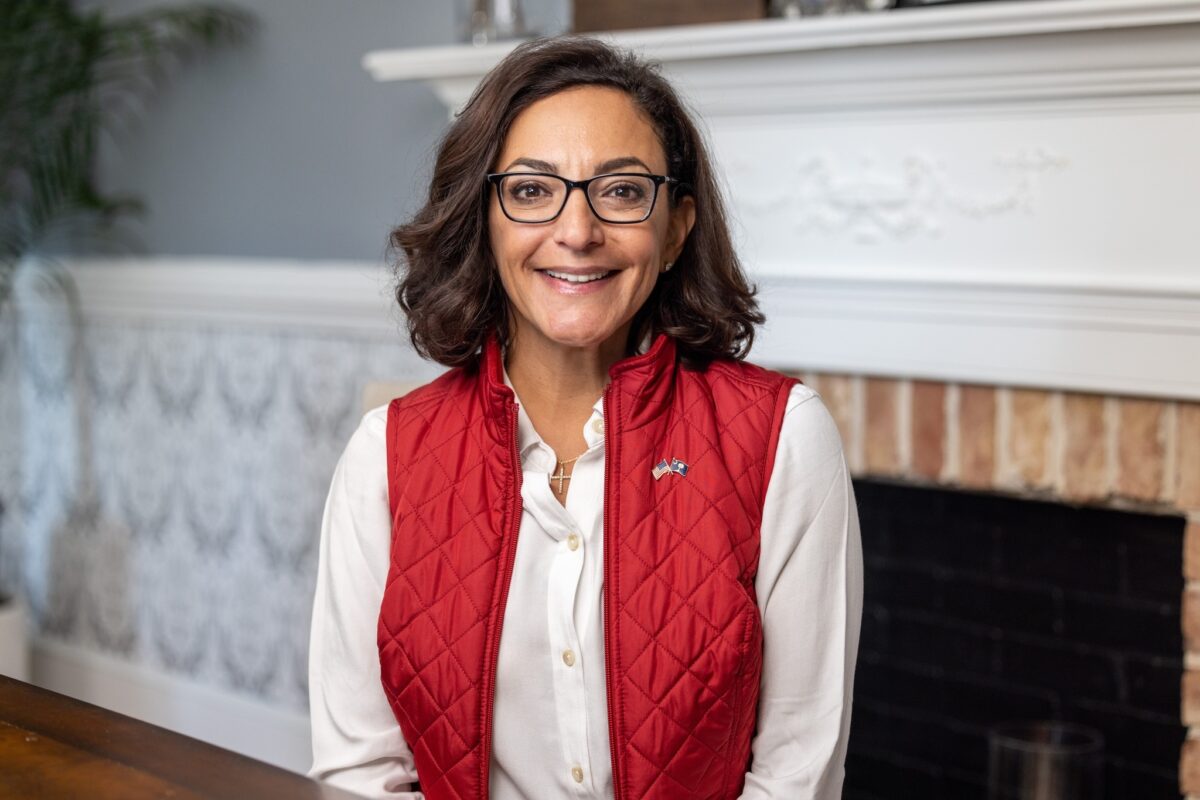 The 1st Congressional District Republican primary featured three candidates until the debate on May 23.
While answering the opening question, Lynz Piper-Loomis expressed her support for Arrington, removed her microphone, and exited the stage and the race.
Arrington is a cybersecurity expert who served as the Pentagon's chief information security officer in the acquisition and sustainment office during the Trump administration.
Through comments and the ad, Mace has hammered Arrington about the Pentagon suspending her security clearance in 2021 because of accusations that she disclosed classified information.
"If our military doesn't trust Katie Arrington, neither can we," the narrator says in Mace's attack ad.
Arrington defended herself against the allegations.
"Ladies and gentlemen, just shows you how low Nancy Mace will go," she said during the debate. "I was a victim of a political hit job, point blank. I proudly serve my nation."
During campaign stops, Arrington talks about her opposition to critical race theory being taught in classrooms and calls out schools "indoctrinating" children with a transgender agenda. She supports eliminating the U.S. Department of Education.
Mace has "flip-flopped" on multiple issues since taking office, Arrington contends, including transgender advocacy in the military.
The 1st Congressional District is home to Marine Corps Recruit Depot at Parris Island, and the Marine Corps Air Station in Beaufort.
"In 2020, Nancy Mace released an ad attacking Joe Cunningham over his support for transgender advocacy in the military," Arrington said in a statement.
"Interestingly enough, she co-sponsored with a progressive Democrat from Hawaii to create with our tax dollars a special office for transgenders in the VA (Veterans Affairs).
"This is just one of many flip-flops Nancy has made throughout her short time in D.C.," Arrington added. "Nancy Mace is not a conservative. Since day one, she has compromised our values to advance her own career. We cannot afford another term of her self-serving agenda."
Arrington is confident that redistricting adjustments will help her in the primary and, if she wins on June 14, the general election.
The 1st Congressional District's new map now extends further inland to the north, which has created a district where Republicans have a 17-point advantage, up from a 14-point advantage on the old map, according to FiveThirtyEight.
A Trafalgar Group poll conducted from May 26 to May 29 and released on June 2 showed that Mace led with 46.4 percent while Arrington received 40.5 percent with 13.1 percent undecided.  The survey included 556 likely Republican primary voters and had a margin of error of four percentage points.
Arrington believes her campaign is gaining momentum at the right time, pointing to a Charleston County GOP straw poll that showed her with 86 percent support compared to Mace's 14 percent. Arrington reported similar lopsided results in straw polls conducted in Berkeley and Beaufort counties.
"Voters are tired of swamp sellout Nancy Mace, and despite her lies, her campaign is in a downward spiral," Arrington said in a statement. "The people of SC-1 want a pro-Trump America First conservative, not a RINO [Republican in Name Only] who votes with AOC [Alexandria Ocasio-Cortez] 45 percent of the time."
Mace or Arrington will face Dr. Annie Andrews, a pediatrician, in the general election. Andrews is unopposed in the Democrat primary.
The Cook Political Report, Sabato's Crystal Ball, and Inside Elections have rated South Carolina's 1st Congressional District as a solid/safe Republican seat, so the winner of the GOP primary will be heavily favored in November.