We are wrapping up tonight's coverage of President Biden's primetime address but here's a rundown of some of what he called for in his speech:
Ban assault weapons and high-capacity magazines. If this can't be achieved, he called for age restrictions to purchase them to be raised from 18 to 21.
Red flag laws, safe storage laws, and better background checks. Biden said key measures would ensure guns don't fall into the hands of felons, and highlighted that most Americans — including gun owners — support stronger background checks. He said those who don't lock up their guns effectively should be held accountable. Biden also pushed for limits on how many rounds weapons can hold. "Why in God's name should an ordinary citizen be able to purchase an assault weapon that holds 30 round magazines that lets mass shooters fire hundreds of bullets in matter of minutes?," he asked, describing the horrors that parents had to endure after Uvalde, relying on "DNA swabs to identify the remains of their children, nine- and 10-year-olds".
Mental healthcare. Noting that there's a "serious mental health crisis in this country," he said that mental health was a big part of his agenda this year. Biden called for more school counselors, more mentorship, and both privacy protection and resources to protect young people "from the harms of social media". "This unity agenda won't fully heal the wounded souls, but it will help, it matters," he said.
End immunity for manufacturers. Gun manufacturers are shielded from liability for the death and devastation their products cause. "The only industry in this country that has that kind of immunity," he said. "The gun industry's special protections are outrageous. It must end."
Other news this evening:
The House judiciary committee passed the "Protect Our Kids Act," a package that includes many of the proposals outlined in the president's speech. It's unlikely to clear the divided Senate though.
The House select committee will hold its first hearing on the 6 January attack next week, sharing findings in primetime.
Children under 5 may be able to get Covid-19 vaccinations in the coming weeks.
In a tweet following the president's speech, Lindsey Graham, the Republican senator from South Carolina, said he was ready to vote on all the proposals outlined.
"I stand ready to vote on ALL the proposals mentioned by President Biden tonight and encourage the Democratic leader to bring them forward for votes," he said.
But he followed that with a criticism of Biden's speech, saying, "I also stand ready to work across the aisle to find common ground – something that was absent from President Biden's address to the nation."
Biden was clear in blaming Republicans for inaction in Congress.
Senate Democrats are bracing for a battle over gun control and expecting another disappointing outcome. "I'm certainly prepared for failure," Democratic Senator Chris Murphy told CNN earlier today. "I've been here enough times to know that this is probably the most politically complicated and emotionally fraught piece that Congress deals with."
Murphy had been in talks with Graham about reviving last year's Manchin-Toomey bill that would close loopholes that enable gun sales without background checks but that effort already seems doomed to fail. "It's too broad," Graham said of that specific bill.
From CNN:
The talks are centering on a narrower version of the Manchin-Toomey proposal – along with several other ideas. Blumenthal and Graham are engaged in renewed talks over incentives to bolster state laws empowering authorities to restrict gun access to individuals deemed a threat – referred to as red flag laws. There are ongoing talks, including between Republican Senator Susan Collins of Maine and Democratic Senator Martin Heinrich of New Mexico, to impose new rules on trafficking of guns between states.

Republicans, including Cornyn and Tillis, are in talks over school safety provisions as well as ways to bolster the US mental health system. Senator Kyrsten Sinema, a Democrat from Arizona, is involved in those talks as well."

There were 56 candles burning behind Biden as he gave his speech, there to represent and honor the victims of gun violence in 50 states and six US territories.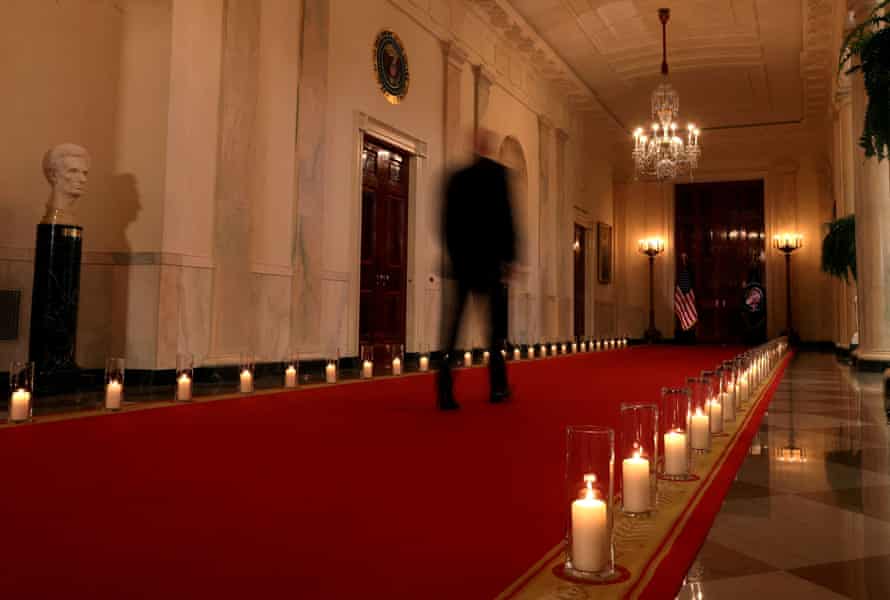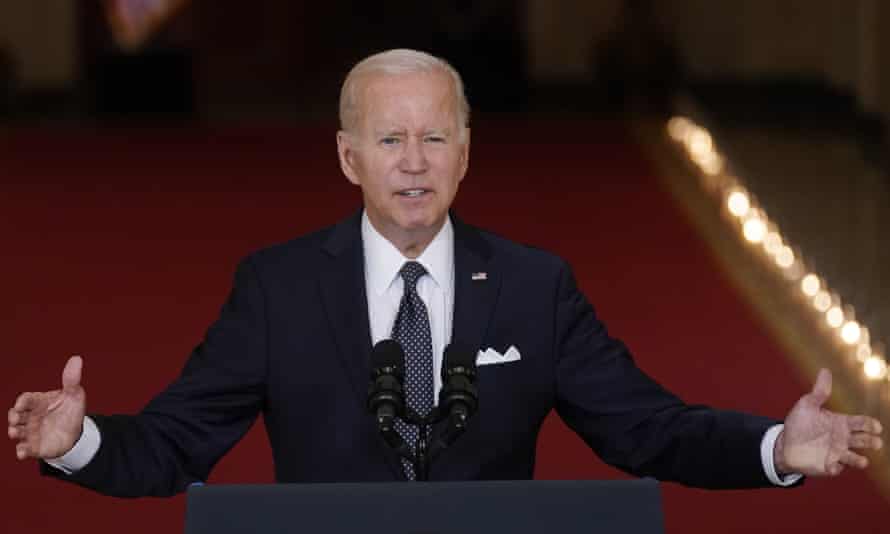 The National Rifle Association issued a statement about Biden's proposals, saying they "will only infringe on the rights", Bloomberg reports.
"This isn't a real solution, it isn't true leadership, and it isn't what America needs," they added.
During his remarks, Biden emphasized that his aim was not to crack down on gun owners or to challenge the second amendment, and he championed those who have purchased and kept guns legally and safely. "We believe we should be treating responsible gun owners as an example of how every gun owner should behave," he said. "I respect the culture and the tradition and the concerns of lawful gun owners."
"At the same time" he added, "the second amendment is not absolute."
But the NRA wasn't alone in their rebuke of the president and his attempt to align Americans around reforms. One Fox News commentator said his speech reflects an "extreme agenda" and said it was an "impeachable offense," framing the president's proposals as an attack on the constitution. Tucker Carlson also reportedly blasted his audience with claims that they would be unarmed.
Biden outlined several proposals in his speech tonight, calling for a ban on assault weapons and high capacity magazines, and said if that can't happen the age should be raised from 18 to 21 to purchase them, with strengthened background checks.
He also pushed for safe storage laws and red flag laws, and to "repeal the immunity that protects gun manufacturers from liability, address the mental health crisis".
But the president also questioned whether the Senate would act. Calling resistance from Republicans "unconscionable" he said, "it's time for the Senate to do something" and added that, at minimum, 10 Republican senators would need to join Democrats in support.
If they refuse, he said, lawmakers would likely pay the price at the ballot box.
"I know how hard it is, but I'll never give up. And if Congress fails, I believe this time a majority of American people won't give up either," he said. "I believe the majority of you will act to turn your outrage into making this issue central to your vote," adding, "enough, enough, enough."
Two gun control advocacy organizations weighed in after the speech, supporting Biden's message to the American people and calls for the Senate to come together on the issue:
"The President was speaking on behalf of the vast majority of Americans when he said it's time for the Senate to show up and take action to keep our families safe, said John Feinblatt, president of Everytown for Gun Safety in a statement. "The American people aren't asking for much – they just want to go to the grocery store, send their kids to school, go to church, and walk the streets without getting shot down. If the Senate can't meet that basic need, this country is in deep trouble."

A grassroots army of Moms Demand Action volunteers that is getting bigger and stronger by the minute has turned out across the country to join President Biden's message tonight: Senators, don't look away from this gun violence epidemic," Shannon Watts, founder of Moms Demand Action said. "We're encouraged to see real bipartisan negotiations going on in the Senate right now – but it isn't about our hope that something gets done, it's our expectation that lawmakers do the right thing."
As Biden addressed the nation, the House Judiciary Committe passed HR 7910 – the so-called "Protecting Our Kids Act"– a package that includes many of the proposals the president laid out.
The bill includes provisions to increase the age limit for purchasing semi-automatic rifles to 21, and places restrictions on high-capacity magazine sales, among others.
Still, it is unlikely for the bill to get through the Senate.
"What will we be doing as a nation?" he asked, while families of victims mourn. He described meeting with the sister of a teacher murdered in Uvalde, whose husband died of a heart attack in the aftermath. Their four children are now left as orphans.
Biden said she asked him what she could say to her nieces and nephews. His response, was just to hold them tight.
After reflecting on that heartbreaking moment and the others he's had meeting with families, he called on the American people to make a change.
"It is time for each of us to do our part" he said, "for the children we lost and the children we can save."
"Let us finally do something" he repeated. "God bless the families that are hurting. God bless you all."
Ending with a prayer, he closed his remarks.
Biden has called for the age requirements to be raised and to end immunity for gun manufacturers.
He also focused on mental health issues. "Even before the pandemic young people were hurting" he said, pushing for more counselors for students and teachers.
After outlining what he would do, he pushed on Congress, asking what legislators would do. Saying that refusing to pass new restrictions is "unconscionable" he said he would never give up.
"We can't fail the American people again" he said.
Biden has called for the reinstatement of the assault weapons ban passed 1994, repeating claims he has made in the past that it significantly reduced mass shootings, and that when it was allowed to expire, mass shootings tripled.
The law, passed under President Clinton, banned weapons that could hold more than 10 rounds. But, as the Washington Post reported last week, there were significant loopholes:
A 2004 study for the Justice Department found that the ban's impact on gun violence was mixed, at best, because of exemptions written into the law; if the ban were renewed, the "effects on gun violence are likely to be small at best and perhaps too small for reliable measurement." The report said that assault weapons were "rarely used" in gun crimes but suggested that if the law remained in place, it might have a bigger impact.

James Alan Fox, a Northeastern University professor, collected data back to 1982 showing that assault weapons account for 24.6 percent of public mass shootings."
Biden says this is not about taking away guns but adds that the 2nd amendment is not absolute.
The rights granted by the second amendment are not unlimited, he added, quoting the late Supreme Court justice, Antonin Scalia.
Guns are the number 1 killer of children, Biden said, citing CDC research. "For God sake, how much more carnage are we willing to accept?"
Biden has begun his remarks, beginning with heartbreaking imagery of the crosses bearing the names of the children killed in the Texas shooting. He has wasted no time painting the picture of families "whose lives will never be the same."
"Do something" he said they have pleaded, noting that nothing substantial has been done since Columbine.
The president's address is about to begin. Here's where you can watch live:
Gabrielle Canon here, signing on to take you through Biden's speech tonight and the news that breaks over the next few hours.
As we wait for Biden to address the nation on the devastating mass shootings and the urgent need for legislation to combat them, Ohio governor Mike DeWine has announced he will sign a state bill that would make it easier to arm teachers.
The Wall Street Journal is reporting that the Republican-backed bill, passed this week, would diminish the amount of training required by teachers to carry guns into schools. Currently, roughly 700 hours of training is required but the new legislation reduces requirements to a mere 24 hours.
From the WSJ:
During a recent hearing, dozens of teachers, teachers-union officials and the Fraternal Order of Police of Ohio opposed the firearms bill, which has been supported by Republican lawmakers. A number of Democrats said the bill would cause more harm than good.

Michael Weinman, director of government affairs for the police union, said in an interview that the bill is "ridiculously inadequate." He said it lacked guidance on how guns should be worn or stored in schools. Training on how to avoid being disarmed by an attacker isn't required, he said.

"These teachers, janitors and lunch ladies aren't going to have that," Mr. Weinman said. "What you're going to have is people with very minimal training carrying firearms in schools."
The House select committee 6 January attack on the Capitol will hold its first hearing to share findings, in prime time next week.
The hearing will make public "previously unseen material documenting January 6th, receive witness testimony, preview additional hearings, and provide the American people a summary of its findings about the coordinated, multi-step effort to overturn the results of the 2020 presidential election and prevent the transfer of power," the committee said.
Additional details about witnesses will be forthcoming, it said.
The bid to recall San Francisco DA could be bellwether for progressive prosecutors, writes the Guardian's Sam Levin:
Chesa Boudin, San Francisco's chief prosecutor, elected on an agenda of tackling mass incarceration, is facing a recall election that could have ramifications for criminal justice reform efforts across the US.
A former public defender and the son of two leftist Weather Underground radicals who spent decades in prison, Boudin pledged to undo the harms of racism in the system, hold police accountable for misconduct and end the criminalization of poverty. After his election in November 2019, he became one of the most prominent leaders in a growing movement to elect progressive prosecutors.
Boudin, 41, enacted many campaign promises: he became the first San Francisco district attorney to charge an officer for on-duty manslaughter; created a wrongful conviction unit that freed a man imprisoned for decades; stopped prosecuting contraband cases stemming from minor traffic stops; eliminated cash bail; and reduced jail and prison populations.
But amid escalating anxieties about crime during the pandemic, Boudin has faced intensifying opposition from law enforcement, conservatives, tech investors and some constituents and elected Democrats in the city, including the mayor. Critics have blamed Boudin for the city's struggles with violence, homelessness and addiction and have called for a law enforcement crackdown and harsher punishments.
Read more: