If you want a rifle that feels good in your hands and allows you to shoot more comfortably, you need to make sure that it has high-quality contact points. On a rifle, the contact points are the grip, and the handguard, so, if you have a nice handguard, the feel of the rifle in your hands can be improved drastically. Not to mention the accuracy of your rifle.
On an AR-15, you have a wide choice of handguards. Mil-Spec rifles usually have a quad rail, which does get the job done but isn't the most comfortable or the best-looking option out there. These days, most modern AR-15s have slim profile handguards, like the Bootleg Pick lock handguard. The actual spelling is "PicLok" Hand Guard, but we know people search for incorrect spellings.
The PicLok Handguard Review
Bootleg Inc. recently added the PicLok Handguard to its accessory lineup, and like all other accessories and parts from the company, it boasts excellent build quality and practicality.
PicLok is a combination of two words, Picatinny and M-Lok. It indicates that the Bootleg PicLok handguard supports both of these mounting platforms. The PicLok chain guard has M-Lok slots on both sides and the bottom, with a full-length Picatinny rail on top, and smaller sections on the button as well. This allows a wide range of accessories like foregrips, lights, IR lasers and a lot more to be mounted onto your rifle.
PicLok Profile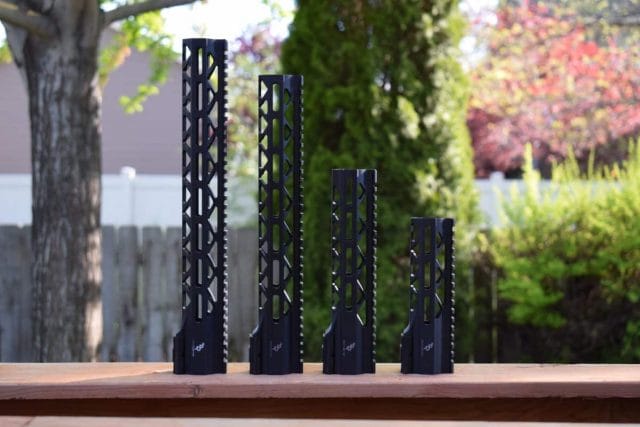 The slim profile handguard is made from Extruded 6061 aluminum to keep the weight low while adding to its durability. The handguard also has a hard coat anodized finish to improve durability and damage resistance. Moreover, it gives your rifle a modern and sleek appearance.
The specially designed Bootleg picLok handguard is available in three different sizes. It can be used with any AR pattern pistol, short barrel rifle, or full-length rifle. The handguard is available in 7", 9", 13", and 15" lengths.
With its slim profile, the Bootleg picLok handguard is very easy to get a grip on. It is perforated, both to decrease weight, and allow better dissipation of heat from the barrel. Allowing you to fire longer and more accurately as well. The one-piece handguard mounts to any standard AR receiver and gives the shooter a very sturdy and stable gripping and mounting platform.
Bootleg PicLok Handguard – Final Thoughts
Overall, the Bootleg PicLok is an excellent, and high-quality handguard, with a modern modular design, and solid construction. It is a great option for any modern AR build.
PicLok For Sale?
Finding these in your local outdoor stores can be a challenge. Bootleg has discontinued making the Piclok.  However, Bootleg has made improvements to their discontinued PicLok, same features just different names.