Over the past few years, Concealed carry semi-automatics have come a long way, with the release of micro 9s like the Sig P365 and Smith and Wesson M&P Shield. However, most of these pistols can be a little expensive, and though they have higher magazine capacities, they don't offer the extreme concealability that a single stack 380 ACP pistol offers. We'll going to look at how to optimize your target acquisition with the Best Concealed Carry Gun With Built-in Laser options.
What to Look for When Buying a Concealed Carry Pistol With Built in Laser or not?
When it comes to concealed carry, one of the most important factors is of course concealability. Therefore, you want your pistol to be short, and thin. Therefore, ideally, a subcompact concealed carry pistol should be less than 6 inches long, and about an inch wide.
The caliber is also an important factor. For subcompact pistols, there are multiple choices, but 380 is a really good option since it is common and almost as effective as 9mm in close ranges, plus pistols chambered in 380 ACP are easier to conceal.
One of the common issues with sub-compact pistols is the sights. Since these pistols are usually quite small, the sights aren't always the best. Therefore, having a laser on your concealed carry pistol can be very helpful, and it can increase your target acquisition speed.
Top Concealed Carry Guns With Built-in Laser
Walther PK380 with Laser Set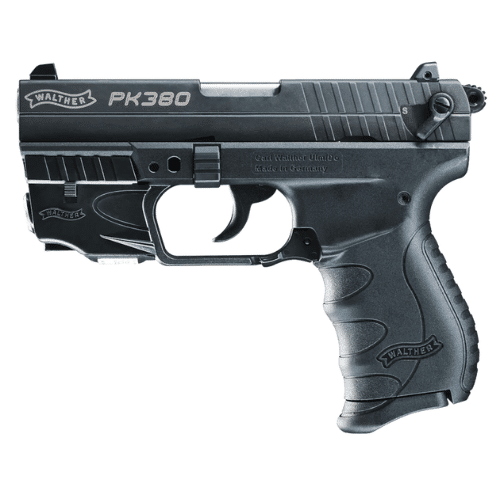 Walther is one of the most renowned German firearm brands which is known for making some high-quality pistols. The Walther PK380 is a hammer-fired, semi-automatic handgun with a locked-breech design. It has a polymer frame and steel slide, with a 3.66-inch barrel.
The Walther PK380 is chambered in 380 ACP, which is a very capable round for self-defense. The pistol feeds from a single-stack metal magazine, which holds 8 rounds.
As far as controls are concerned, the Walther PK390 is very ergonomic. It has a paddle-style ambidextrous safety, which is popular in German firearms, an ambidextrous manual safety. The trigger is Double Action-single action, and it is quite smooth.
The pistol is quite easy to conceal, it is 6.5 inches in length, and only 1.2 inches wide. It can be carried in a variety of different positions without any concealment problems, even if you are only wearing a single t-shirt.
The sights of this pistol are standard three-dot sights, which are quite effective. However, it does have an accessory rail under the barrel, where a laser flashlight can be attached. This particular pistol comes with a Walther Laser, which makes aiming very quick and easy. The Laser is detachable and can be replaced if you want.
Ruger LCP with Viridian Laser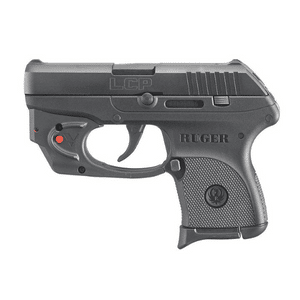 If you want a concealed carry pistol that is very small, and easy to hide, the Ruger LCP is an excellent option. It isn't a particularly new design, however, it is trialed and tested, and is available for a very affordable price.
Chambered in .380 Auto, the Ruger LCP has a very small silhouette. It is very slim, and is only 5.16 inches in length, with a 2.75-inch barrel. This lightweight pistol weighs only 10.4 ounces. The frame is made from polymer, and it has a stainless steel slide. The Ruger LCP is a hammer-fired handgun, with a double-action trigger.
It holds 6 rounds of 380 ACP in the single stack magazine, plus one in the chamber. The grip has aggressive texturing on the sides and the slide has rear cocking serrations.
As far as the controls are concerned, you get a non-interchangeable magazine release and a slide stop/release on the left side. The slide release is very small and hard to engage, however, its low profile ensures that it won't snag on anything on the draw.
This LCP comes with an integrated Viridian E-Series Red Laser with 635-650 nm wavelength, which makes quick aiming very easy, especially considering that the sights on the LCP are limited by the size and low profile of the pistol.
Sig SauerP238 Laser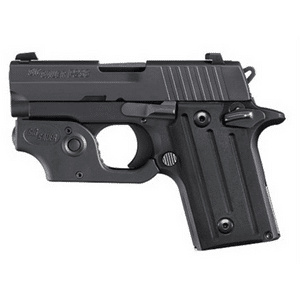 Next up, we have the Sig Sauer P238. Sig Sauer is one of the best firearm manufacturing brands in the US, which is evident by the fact that they are suppliers for the US army's new rifle and sidearm, with the sig MCX and the
The Sig P238 is a subcompact hammer-fired semi-automatic pistol chambered in .380 ACP. Unlike all the other pistols on this list, it has a complete metal construction, with an aluminum frame and stainless steel slide.
The Sig p238 is very easy to conceal because of its small size. It is 5.5 inches long with a 2.7-inch barrel, and it has an overall width of 1.1 inches. Overall, the handgun weighs 15 ounces unloaded. The pistol feeds from a single stack magazine that holds 6 rounds of 380 ACP, with one in the chamber.
In terms of appearance, and controls, the Sig P238 looks quite similar to 1911. It has a similar thumb safety, and magazine release on the left side, and the trigger is also quite similar. You also get a slide stop/release lever on the left side.
This P238 also comes equipped with a red Sig laser, which makes target acquisition a lot easier, especially with a handgun this small.
Smith & Wesson M&P Bodyguard 380 CrimsonTrace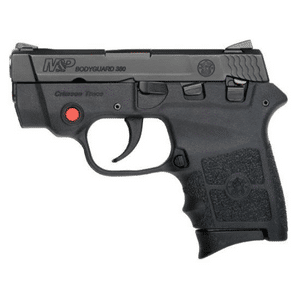 One of my favorite concealed carry gun with built-in laser options is the Smith and Wesson M&P bodyguard is a direct competitor of the Ruger LCP; it is very similar in size, and weight and has the same magazine capacity as well.
This double-action semi-automatic pistol has a total length of 5.25 inches, with a 2.75-inch barrel. It has a high-strength polymer frame, with a stainless steel slide and barrel. Overall, the S & WM & P Bodyguard weighs a little over 12 ounces, and with its small silhouette, it is very easy to conceal.
The pistol holds 6 rounds of 380 ACP in a single stack magazine, with one in the chamber for a total capacity of 6+1. You can have two magazines in the box, one with a flat butt plate, and one with an extended finger groove for better grip.  It has an ergonomic grip with aggressive texturing, and cocking serrations on the slide.
As far as the controls are concerned, you get a magazine release on the left, which can be shifted to the right for left-handed shooters. On the left side of the slide, you also get a manual thumb safety, a slide stop/release, and an external take-down lever.
The pistol has simple drift adjustable sights, however, it also comes with an integrated Crimson Trace laser, which can greatly improve your target acquisition speed. The laser can also be adjusted without taking the pistol apart and has a switch on both the right and left sides.
Alternate Option – You can add a laser to most pistols with Pic Rail Mounts
Crimson Trace Rail Master Universal Laser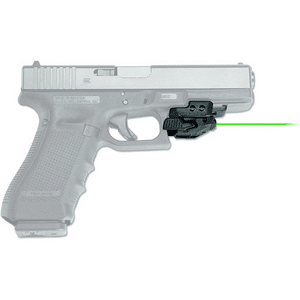 One alternative to solving your concealed carry gun with built-in if you already have a subcompact concealed carry handgun, you can always mount a laser to it. In general, Subcompact and compact pistols don't usually have the best sights, and a laser can significantly improve your accuracy and aiming abilities.
If you are looking for a low-profile laser to mount on your handgun, the Crimson trace CMR-206 Laser is an excellent option.
This powerful and versatile green laser is designed to fit rail-equipped pistols, rifles, and shotguns with both Picatinny or Weaver-style accessory rails. It comes with 4 different inserts, which allow it to be adaptable for almost any pistol platform out there.
Powered by one 1/3N Lithium battery. Which is included in the package. It can last for 2 hours before needing a replacement. The Laser is also adjustable for both windage and elevation. The laser has ambidextrous control, with switches on both sides