The need for a concealed carry sling bag is obvious. It is pretty easy for a firearm to be "discovered" in a pants pocket. Not to mention, that isn't very safe at all. Even if you have no intention of packing heat, the option could be needed.
A sling bag not only adds extra room but can keep your hands free, which improves your agility and flexibility. If you want, there are even some multi-purpose sling holsters where you can put your arms through and carry it as a backpack or fanny pack.
There are a lot of options when it comes to choosing your ideal concealed carry bag. You can go with larger crossbreed slings or smaller ones, sling bags in various colors or ones that blend in, etc. Unfortunately, there are so many great-looking options on the market that it can be hard to choose one!
Why Purchase a Concealed Carry Sling Bag?
For most gun owners looking to carry a weapon safely, a concealed carry sling bag is of utmost importance. Keeping your gun safe and close by is ideal.
After all, you never know when your life might be in danger, and the need arises to use your weapon for self-defense. So, if you are out and about when such a situation presents itself, you want fast access to it in case of an attack or a home invasion.
The sling bag is a simple bag with an abundance of pockets and a great way to organize your firearm and your gear. It is very similar to a messenger bag, but it is worn across the front or back instead of being worn over the shoulder. This keeps it secure and close, so you always have access to your items.
What are you looking for in a great concealed carry sling bag?
Lightweight but Sturdy – you don't want the bag to drag down on you, but you also want to be able to trust that it will hold your firearm in place.
Cushioned back panel – cushioning throughout the bag is excellent to protect the items inside your sling bag.
Pockets for organization – we like many pockets to hold other items like knives, ammo, range tools, etc.
Accessibility – it should not be challenging to get into or to open your concealed carry sling bag.
Flexibility – you want to make sure that when you are wearing your sling bag, it does not restrict your motion or encourage you to get all tangled up into your bag.
Our Top 6 Concealed Carry Sling Bags:
Whether you're looking for a high-capacity bag to cart around multiple firearms or just a little extra space for your wallet and phone, we found something for everyone. So are you ready to meet the top six bags on the market?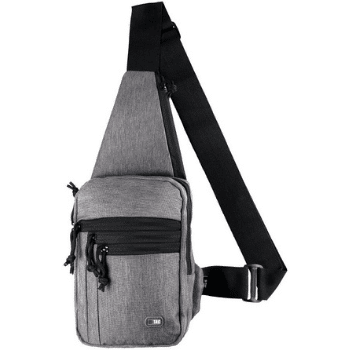 Price: $29.95
Rating: 4.5 out of 5
Description: This M-Tac Tactical shoulder holster is designed to carry a concealed weapon. The universal holster has hook fasteners inside the front pocket to accommodate most models and types of pistols.
There is also a unique hood to enable quick access and ease of draw on your weapon. Overall, this is a well-concealed carry sling bag.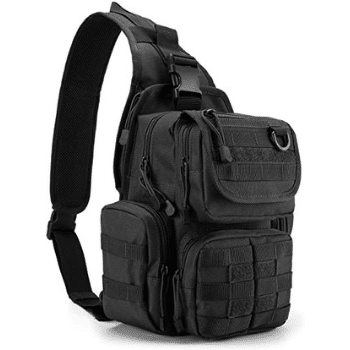 Price: $23.99
Rating: 4.6 out of 5
Description: The pistol holster on this sling bag is easily accessed in the rear compartment with a magic sticker. One of our favorite concealed carry sling bags is ideal for Glock 17, Glock 19, or a P320.
Along with the firearm holster, the bag has plenty of room for a range of accessories, cleaning tools, and other smaller items. The bag is also comfortable with padded handles and straps.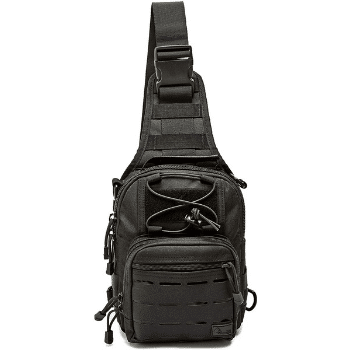 Price: $29.99
Rating: 4.5 out of 5
Description: This bag is ideal for hiking, day trips, or a trip to the range. The Wolf Tactical EDC Sling Bag offers expansive pockets and endless versatility.
The materials create a comfortable, breathable bag that is easy to move while wearing. Also, the lightweight and durable design make this bag longer lasting even in rugged, fun, mountainous adventures.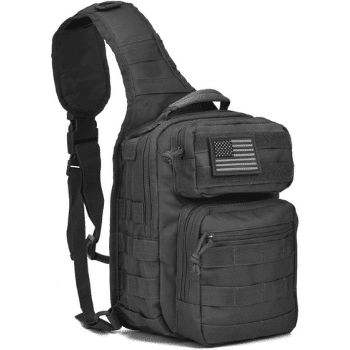 Price: $22.99
Rating: 4.7 out of 5
Description: This is one of the highest-rated sling bags on our list. Why? It can hold multiple handguns, one to two.
Also, there is space for ammo, range tools, a tactical assault pack, and more. Finally, a velcro pad in the main compartment creates concealed front and back compartments.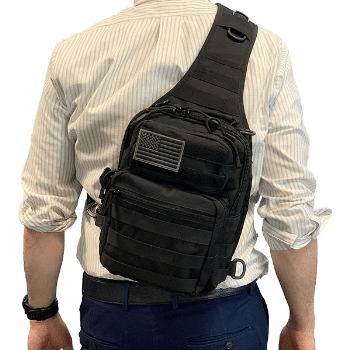 Price: $27.98
Rating: 4.5 out of 5
Description: This is a durable and water-resistant sling bag that comes with a US flag patch. We would consider this bag a unisex back for both men and women. You can safely store drones or cameras for your hikes.
Even use these bags as a diaper bag or day bag for hiking, outdoors, traveling, etc. This bag does not come with a holster, but it can be purchased separately.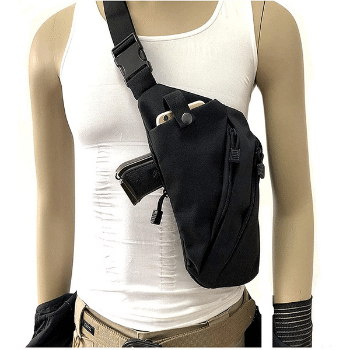 Price: $9.99
Rating: 4.3 out of 5
Description: This sling bag is the bare bones of concealed carry sling bags. It is just a tactical storage gun bag with a small accessory compartment for a few smaller items.
For instance, you can fit almost any full-size pistol with storage for a knife or small flashlight. This is an ideal bag if you try to keep it lite and look for a little more than a shoulder holster.
We all know it; concealed carry sling bags are more popular than ever. You see people all over wearing these bags to the range and hiking, biking, and outdoors. We hope our list of the top six concealed carry bags was helpful for you today.