These 6.5 PRC rifle options hit the mark for affordability and accuracy.
What Are The Best 6.5 Rifles:
The 6.5 Creedmoor, heard of it? If you have, well, we'd like to see the rock you've been under for the past decade. The long-range wunderkind has taken the shooting world by storm, vastly extending the rifleman's reach. But did you know you can supersize the 6.5?
A few years back, the mad ballistic scientists at Hornady set out to surpass their Creedmoor creation. The results, the 6.5 Precision Rifle Cartridge (PRC). Just think of it as the King Kong of the six-and-a-half world, and you get an idea of what they created.
The beltless magnum cartridge hasn't been quite as popular as the 6.5 Creedmoor, but it's more than earned the respect of those in the know. Many of those residing in the hunting world, dubbing the 6.5 PRC the ultimate hunting round in the caliber.
This has been a blessing and a curse. The blessing part of the equation, there's been no shortages of gunmakers jumping on the bandwagon turning out 6.5 PRC rifles. The curse, most are configured for hunting. Well, duh.
Don't get me wrong, there are precision rig chambered 6.5 PRC. But the selection isn't quite as vast as their hunter cousins and on top of that many start teetering into the obscene price-wise. But there are options for long-range specialists in the caliber. We rounded up eight of them.
Why A 6.5 PRC Rifle
The answer to that is why the heck not? The caliber, for the charge it holds, is very mild-mannered, thus easy to shoot. And it more than surpasses its heralded cousin the Creedmoor in ballistic potential.
By how much? Consider this, the 6.5 PRC has 28 percent more capacity than the 6.5 Creedmoor, which adds up to an 8-percent increase in velocity. Side by side the cartridges, loaded with the same bullet, you'll deal with nearly 50-inches less drop at 1,000 yards and push the mark at which the bullet goes sub-sonic by another 250 or so yards with the PRC.
Is it worth it for everyone? Naw. But for those who live to push limits, there plenty appealing about making the jump to a 6.5 PRC rifle.
Brief Note On Parameters
The aim of this buyer's guide is precision 6.5 PRC rifles that most shooters can afford. We set the ceiling at $1,500 and with one exception adhered to this limit. We bent the rules—not by much—for an obvious reason—the Ruger Precision Rifle. Also, give this tier of rifle in this caliber is dominated by hunting irons, not every option is an out-and-out precision rifle. Despite this, we have found each one a dead-on accurate, more than capable of handling precision work.
CVA Cascade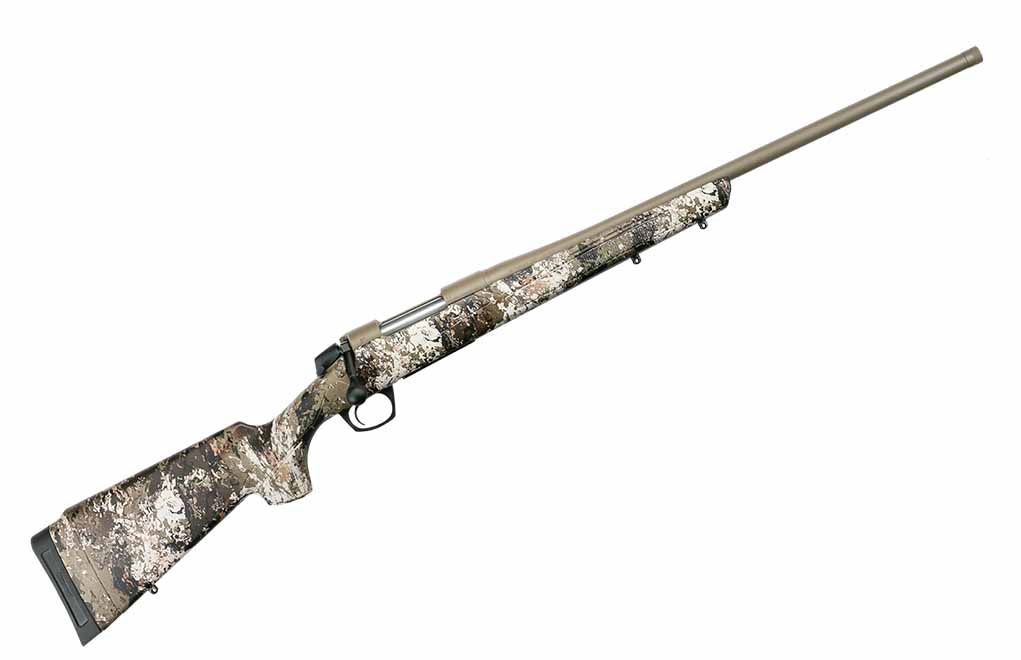 Among the most counterintuitive rifles in this buyer's guide, the Cascade nonetheless deserves consideration. Yes, it's angled at hunting and yes, it's made by a muzzle-loader first company. Still, what CVA has produced hits the mark as a precision 6.5 PRC rifle. One of the most surprising aspects of the Cascade is its trigger. It's no match switch, but the single-stage unit has zero take-up or creep and breaks like thin ice. Additionally, a three-lug fat bolt cycles smoothly and locks tight as a drum in a beefy and ridge action. Though threaded, the sporter barrel doesn't lend it to a dedicated precision-shooting role, neither does the rifle's light weight (7 pounds). But, for those on tight budgets, it more than suffices. MSRP: $675, cva.com
Savage 110 Tactical
As for a dedicated precision 6.5 PRC rifle, Savage offers the most affordable option by far. Decked out with some nice features, the 110 tactical more than has what it takes to send the magnum 6.5 flying. Chief among these—aside from the proven 110 action—is a 24-inch heavy carbon steel barrel. Endowing superior heat dispersion properties and additional rigidity, the threaded firetube ups the rifle's overall ballistic potential. The same can be said of Savage's AccuFit adjustable stock system. Yeah, it isn't push-button simple to adjust, but nevertheless you can personalize the fit so the rifle consistently mounts. Combine with the company's adjustable AccuTrigger and internal frame AccuStock, the Tactical is a solid long-range platform. Nice extras too—oversized bolt handle, AICS magazine compatibility, 20 MOA EGW rail and much more. MSRP: $799, savagearms.com
Howa TSP X
Yes, we're talking 6.5 PRC rifles here. But in all truth, the TSP X is among the best values in chassis rifles no matter what it's chambered. Mating Howa's renowned 1500 barreled action with Modular Tactical Shooting Platform from Australia's Southern Cross Small Arms, you get a versatile and accurate rig. It's light, thanks to modular chassis' all-aluminum construction, but it maintains the accuracy-enhancing rigidity require in precision set-up. There are some nice features to the TSP X too boot, including 24-inch #6 heavy contour barrel, folding stock, M-Lok slots at 3-, 6- and 9-o'clock, ambidextrous magazine release and four QD sling cup positions. Additionally, the stock is completely adjustable for length of pull and comb rise. A solid buy, few are disappointed with. MSRP: $1,099, howausa.com
Ruger Hawkeye Long-Range Target
A cruiserweight precision rig, originally released in .300 Win. Mag, the Hawkeye Long-Range Target is perfectly tailored to the 6.5 PRC. Chambered thusly, it might be among the smoothest shooting of the lot. Much of this is thanks to the rifle's target stock, a hefty 11-pound stick of laminate wood that soaks up the relatively mild magnum cartridge's recoil. Additionally, the stock's two-way adjustable comb and adjustable LOP ensures a perfect fit for every shooter. Built around Ruger's famous controlled-feed M77 action, the rifle boasts a lengthy 26-inch heavy contour stainless-steel barrel. It's topped off with a responsive two-stage adjustable target trigger and Ruger's Precision Rifle Hybrid Muzzle Brake. It's safe to say this 6.5 PRC rifle is capable of ½-MOA at any range. MSRP: $1,279, ruger.com
Browning X-Bolt Max Long Range
Fairly dedicated to top-notch hunting rifles, Browning isn't the first gunmaker that comes to mind when discussing out-and-out precision irons. But the company outdid itself in this niche with the X-Bolt Max Long Range. Much of this is due to the excellent bedding work Browning does mating up its composite Max stock with the X-Bolt barreled action. Similar to a custom rifle, each is glass bedded around the tenon, recoil lug and front action screw as well, as around the rear action screw or impeccable fit up and positively no wiggle or yawl. The stock itself ensures perfect eye-to-scope alignment through a knob-adjustable comb rise and perfect fit to spacer-adjustable length-of-pull. A stark and ergonomically-correct pistol grip tops it all off. Space prohibits listing all of the 6.5 PRC rifle's assets, but it performs well above its price point. MSRP: $1,339, browning.com
Bergara B-14 HMR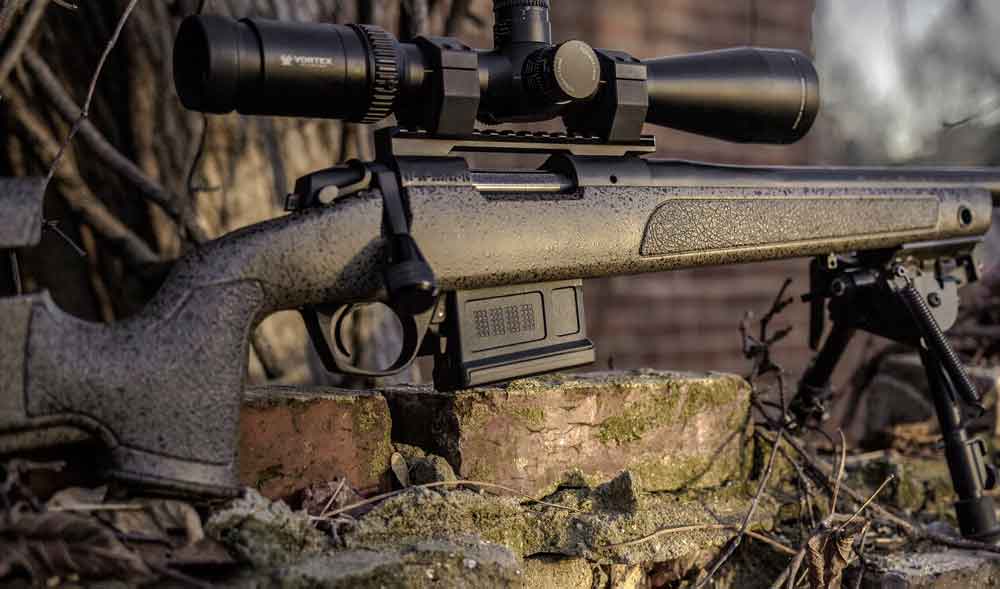 Simply put, Bergara's Hunting & Match Rifle (HMR) is about as tightly built a precision rifle as one could expect, without going custom. Like much of what the Spanish-American company's wares, the core of the system is an absolute gem barrel. Bergara made its name through exceptional firetubes, and it shows with this precision button-rifled, heavy-barreled 26-inch* iteration. Mated to the smooth, two-lug B-14 action, this system proves as accurate as it is quick. As much care is put into the stock, which offers much more than a benchrest buttstock, vertical grip and the usual length of pull and comb adjustments. Strip away the polymer and you'll find an aluminum skeleton running from the grip to the forend. In addition to free-floating the barrel, what Bergara calls its mini-chassis gives the 6.5 PRC rifle the stiffness for precision to connect at a country mile. MSRP: $1,150, bergara.online/us
Savage GRS
For production rifles, Savages have always had a reputation for being tack drivers. However, the company outdid itself with its Model 10 GRS. Marrying its proven Model 10 action with the Norwegian GRS stock has created a precision 6.5 PRC rifle ready to tackle the greatest distances. The GRS stock especially is second to none. With fiberglass-reinforced nylon and bosting pillar bedding blocks, it provides the rigidity and stability required for long shots. Better yet, it is fully adjustable on the fly, thanks to push-button controls for length of pull and cheek rise. Of course, it comes with Savage's adjustable AccuTrigger, which rounds out what can only be described as a top-shelf rifle. MSRP: $1,449, savagearms.com
Ruger Precision Rifle
What list dealing with the long-range wunderkind 6.5 PRC would be complete without Ruger's Precision Rifle. Hey, it's the iron responsible for the present precision shooting craze, and for good reason. For the money, there's no more advanced rifle on the market today. Those who know the rifle, know its chassis is the bell of the ball, providing an absolutely rock-solid platform for precision shooting. But the good stuff doesn't stop there. A 26-inch cold hammer-forged medium contour barrel, 5R rifled gets the most ballistic potential out of the PRC. Ruger's Marksman Adjustable trigger (2.5 to 5 pound) offers a spotless break for repeatable accuracy. And the rifle's in-line recoil path tames the felt recoil, upping your potential for fast, precise shots. There's a reason why the Precision Rifle still turns heads.MSRP: $1,599, ruger.com
---
We Found Bulk Ammo In Stock:
Disclosure: These links are affiliate links. Caribou Media Group earns a commission from qualifying purchases. Thank you!
---
---
NEXT STEP: Download Your Free Storm Tactical Printable Target Pack
62 Printable MOA Targets with DOT Drills – Rifle Range in YARDS This impressive target pack from our friends at Storm Tactical contains 62 printable targets for rifle and handgun range use. Target grids and bullseye sizes are in MOA. Ideal for long-range shooting! Get Free Targets
---