Knowing how to effectively defend yourself in times of danger is of utmost importance, regardless of your gender. There are several ways to defend yourself from attackers, and one of them is by using self-defense weapons. However, there are times when all you have in your possession to defend yourself is your keychain. In such situations, it may be too late trying to pull out your pocket knife. What you should do instead, is quickly reach for self-defense keychains to keep the attacker at bay.
Self-defense weapons are very useful – no doubt. However, you should take cognizance of the local laws concerning self-defense weapons before purchasing any of them. You don't want to get yourself into trouble, so always be mindful of local laws.
That said, you should be able to find an option that works for you, from the several top self-defense keychains listed here.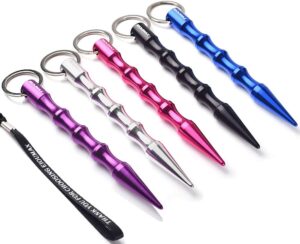 Kubaton has quite a good range of self-defense keychains; from the Kubaton Keyring Aluminum Blunt Force, Teanfa Pointed Kubaton Keychain to the Kubaton Duuty Self-Defense Keychain, etc. They usually come in black, blue, red, and silver colors, and are about 5 inches long.
Kubatons keychains are lightweight and practical – designed to either inflict pain or control your opponent. You can enclose them in your hands to land a harder punch or use it as a stabbing device against your attacker. Their prices can range anywhere from $7 to $32, depending on the material and sturdiness of the keychain.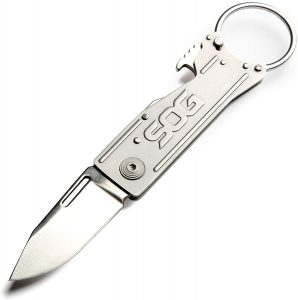 The SOG Key Knife Folding Knife keychain is actually a knife designed to look like a keychain. It's a 1 ½ inch foldable knife keychain and comes in handy when you suddenly have to defend yourself from pending danger.
It's hardly noticeable and your attacker won't know what hit him by the time he realizes what you're holding. It's a good self-defense weapon and you can get it for under $10 dollars.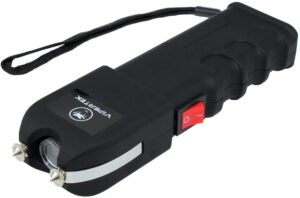 Now, before you proceed to purchase a stun gun self-defense keychain, be sure to check with your local laws – It's considered illegal in some places. Just as their name indicate, they are stun guns, but expertly designed into something so small to fit on your keychain.
They may be small, but they pack the punch of a full-size stun gun. Stun gun self-defense keychains could be all you need to escape a difficult situation. A good example is the Vipertek VTS  stun guns, with prices ranging anywhere from $18 to $59.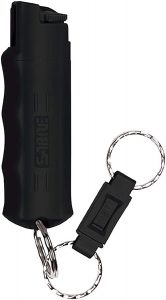 This is one of the most popular types of self-defense keychains out there. The reason is that they are quite effective at fending off attackers at a moment's notice. Pepper Spray Keychains are small canisters of pepper spray that you can attach to your keyrings.
They fit perfectly in the palm of your hands. All you have to do when attacked is to quickly open the spray valve and spray in the direction of your attacker. This will buy you the time you need to seek safety.
Conclusion
It's good to always be prepared for times when you suddenly have to defend yourself from an unknown attacker. And nothing saves the moment like a good self-defense keychain, as they're hardly noticeable.
There are also other good self-defense keychains out there aside from the ones mentioned above. Just choose what suits you best and be prepared at all times.
Stay Safe.