Perfectionism is a 'disease' that can drive anyone crazy, but it also drove Bill Wilson and Wilson Combat to the very forefront of the firearms industry.
If you want a firearm to last a day, buy it from someone who just wants to build a gun. If you want it to last a lifetime, buy it from someone who wants to build a reputation.
Since 1977, few brands have worked harder than Wilson Combat to establish and maintain one of the most revered reputations for quality, performance and innovation within the firearms industry. The first five minutes of a conversation with Wilson Combat's founder, Bill Wilson, will leave no doubt as to why. Because most of America isn't likely to have that chance, Gun Digest has done it for you.
To know and understand the Wilson Combat brand, one simply needs to know Bill Wilson, who's never known a life without firearms, despite it not running in his family.
"I really don't have a mentor for hunting or shooting," said Bill Wilson. "No one in my family was a shooter or hunted. I've always been interested in guns and got my first .22 rifle when I was 10 or so. My first involvement with the firearms industry was in 1974 with a retail store called Sportsman's Headquarters in Berryville, Arkansas. Wilson Combat came from my competition shooting career and was started in 1977."
Bill's career as a competitive shooter was critical to establishing Wilson Combat's reputation as a champion's brand—the perennial "If you're going to talk the talk, you've got to walk the walk" kind of thing. It's a challenge Bill Wilson takes seriously to this day. When a customer buys a Wilson Combat firearm instead of another brand, to Bill, there should be a difference, and his standard is designed to ensure exactly that.
"I want the brand to represent the highest-quality defensive and tactical firearms and accessories, backed by the best customer service in the industry," Bill explained.
Competitive Shooter, Hunter and Businessman
Bill's early competition in 1973 was shooting police PPC with the law enforcement in Harrison, Arkansas, which led to shooting bowling pin matches and eventually to shooting IPSC/USPSA in 1977. From the beginning, Bill won … a lot.
"As I became a high-level competitor, I needed a better pistol," he said. "When guns from the top pistolsmiths of the day didn't satisfy me, I used my jewelry and watchmaking skills to work on 1911s.
"As a competitive shooter, I learned what it takes to make accurate, reliable and durable firearms and accessories," Wilson added. "As a hunter, I learned patience and determination. As a businessman, I added in customer service."
Wilson refused to build a "good-enough" firearm that simply had his name on it. For any firearm to carry the name, "Wilson," it needed to satisfy one of the industry's most famous perfectionists who infused a little bit of his heart and soul into each gun's components.
"My goal was always to build the best product I could, charge what I had to in order to make a living and take care of my customers with a forever customer satisfaction policy," Wilson said. "I knew that if I did this, everything else would work out fine."
He thanks and credits Armand Swenson and Jim Clark Sr. for helping him during the early days of Wilson Combat. And for more than 42 years, it's fair to say things have been more than fine for Bill and the Wilson Combat team.
Quality and Service
"First, I don't consider the firearms Wilson Combat builds to be 'factory' or 'semi-custom' guns," Wilson stated. "While we produce a substantial quantity of firearms each year, we are a true custom shop and will build the customer exactly what they want … and to their specifications. I believe our quality and attention to detail are equal, or superior, to the smaller custom shops that only produce a few guns a year—and cost two or more times what a comparable Wilson Combat firearm costs. We haven't forgotten what brought us to the dance."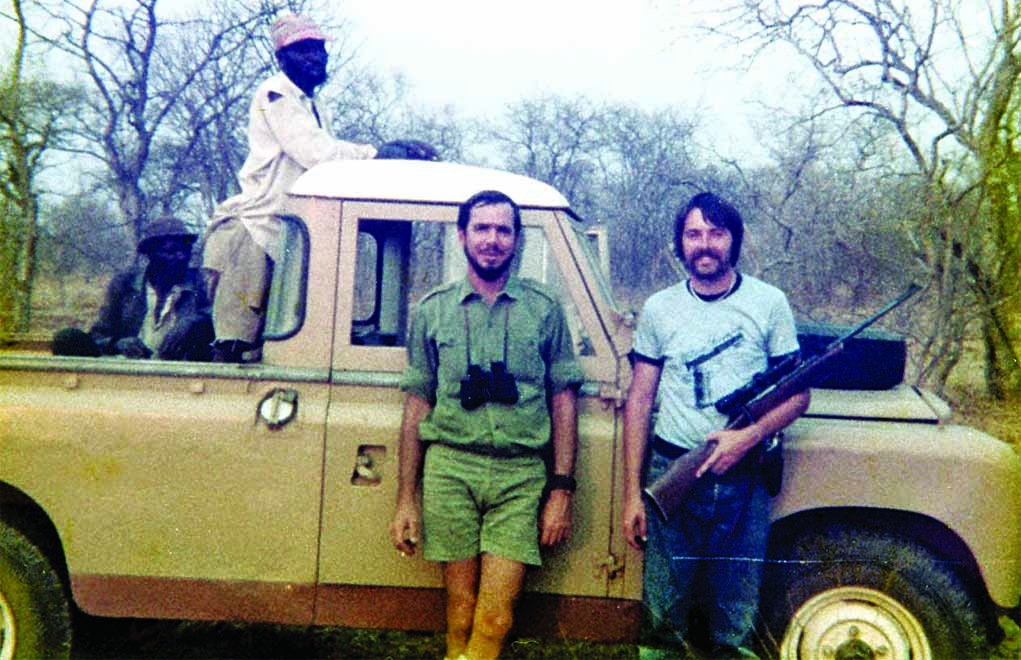 So, when does a firearm go from being "just a gun" to a Wilson Combat gun? Bill pointed out that it's when it survives his custom manufacturing gauntlet.
"A gun becomes a Wilson Combat firearm when it passes our extensive test-fire procedure and quality control. The company is built on a core philosophy of quality and customer service. As our company slogan says, 'Quality you can trust, service you deserve.'"
Wilson Combat began with custom competition 1911s, which were hand-built by Bill himself. Now, 1911 handguns with the Wilson Combat name on them are still built one by one—not by Bill, but by a team of specialized gunsmiths who scrutinize each and every aspect of the build as if Bill himself were standing over them.
"Our gunsmiths are among the most experienced in the industry; many have more than 25 years of service hand-building custom pistols," Bill said. "More than 40 years of experience have shown us that this proven team-building philosophy builds more-consistent, higher-quality custom guns than a 'single gunsmith' approach."
Never 'Good Enough'
The integrity that powers Bill Wilson's work ethic, drive and personality is something you're born with; and champion shooter Bill, who's also a husband, father and grandfather, simply runs Wilson Combat the way he runs his life—without compromise. Bill Wilson's goal for everything he does is to not just be the best—but to be a little bit better than whatever his best was yesterday.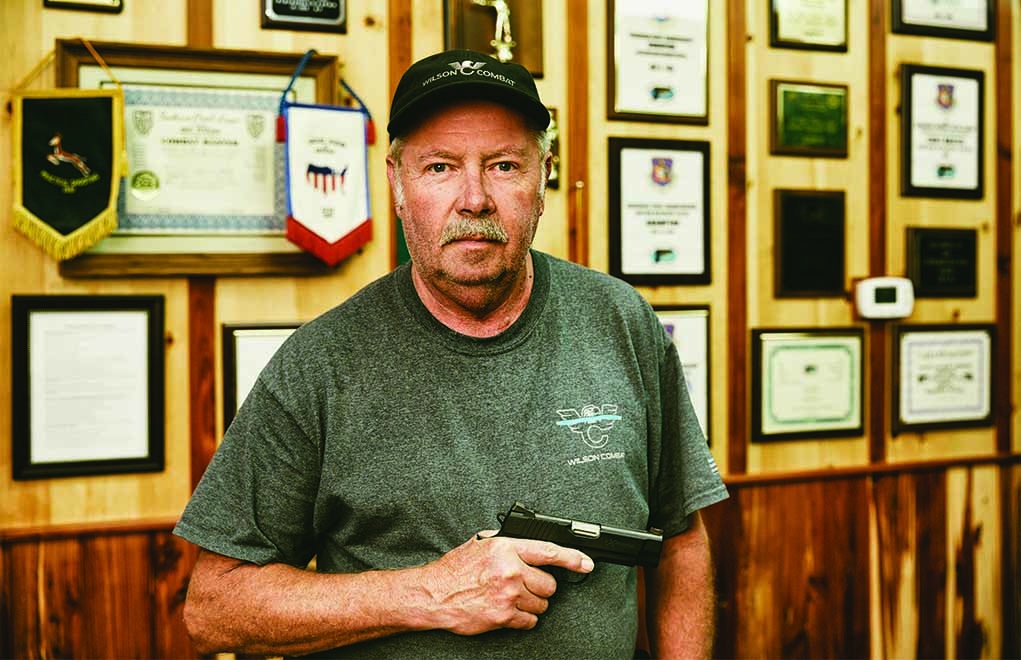 "If we stay true to our roots and our policies, and at least one of my five grandchildren ends up running the company, it should be successful until we are legislated out of business," Bill said.
I've been fortunate enough to spend time with Bill Wilson while he was developing his beloved .300 Ham'r cartridge. This man pays attention to every detail, and he simply doesn't let up. No one buys a Wilson Combat gun simply because it works; they buy it because it works as well as Bill Wilson demands it does.
I can guarantee that Wilson takes a customer's disappointment—no matter how slight—not only to heart, but also to the drawing board, where he'll remedy whatever caused the problem. If there's a problem with a firearm, it eats at him until he figures it out.
WC: Now and Beyond
Wilson Combat now makes a lot more than custom 1911s. You can get small 1911 parts to improve the 1911, such as the company's 1911 magazines. You can also get customized Beretta 92s, AR-10 and AR-15 models, shotguns and ammunition—and even innovative cartridges such as the .300 Ham'r, created by Wilson Combat.
So, what comes next for Wilson Combat?
"Hopefully, the future for Wilson Combat is more innovative products that excite our customers and produce a profit for the company," Wilson explained. "We have an extremely good new-products team, with some very bright people, so I'm excited about the future. Stay tuned!"
For more information on Wilson Combat and Bill Wilson, please visit wilsoncombat.com.
Editor's Note: This article originally appeared in the February 2020 issue of Gun Digest the Magazine.
---
Raise Your Wilson Combat IQ:
---
---
We Found Bulk Ammo In Stock:
Disclosure: These links are affiliate links. Caribou Media Group earns a commission from qualifying purchases. Thank you!
---
NEXT STEP: Download Your Free Storm Tactical Printable Target Pack
62 Printable MOA Targets with DOT Drills – Rifle Range in YARDS This impressive target pack from our friends at Storm Tactical contains 62 printable targets for rifle and handgun range use. Target grids and bullseye sizes are in MOA. Ideal for long-range shooting! Get Free Targets
---