Gun control advocates know that Montanans cherish their right to keep and bear arms. That's why this election season, out-of-state anti-gun interests are working to deceive rather than win over Montana voters. Case in point is the deceptive messaging of the gun control supporters opposed to pro-Second Amendment ballot measure LR-130. 
Reflecting the state's overwhelming respect for the Second Amendment, Montana's gun laws generally respect gun ownership and the Right-to-Carry for self-defense. However, a deficiency in the state's firearms preemption statute has permitted politically-motivated local governments to undermine the Second Amendment by creating a confusing patchwork of laws that places well-meaning gun owners in legal peril simply for exercising their Right-to-Carry.
At present, Montana Code Annotated Section 7-1-111 restricts a local government unit with self-government powers from exercising "any power that applies to or affects the right to keep or bear arms." However, the statute provides an exemption to this prohibition which states, "a local government has the power to regulate the carrying of concealed weapons." Therefore, a local government entity with self-governing powers has some authority to restrict the Right-to-Carry.
Moreover, Section 45-8-351(2)(a) empowers a "county, city, town, consolidated local government" to restrict the Right-to-Carry at "a public assembly, publicly owned building, park under its jurisdiction, or school." 
LR-130 would amend Section 7-11-111 to remove a local government unit with self-government powers' authority to restrict the Right-to-Carry. The measure would also curtail the power of a county, city, town, or consolidated local government to create gun-free zones. Under the proposed legislation, a locality could still restrict the open carry and unpermitted concealed carry at a "publicly owned and occupied building," such as a school. Another statute, Section 45-8-361, also prohibits firearms in school buildings. LR-130 would create a predictable framework that would allow Montanans to exercise their Right-to-Carry with confidence while moving about the state.
These changes are vital to Montana gun owners. Those wondering how anti-gun localities might abuse their authority to restrict the Right-to-Carry need only look at recent events in Virginia. Following a change that weakened Virginia's firearms preemption statute, anti-gun cities and localities raced to enact a slew of new incomprehensible gun-free zones. This included unforeseeable roving gun free zones that extend to public sidewalks and streets.
Such local restrictions are enacted out of political prejudice rather than concern for public safety. A survey of the available research on gun-free zones conducted by the RAND Corporation "found no qualifying studies showing that gun-free zones decreased" violent crime. 
The political committee that out-of-state anti-gun interests have used to oppose LR-130 is named Vote No on LR-130. The front group has been sending out the following deceptive mailers.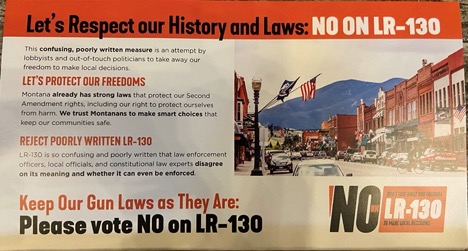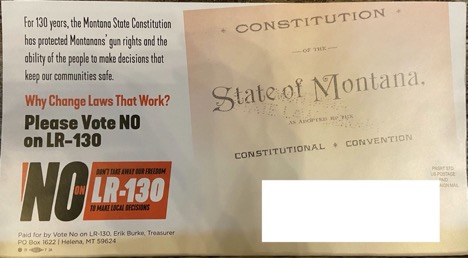 Notice that the mailers don't explain the purpose or contours of LR-130. The propaganda also mischaracterizes LR-130 as "confusing" and "poorly written." In truth, the measure merely makes minor alterations to two existing statutes that are limited to one sentence of Section 7-1-111 and one sentence in Section 45-8-351.
Worse, are the mailer's deceptive appeals to "protect our freedoms" and Montana's current respect for the Second Amendment. In actuality, LR-130 would help to better protect Montanans' freedom and their ability to exercise their Second Amendment rights.
The deceptive language of the Vote No on LR-130 committee's propaganda is even more appalling considering the source. Despite promoting messaging like "Why Change Gun Laws That Work?," the political committee is backed by out-of-state anti-gun interests that are devoted to enacting the most egregious forms of gun control.
Vote No on LR-130's political committee finance reports show that the campaign has received continued support from New York City billionaire Michael Bloomberg's Everytown for Gun Safety gun control group. Among the litany of gun controls the group pushes are a ban on commonly owned semi-automatic firearms like the AR-15, a ban on standard capacity magazines, waiting periods, and gun confiscation order legislation that empowers the state to seize a person's firearms without due process.
The political committee finance reports also show that Vote No on LR-130 is being supported by Washington state's Alliance for Gun Responsibility (AGR), formerly Washington Alliance for Gun Responsibility. AGR was responsible for Washington's Initiative 594, which criminalized the private transfer of firearms in the Evergreen State. An actually "confusing" and "poorly written" measure, the subsequent law went so far as to restrict how students could be introduced to the basics of safe firearms handling during hunter education courses. The group also pushed Initiative 1639, which heavily restricted the acquisition and possession of semi-automatic rifles, including a requirement that these firearms be registered with the government.
Much like Everytown, AGR and its political activities are bankrolled by wealthy anti-gun elites. For I-594, billionaire venture capitalist Nicolas Hanauer gave more than $1.3 million. Microsoft founder Bill Gates and wife Melinda provided $525,000 each, former Microsoft CEO Steve Ballmer and wife Connie gave $500,000 and $580,000 respectively, and company co-founder Paul Allen gave $500,000. For AGR's I-1639, Microsoft's Paul Allen gave 1.2 million, Nicolas and Leslie Hanauer gave $1.4 million, the Ballmers gave more than $1.1 million.
NRA members and gun rights activists should work to share with their family, friends, neighbors, and other freedom-minded individuals the truth about how LR-130 will protect gun owners from local government overreach. Gun rights supporters should also work to expose the deceptive practices of the Vote No on LR-130 campaign and the out-of-state interests backing their anti-Second Amendment effort.