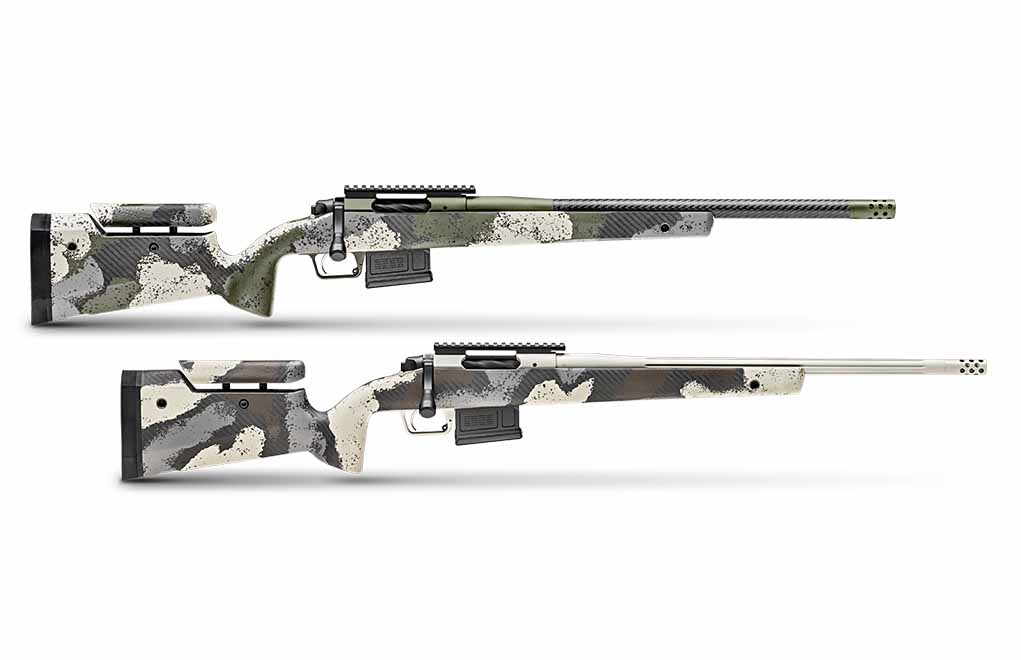 Making its first foray into bolt-action rifles, Springfield Armory has whipped up a lightweight and deadly accurate hunter in the Model 2020 Waypoint.
How The Model 2020 Waypoint Is Designed As An Accurate Hunter:
Rigid and lightweight hand-laid carbon-fiber stock.
Unique carbon-fiber wrapped barrel that dissipates heat.
Crisp and consistent TriggerTech adjustable trigger.
Rock-solid Model 2020 stainless-steel action.
Springfield Armory has dipped its beak in a lot of areas in the world of firearms—imports, semi-auto rifles, striker-fired pistols and, of course, 1911s. Explicitly missing from its ventures, a bolt-action rifle. Now the company can scrub that off the list.
The Illinois firearms manufacturer and importer is striking new ground with the introduction of the Model 2020 Waypoint. Marketed as a hunting rifle, the bolt-action is the flagship of an entirely new line built around the Model 2020 action. No word on how and when Springfield will expand on its initial offering, but that's alright—the gunmaker has given shooters plenty to mull over in the Waypoint.
To that end, the company has built a solid foundation for the rifle and its successors with what appears a well-constructed action. The heart of the Model 2020 Waypoint is built from stainless steel and kept to exceedingly tight design and manufacturing tolerances. In addition to a two-lug, push-feed design, the action features glass-smooth EDM-machined lug raceways to improve the bolt's action. The bolt itself is fluted and employs dual cocking cams and an enhanced extractor to ensure there are no hang-ups, even with high-pressure loads. Finally, Springfield tops everything off with an oversized bolt handle, making operation all the more intuitive and easy.
While the rifle is angled at the game field, it's taking cues from the tactical end of the market. This is evident in the Model 2020 Waypoint's stock from AG Composites, complete with full pistol grip, optional adjustable comb, pillar bedding and the wide fore-end of a target model. Unlike typical precision stocks, Springfield's is featherlight, a function to its hand-laid carbon-fiber construction. Impressively, the lightest models come in well under 7 pounds. Very merciful heft indeed.
Though, the stock doesn't get to take all the credit for weight savings. The lithest models shave bulk thanks to a carbon-fiber wrapped barrel from BSF Barrels. Its construction is unique. Utilizing a process known as roll-wrapping, a majority of the carbon-fiber sleeve doesn't make contact with the stainless-steel barrel. Instead, it free-floats allowing the barrel to dissipate heat—also helped by fluting on the barrel proper— to preserve pristine harmonics for repeatable accuracy. The lightweight material is kept in place via two caps.
---
Take Aim At Hunting Rifles:
---
Springfield Armory guarantees .75 MOA accuracy in the Model 2020 Waypoint and has spared no expense to ensure it. This is no more evident in the gunmaker opting for an adjustable TriggerTech trigger. Leaders in precision fire control groups, the unit in the Springfield rifle is adjustable from 2.5 to 5 pounds and features a patented roller promoting a spotless and repeatable pull. It's lock time is also lightning fast—1.9 milliseconds—so it cuts down on any potential wobble off-target at the break.
Initially, the Model 2020 Waypoint is available in .308 Winchester, 6mm Creedmoor, 6.5 Creedmoor and 6.5 PRC. Other notables include AICS magazine compatibility, QD pockets, reinforced M-Lok slot on the fore-end, removable radial muzzle brake (5/8×24 thread pattern), Picatinny optics rail and the choice of Evergreen or Ridgeline camo patterns. One other thing to note, Springfield also offers the Waypoint in more affordable configurations, which non-adjustable stock and fluted stainless steel barrel.
As to cost, all that carbon fiber elevates the price tag. For the whole hog—adjustable stock and carbon-fiber barrel—the MSRP is $2,399; stainless-steel barrel and static stock cuts the suggested retail price down to $1,699.
Springfield Model 2020 Specs
Calibers: 6mm Creedmoor, 6.5 Creedmoor, 6.5 PRC, .308 Winchester
Capacity: 5 rounds
Barrel: Stainless-Steel; BSF Barrels Carbon-Fiber
Barrel Length: 20, 22, or 24 inches
Weight: 6 pounds 10 ounces to 7 pounds 6 ounces
Stock: AG Composites Carbon-Fiber
Trigger: TriggerTech Adjustable
MSRP: Starting at $1,699
For more information on the Model 2020 Waypoint, please visit springfield-armory.com.
---
We Found Bulk Ammo In Stock:
Disclosure: These links are affiliate links. Caribou Media Group earns a commission from qualifying purchases. Thank you!
---
NEXT STEP: Download Your Free Storm Tactical Printable Target Pack
62 Printable MOA Targets with DOT Drills – Rifle Range in YARDS This impressive target pack from our friends at Storm Tactical contains 62 printable targets for rifle and handgun range use. Target grids and bullseye sizes are in MOA. Ideal for long-range shooting! Get Free Targets
---