The Hunter 700 Stock by Magpul is a high-quality and extremely versatile stock that will greatly enhance the performance of your short action rifle. This is a great replacement stock for your Remington Model 700 to improve function and accuracy. This stock, which is compatible with Remington 700 Short Actions, does not require bedding. This makes it is a true drop-in stock.
This stock has recently gained popularity with professional shooters because it provides a tactical, drop-in replacement stock that greatly increases shooting accuracy. The Magpul Hunter 700 offers a cost-effective upgrade that provides quality construction, full adjustability, attachment compatibility, and ergonomic design. Read below for more information, and a comprehensive review of the Magpul Hunter 700.
Construction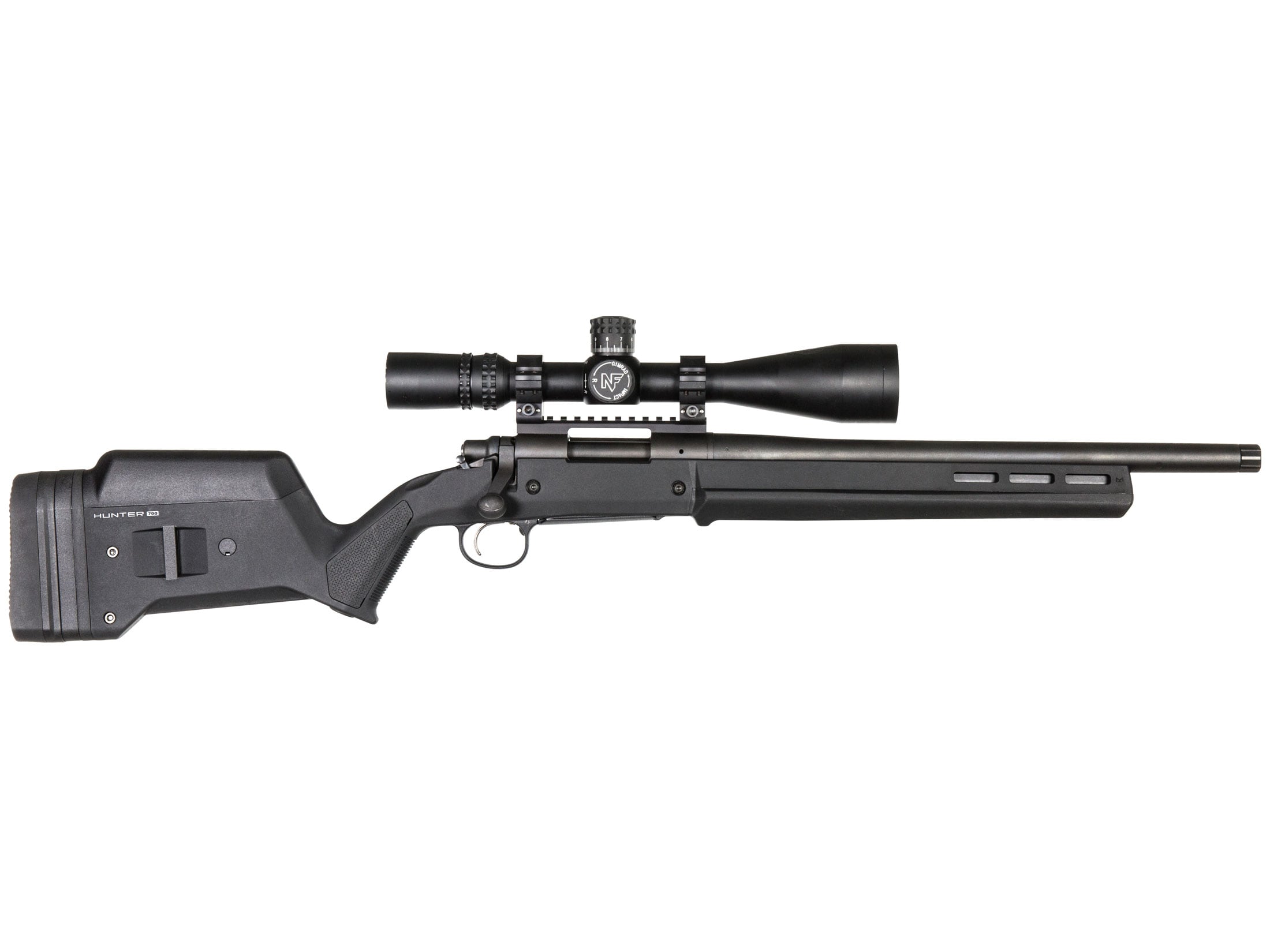 The Magpul Hunter 700 shell is made from a reinforced polymer that Magpul typically uses for their products. It is Type III hard anodized and machine finished, so you know it will be high quality right out of the box. 
Magpul manufactures the Hunter 700 so precisely that it makes adding it to your receiver simple and easy. The parts fit together perfectly, every single time.
Bedding Block
The V-bedding block is made of A380 cast aluminum, one of the most popular aluminum alloys known for its ability to make durable, yet lightweight parts.  The bedding block is actually more of an aluminum insert in the way it is designed. The way it fits into the stock allows for improved stability in your action.
Features
Adjustability
The Magpul Hunter 700 is a fully adjustable stock. The Model 700 is already a great rifle for hunting, and having an adjustable stock will make it even better.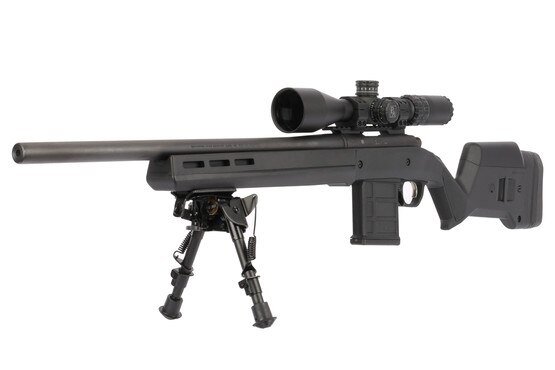 First, the butt stock has room for multiple spacers to be placed.  This spacer system allows for a custom length of pull.  Remove the rear screws and slide out the butt stock to access the spacers. These half-inch spacers can be added or removed to your liking to change the length from 13 to 15 inches.  
The cheek riser is adjustable as well. There are three different available sizes for the cheek riser to accommodate your size and shooting style.  The cheek rise is removable and easily replaced while the butt stock is removed.
Attachments
This stock has multiple places for any attachments that you may want or need.  On the butt stock are left and right Footman's Loops for sling attachments.  In the same area is also a place for a QD kit.  A small spacer allows you to attach your QD swivel in one step.
M-LOK slots are also located on the forend sides and bottom of the Magpul Hunter 700 Stock.  This allows for a wide variety of options for accessory attachments or sling mounting. 
This also gives space for a bipod mount.  If you are interested in installing standard swivel studs, there are three dimpled drill points placed on the stock.
If you are interested in upgrading the magazine, the Magpul Hunter 700 Stock allows for an easy upgrade to a removable AICS-spec magazine instead of the included internal magazine. Simply remove the placeholder in the bedding block before inserting your upgrade.
Ergonomics
The Magpul Hunter 700 Stock is machined to ergonomic perfection. The rubber recoil butt pad is placed precisely in the best spot to reduce recoil and provide comfort to the shooter. The high quality rubber also reduces slippage on your shoulder for more accurate aiming.
The grip is engineered to perfectly fit the contours of your hand for maximum comfort. More specifically, the grip is angled to sixty degrees from the bore axis.  The grip is also covered in ribbing to aid in grip, no matter the environment.
The design of this stock also features a tapered beam that provides the right amount of rigidity throughout the forend. This allows for a free-floating system for any compatible barrel. The Magpul Hunter 700 Stock fits up to a .29-inch barrel.  Additionally, the front end has an incredibly smooth palm swell that allows for comfortable hand placement.
Additional Magpul Hunter Specs
The Magpul Hunter 700 Stock is compatible with aftermarket barrel profiles up to a medium palma. It also accepts all factory Remington brands, including VTR triangular barrel contours. As far as triggers go, this stock accepts most factory and aftermarket triggers as well. Before purchasing this stock for your weapon, it is important to note that it is only compatible with right-handed receivers only. 
Overall, the Hunter weighs three pounds, without the action and bottom metal attached. The light weight of the stock is attributed to the reinforced polymer used by Magpul. Installing this new stock into your weapon is quick and simple due to the easy and straightforward instructions provided. Even someone with no familiarity with upgrading weapons can successfully install in about fifteen minutes. In the end, the Magpul Hunter 700 Stock gives you a balanced weapon with a solid and confident feel.